Update:
The man who was in charge of the Metropolitan Police at the time of the Westminster terror attack has defended locking himself in a car outside Parliament as Khalid Masood killed one of his colleagues.
Khan's Londonistan: "Teens" Arrested After Two Police Officers Stabbed
The journaille who's using terms like "teens" for murderous soldiers of allah are complicit in this. They are deliberately downplaying the threat. These savages are not misguided  kids. They are fanatical killer zombies.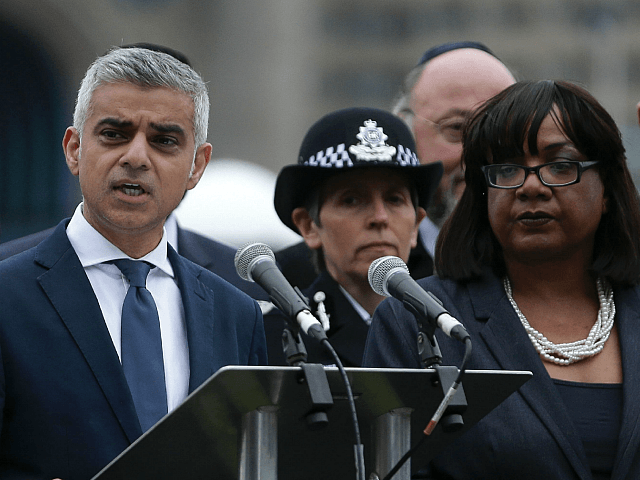 Sadiq Khan, Cressida Dick & Diane Abbott, the criminal dregs of the multiculti experiment.
A 19-year-old man has been arrested on suspicion of attempted murder, while another man, also aged 19, has been held on suspicion of affray. A knife was recovered at the scene.
The police were called to a fight just before 11 p.m. on Saturday night, and "upon arrival, the officers were immediately met with hostility, with a man inside the address producing a large knife," according to the police.
"This resulted in two male police officers being stabbed and two female officers being injured — one sustained a head injury with another a possible fractured wrist. A taser was discharged during the incident.
"The officers were all taken to hospital, three have since been discharged but one remains in hospital where he is being treated for stab wounds."
Superintendent Mike Hill, Central North Command Unit, said: "This incident demonstrates the courage and professionalism officers show day in day out in what can often be a dangerous job.
"When officers respond to what can often be a difficult situation or go to assist members of the public they should not be met with violence, it is completely unacceptable.
"Whilst arrests have been made if you have any information that can assist police with their ongoing inquiries; witnessed the attack or what occurred prior to police attendance please get in touch."
London Assembly Member Shaun Bailey, who will stand for the Tories against Labour's Sadiq Khan for Mayor of London said it was a "sad state of affairs when those who protect us every single day are met with such violence. My thoughts are with all four officers and their families at this difficult time."