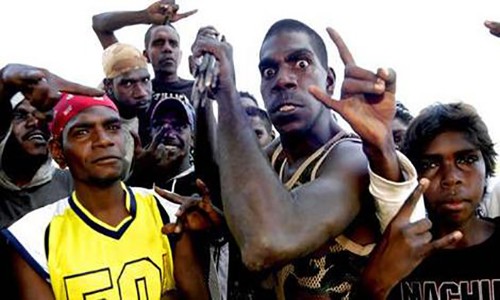 A woman apparently from a Labor campaign called Steve Price and Andrew Bolt "racists" on air this week  for mentioning African crime.
Since then there's been a spate of violent attacks, including now this:
A young chef says he thought he was going to die when about 20 youths of African appearance set upon him with a metal pole, knuckle dusters and a champagne bottle, after asking him for a cigar ette as he left a restaurant in Melbourne's St Kilda at the end of a shift.
Add that, too, to the bill for our refugee program.
BLACK
The Australian reports on gang violence as follows (my italics):-
Victoria Police are investigating a string of frightening incidents at St Kilda last night involving what is believed to be teenagers of African appearance, including a mugging and an assault, after observers reported seeing a lone chef defending himself with a shovel against a gang of more than ten.
.
Unfortunately this story carried no opportunity for comments.  Therefore I was unable to ask what teenagers of Australian appearance might look like or; what teenagers whose parents are Afrikaners might look like or; what teenagers of Aboriginal appearance might look like.
It appears in today's politically correct Australia one can no longer call young black bastards black bastards.
Which brings me to the arrant nonsense talked about illegal immigrants held on Manus island.  I actually heard an Anglican minister (female with PhD) accuse the Australian government of running a concentration camp on Manus Island.  Funny thing about that is, the illegal immigrants have no less freedom of movement than do the native residents of the island, they are free to leave any time they like – they are just not free to enter Australia.  In fact, in the latest twist, seventy five of them have refused an offer to be settled in the USA.  Apparently they've heard you have to work there to get money.
I have a suggestion which will be a win for the activists in cassocks and for the government.
Bring all the illegals to Australia and settle them at Tennant Creek where they enjoy all the luxury of an outback Aboriginal community.
You can guarantee within a week they'd be begging to be sent back to the tropical paradise of Manus Island.