How leftist teachers brainwash our children about fake refugees & "global warming"
Four-year-olds play pre-school politics on refugees
Rebecca Urban The Australian December 1, 2018
A Melbourne preschool has decided that children are never too young to embrace political advocacy, incorporating a recent Kids Off Nauru campaign into a lesson on refugee rights.
Brunswick Kindergarten, in the city's inner north, broached the contentious topic by hosting a #BlueForNauru Day in which its children, aged four and five, were encouraged to dress in blue — signifying sadness, according to the campaign — to learn about the plight of children in offshore detention.
Teacher Catherine Sundbye wrote about the session in the preschool's parent newsletter, detailing some of the student's responses to the question: "What would you say to the politicians who won't let the refugees in?"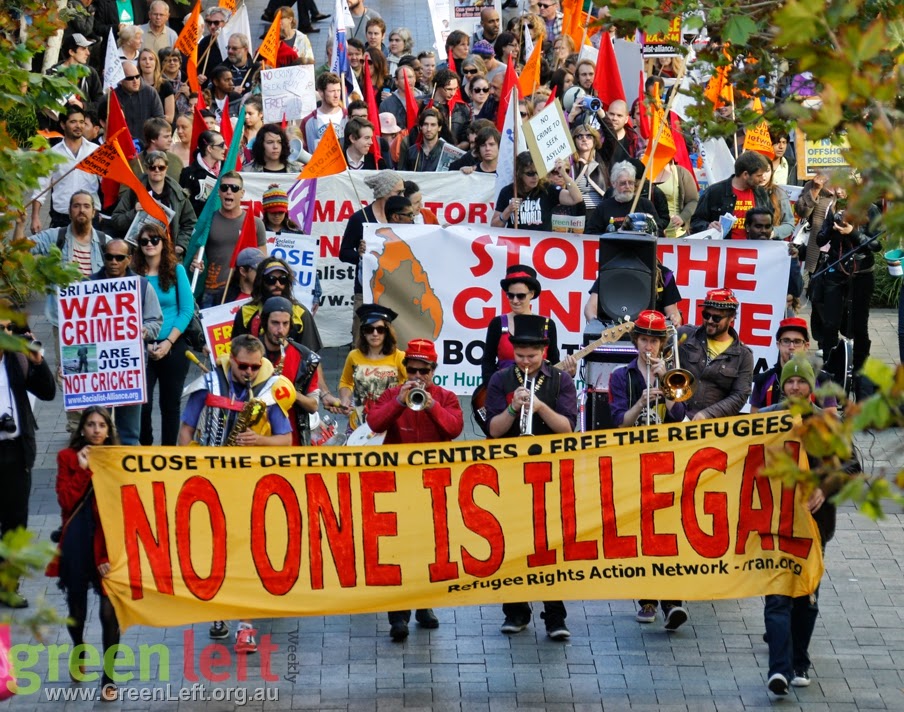 "You are mean to the guys that can't come and live here", "Why aren't they allowed in Australia? I don't think they will destroy the country", and "I don't like this rule" were among the comments from the children.
More below the fold.
Apocalypse not
David Long The Spectator Australia
Pope Francis believes that climate change is such a big danger to the planet that it could turn the earth into a pile of rubble. Just to put his Holiness's concerns into a context, global warming is the biggest danger: not the deaths of about 40 millions of babies worldwide to legalised domestic violence by women against their children, or even the possibility that Iran will develop and detonate an atomic weapon to bring about the much Shia-desired end of the world, or that China will become more powerful than the US and take us all over; not even MAGA Donald Trump's response to the immigrant caravan which so outraged Your ABC that its US correspondence interviewed a Democrat.
Update:
Globalist Macron Threatens 'Tropical Trump' over Climate Change
No, the end of the inhabitable world will come about as the result of carbon-based electricity generation and motor transport and the economic growth they make possible (not here in Australia, unfortunately), the growth that gives people jobs and incomes and even houses for all the new migrants when they arrive. Now I don't want to necessarily disagree with Pope Francis about anything, after all, he is the Pope, but I do think his prediction that the world will be a pile of rubble is a bit far-fetched. In fact, it sounds a bit like something Al Gore would say just before he announced that he was making another end-of-the-world movie, or that he was running for President in 2020, before the end-of-the-world.
And it's not only me. A very articulate US journalist called John Nolte thought he might have heard about the end-of-the-world on numerous occasions before and he made a list of the end-of-the-world forecasts and by whom they were made and I'm sure you will remember a few yourselves. This is the list of doomsday forecasts that Nolte remembers.
1 We would be living through a new Ice Age by the year 2000.
2 We would all die when the ozone layer disappeared.
3 The oceans would be dead.
4 Global Cooling would destroy the world.
5 Acid rain would destroy our forests.
6 Overpopulation would result in worldwide famine.
7 We would deplete our natural resources.
8 We would run out of oil.
9 The polar ice caps would melt.
* Manhattan would be underwater.
* People who live in cities will have to wear gas masks.
* Nitrogen buildup will make the land unusable.
* "Decaying organic pollutants would use up all of the oxygen in America's rivers, causing freshwater fish to suffocate."
So, feel free to copy this list and add some of your own to the space where it says 'Comments' on the Facebook page. And be sensible. I don't want to see any comments about Daniel Andrews, Bill Shorten, Julia Banks Keryn Philps, Peter Dutton or Their ABC.
Well, maybe comments about Their ABC are ok (but not about Leigh – cue music, Faith Hill, This Kiss – Sales).
Illustration: TSG Entertainment/Centropolis Entertainment/Electric Entertainment/20 Century Fox.
Continued:
.
How leftist teachers brainwash our kids:
.
Parents were advised before the session was held and were supportive of the event.
"Kids really do understand more than we given them credit for," one parent said.
However, childhood experts warned about politicising early childhood, questioning whether children as young as four had the maturity to grasp the concept of asylum detention.
Political activism in schools is considered a fraught issue. Yesterday, thousands of students defied calls by Scott Morrison to remain in school and instead joined protests calling for climate change action.
Co-ordinated rallies were held in almost 30 cities and towns around Australia, which included all state capitals as well as large regional centres such as Ballarat and Newcastle.
Some children wore rebukes from the Prime Minister with pride as they went to Martin Place in Sydney armed with placards and smartphones.
The Kids Off Nauru campaign — an initiative of World Vision Australia whose ambassadors include former Human Rights Commissioner Gillian Triggs, previous Australian of the Year Simon McKeon and ACTU president Michele O'Neil — had called for Australians to "go blue" in the lead-up to Universal Children's Day on November 20 "in solidarity with the children and families our nation has trapped on Nauru".
"Blue can symbolise sadness and depression — which is appropriate given the suffering these people are enduring in our name," the campaign's website says.
Ms Sundbye learnt about #BlueForNauru through a primary school and said she broached the idea of introducing the concept at the kindergarten with parents first.
"It was important to approach it so that the parents are OK and the kids are OK," Ms Sundbye said. "It's not about running a scare campaign."
She said children were read the Mem Fox book, I'm Australian Too, which presents a child waiting in a refugee camp hoping that one day "I will be Australian too".
Ms Sundbye said the discussion that followed revealed that most children were clear in their view that the current situation did not seem fair.
"That was beautiful to see: how they got it on a deep level," the teacher said.
"It's never too early to get them to be part of the conversation. This is their world, their planet."
Melbourne Graduate School of Education early childhood expert Kay Margetts questioned whether such young children had the maturity to grasp the concept.
"I don't think what that teacher was doing was wrong, or that it could have damaged the children in any way, but it's asking them to consider quite a developmentally advanced concept for children of that age," Professor Margetts said.
"Kids very much see things through their own experience, their real-life experience. That's why issues involving social justice are usually broached from the child's personal and immediate experience … to teach about things like fairness, sharing and taking turns."
Child psychologist Michael Carr Gregg questioned the need for political content to be broached in schools or preschools.
"I don't think we should further dilute the curriculum with this information which is rightly the province of parents," he said.
Centre for Independent Studies senior research fellow Jeremy Sammut said the situation was a concern and potentially risked "the emotions of impressionable children who can have no real understanding of the issues involved".
Kindergarten parent Kate Rowett was pleased to see the issue tackled at the kindergarten.
She said her son Walter was familiar with the issue already as the family had made donations to the Asylum Seeker Resource Centre.
"We've talked about why we do that and I think kids really do understand more than we given them credit for," Ms Rowett said.
"We talk about a range of issues and are generally trying to raise empathetic children."
1/ Teacher Catherine Sundbye with four-year-old preschoolers Walter, Inara, Louis, Finbar, Kiavash and Wells at Brunswick Kindergarten in Melbourne. Picture: David Geraghty