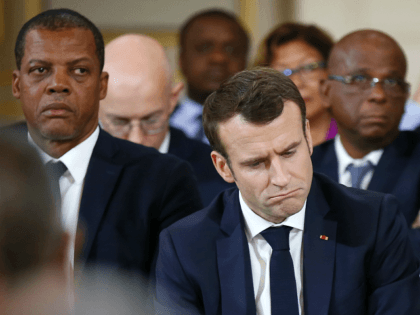 The illustration below, from Le Salon Beige, shows some of the candidates who claim to be running as GJ's in May. However, you can see that they are not patriots:

Ingrid Levavasseur, nurse's aide by profession, voted for Emmanuel Macron; Marc Doyer, business leader by profession, supported Macron in 2017, ran for a seat in the National Assembly on Macron's party, and still works for the party in the department of l'Oise; Brigitte LaPeyronie, lawyer and city councilor in Nandy, is also a cadre in the UDI party, a centrist group and definitely not pro-Marine Le Pen. Worst of all, an Armenian immigrant to France, Hayk Shahinyan, former member of the Young Socialists, is the campaign manager of this bogus "Gilets Jaunes" party aided and abetted by Bernard Tapie, notorious French entrepreneur, known world-wide for his multiple activities and numerous convictions on various charges of fraud. He is now ill and facing death, so possibly he wants to enjoy his last hurrah?
The Gilets Jaunes themselves, the real Gilets Jaunes, vehemently protest this appropriation of their movement by opportunistic forces. In a press communiqué they state that their movement belongs to no one, that each decision must be approved by an absolute majority, that they have nothing to gain by presenting candidates to the EU elections, that they are a-political, and that anyone who votes for the candidates on this ballot are in fact voting for Macron.
RT – 'Bad joke?' Macron says he's a Yellow Vest too
Three Charged in Connection with Radical Islamic Terror Attack in Strasbourg
One hardly remembers reading about the '2018 Christmas market shooting' ……the fake news media doing a marvellous job hiding actual news from the masses again!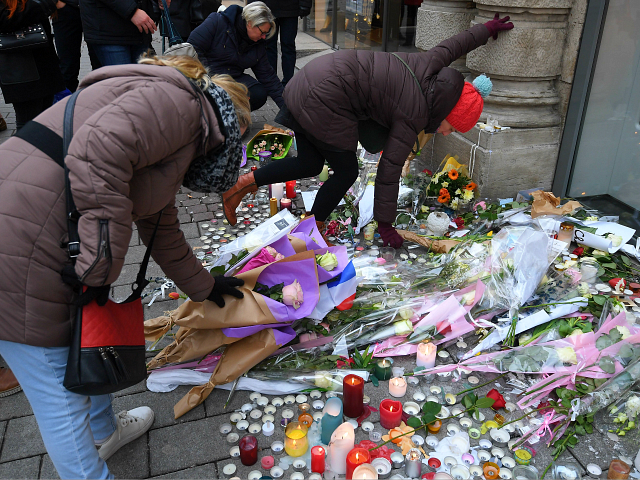 PARIS (AP) – A French judicial official says three people detained over the investigation into the Christmas market attack in Strasbourg that left five dead have been handed preliminary terrorism charges.
The judicial official, who isn't authorized to speak publicly about the investigation, wouldn't name the three, who were arrested on Tuesday in Alsace, along with another two suspects who were freed without being charged the next day.
The judicial official on Saturday wouldn't confirm French media reports that they are suspected of helping the gunman obtain the weapon he used to carry out the December 2018 assault.
The alleged killer, Cherif Chekatt, had pledged allegiance to the Islamic State group. He died in a shootout with police two days after the Dec. 11 attack.
Macron Claims 50,000 'Ultra Militants' Hijacked Yellow Vest Movement
Why are so called riot police in jeans?
Doctors Say Number of Serious Injuries Inflicted on Yellow Vests Unprecedented 
Marion Maréchal Attended Yellow Vest Paris Protest, Witnessed Far-Left Extremist Infiltration Violence 
PARIS (Reuters) – Several thousand "yellow vest" protesters marched through Paris and other French cities on Saturday on the 12th weekend of action against the government, despite opinion polls pointing to a recovery in President Emmanuel Macron's popularity.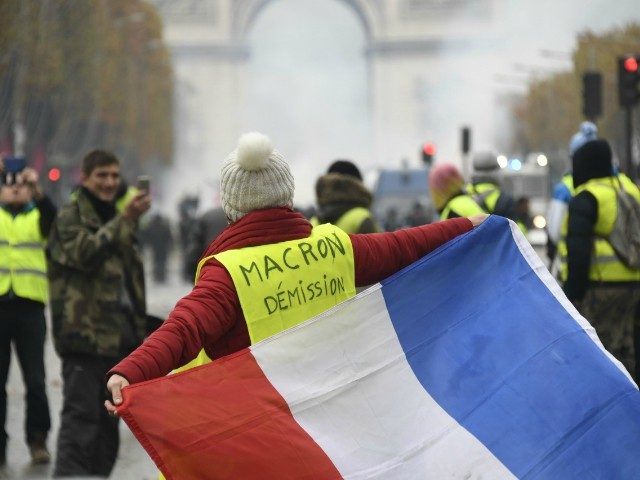 French president Emmanuel Macron has claimed that the Gilets Jaunes (Yellow Vest) movement has been largely hijacked by up to 40-50,000 "ultra militants" from the far-right and far-left in France.
An additional theme for this weekend's Yellow Vest march is calling for an end to police violence against their movement. Let's see how the police respond.
Earlier this week President Macron received several journalists at the Elysee Palace and told them his thoughts on the Yellow Vest movement, saying he thought that the movement, which goes into its twelfth weekend of protests this Saturday, had been hijacked by the ultra-left and the far-right, Paris Match reports.
Macron defined the group as a "social and political movement without a fixed claim, without a leader, outside of business and which has undergone several mutations."
"If being a Yellow Vest means that we are in favour of our work paying more and parliament working better then I am a Yellow Vest," Macron said, allegedly grinning as he did so.
While he praised some aspects of the movement Macron went on to claim that it had been hijacked by "40- to 50,000 ultra militants who want the destruction of institutions," adding both the far right and far left have been able to do so due to the "mutation" of the movement on social media platforms.
The latest on the protests is at: https://www.oann.com/french…