Viktor Orbán's latest campaign, announced in a Facebook post, depicts smiling images of Soros and Juncker with the text "You also have the right to know what Brussels prepares for!" overlaid in red and white block capitals. A caption says the EU plans to adopt mandatory relocation quotas for immigrants, weaken the border protection rights of member states and make arrivals easier with a "migrant visa".
The EU Commission, which is locked in a series of running battles with Orbán including over reforms criminalizing support for migrants, dismissed the latest Hungarian campaign as "fake news and disinformation".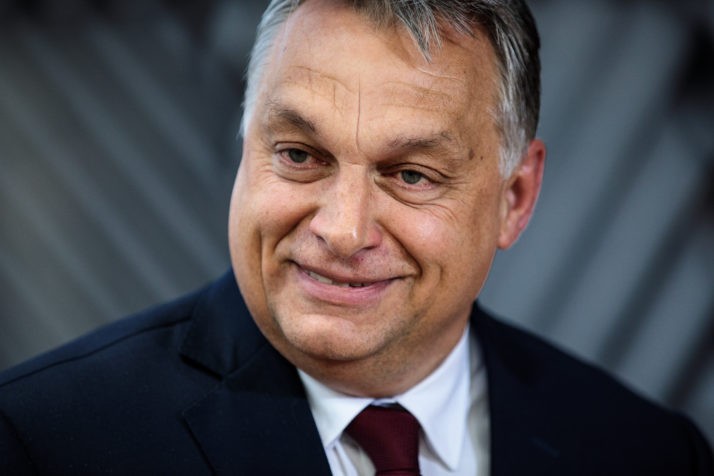 BERLIN – Hungarian leader Viktor Orbán called those in the European People's Party seeking his party's ouster from the group "useful idiots," saying in an interview that their efforts would only serve the interests of the left.
In other news:
.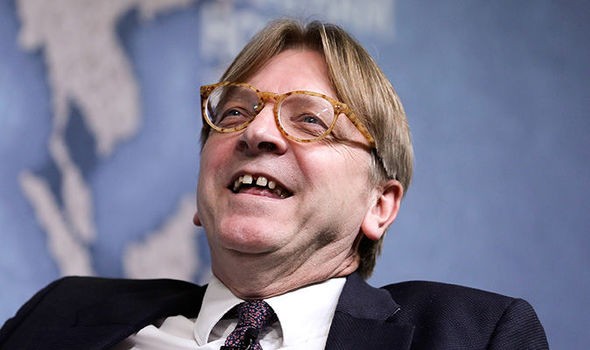 Verhofstadt is one of the worst traitors. He should be hanged for treason. Here he is just toeing the Soros line:
.
"The Hungarian government campaign beggars belief", Commission spokesman Margaritis Schinas told a press briefing. "It is shocking that such a ludicrous conspiracy theory has reached the mainstream to the extent it has. It is not true that the EU undermines national border protection, quite the contrary. And there are zero plans for the so-called humanitarian visas. Member states decide to what level they want to accept legal migration", Schinas said.
Schinas is lying. Read the 'pact for migration'. Its all in there.
The Hungarian government can prove that the European Commission is compiling a work plan aimed at promoting migration, the state secretary for international communications and relations said, according to MTI.
"In recent years, we've seen on multiple occasions that the commission considered even the most obvious things to be disinformation and lies" while "being behind the measures which it denies", Zoltan Kovacs told journalists.
That's exactly right.
The state secretary cited as an example, that while the EC denies that it is planning to introduce a "migrant visa", it had already voted to introduce so-called humanitarian migrant visas. Through these visas, Kovacs said, the commission would "institutionalise the process of getting migrants to Europe from any part of the world" through the embassies of EU member states.
Hungary has been the target of a disinformation campaign for eight years now, Kovacs told a different event , adding that international mainstream media had constructed a narrative in connection with Hungary which could create perceptions that are "at odds with reality".
The existence of links between the "Soros network" and the European Commission has again become obvious by the EC's immediate attack against an information campaign by Hungary's government, state secretary at the prime minister's office Szabolcs Takacs said in Brussels on after meeting his European Union counterparts.
The agenda of a meeting of European Union ministers included for the fourth time the procedure against Hungary launched in line with Article 7 of the basic treaty because of deficiencies as regards the rule of law. He said that Frans Timmermans, first vice-president of the European Commission, brought up the issue of the government campaign during another point of the agenda "in a frenzied manner, shouting, with total disregard to procedural rules."
In other news:
MILO BANNED
The Morrison government has banned Milo Yiannopoulos from entering Australia.
The same Morrison gov't seems to have no problem at all with importing some of the worst  Islamic hatepreachers in the world.
Continued:
Soros Foundation demands EU ramp up pressure on Poland "or EU won't survive"
Poland is resisting the imposition of chaos, and so the country is being accused by the George Soros Foundation of threatening the entire European Union. The unintelligible arguments of globalists become increasingly unhinged.
The Foundation has worked on projects to "prepare Polish society for reception of refugees", to "form positive attitudes towards" a mass influx of Middle Eastern migrants, and training tens of thousands of professionals and officials in various roles to fight "prejudice towards minority groups" as well as "hateful online comments".
Never mind the chaos that has overtaken Sweden, Germany and the UK due to this irresponsible influx of Muslim migrants who have raped innumerable women, committed jihad attacks, intimidated citizens and police alike in violent no-go zones that have spread into once-respectable neighborhoods, and have been responsible for an escalation of anti-Semitism. All this directly related to Muslim migration; the connection of Muslim migration to the rise of anti-Semitism is even acknowledged by Angela Merkel.
Last September, Soros' Open Society Foundation tried to do to the Hungarian government what it is now doing in Poland, when it took it to court "over legislation that makes it illegal for individuals or organizations to support asylum seekers, claiming the law undermines democracy and establishes a 'dangerous precedent.'"
"Soros Foundation Demands EU Ramp Up Pressure on Poland 'or EU Won't Survive,'" Sputnik News, March 2, 2019:
The Foundation was founded in the 1980s by George Soros, a vocal proponent of globalism and open borders, and is now trying to portray Poland's drive for sovereignty as a threat to the entire European Union.
The Stefan Batory Foundation, a Polish NGO established by billionaire globalist George Soros and a group of Polish opposition leaders in the 1980s, has issued a paper calling on EU authorities to step up their antagonism towards the ruling party Law and Justice in Poland, saying that the entire survival of the Union depends on it.
"The battle for the rule of law in Poland sets a precedent and is effectively a battle for the survival of the EU", the document reads, defining the EU as a community in which each member nation's laws abide to a "similar standard".
The paper praises the European Commission for its efforts to thwart Polish judicial reforms that Warsaw says aims to overhaul a corrupt and unaccountable system.
The Foundation's call comes despite a growing frustration with the EU's interference in internal affairs, which has already resulted in Poland reviewing its legislation to determine whether EU laws are compatible with Polish domestic laws.
In recent years, the Foundation has worked on projects to "prepare Polish society for reception of refugees", to "form positive attitudes towards" a mass influx of Middle Eastern migrants, and training tens of thousands of professionals and officials in various roles to fight "prejudice towards minority groups" as well as "hateful online comments".
Poland has adopted a tough anti-migration policy, refusing to take Middle Eastern and North African migrants, which Brussels has tried to force member states to accommodate. Other European nations have followed suit, with Hungary and Austria being among the least willing to accept migrants.
Jacek Czaputowicz, Polish foreign minister, and his Hungarian counterpart, Péter Szijjártó, said during a press conference in Budapest earlier this week that the two nations would continue to defend a Christian, pro-sovereignty Europe in the face of attempts by the Brussels establishment to force mass migration "down nations' throats"…..