Our decks-media is really contemptible:
"White nationalists spread Islamophobic theories about the disaster"
Images and videos of the flaming cathedral spread quickly across social media and were quickly seized upon to push "Islamophobic narratives" that have flourished in far-right politics around the world in recent years.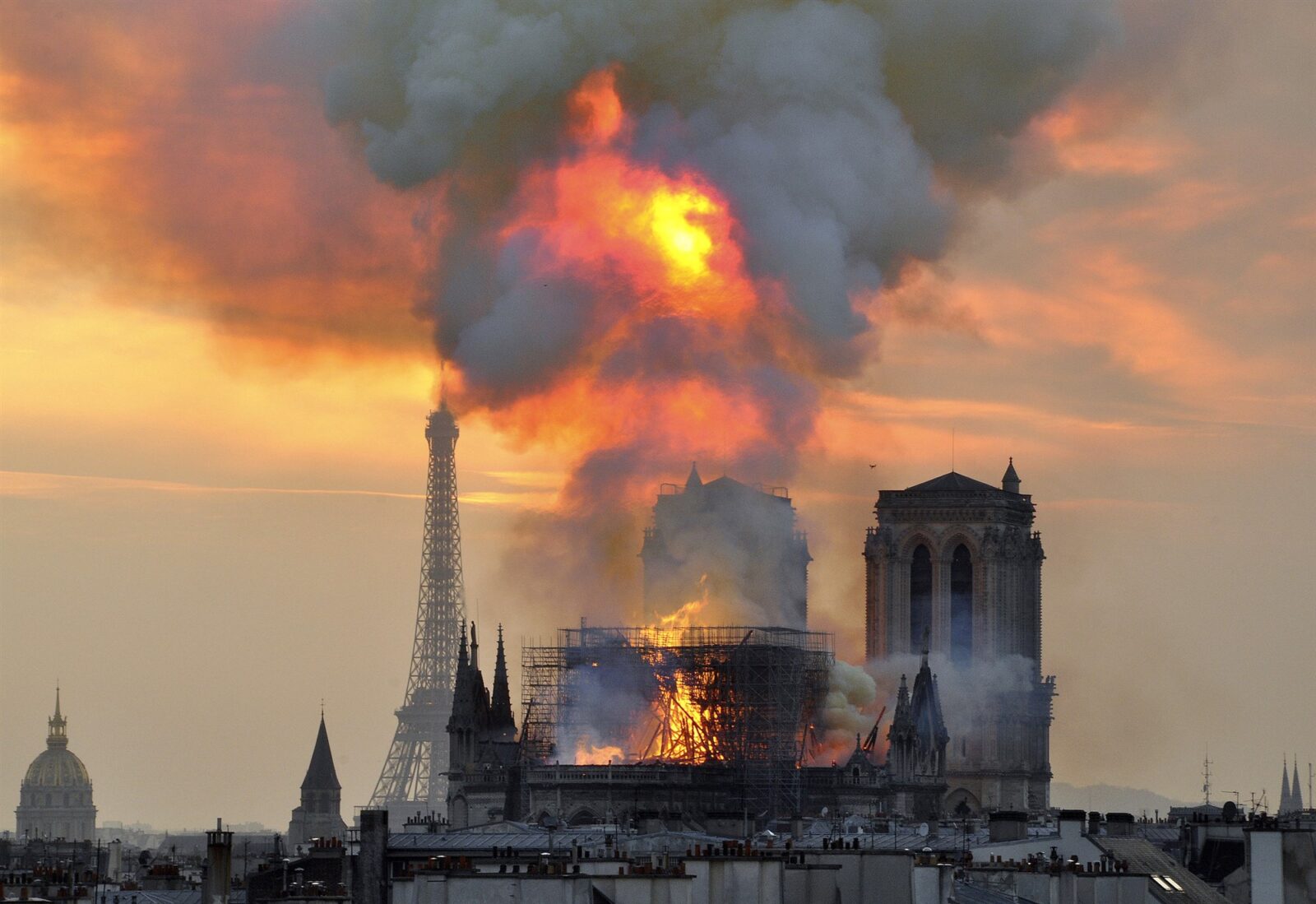 Jihadists may not have set the fire, but they're certainly celebrating it. Many Muslims believe that the ruins and destruction of non-Muslim structures testifies to the truth of Islam, as the Qur'an suggests that the destroyed remnants of ancient non-Muslim civilizations are a sign of Allah's punishment of those who rejected his truth: "Many were the Ways of Life that have passed away before you: travel through the earth, and see what was the end of those who rejected Truth." (3:137)
Notably, they didn't claim responsibility. Contrary to media myth, the Islamic State does not have a record of claiming responsibility for jihad attacks in which it was not involved. But they're cheering nonetheless: "It's time to say goodbye to your oratory polytheism."
The bemused pursuers of "Muslim-Christian dialogue" may find this puzzling, thinking that Muslims recognize Christians as fellow monotheists, and will dismiss it as "extremism." However, the Qur'an itself, which any Christian involved in "interfaith dialogue" should read and study, but which none will, is quite clear that Christians are polytheists:
More below the fold.
Update:
"The entire roof is fully destroyed," Picaud said. "The fire started up near the roof top while another fire started in the north bell tower."
This is typical of arson….fires beginning in more than one location at the site This one had at least two.
And the "prosecutor" has already "ruled out arson and terror related motives." That is typical when they wish to hide the terror from moslims.
The "Paris prosecutor's office" said it was an accident. Before an investigation has really had time to determine.
"'ALLAH EST GRAND': Muslims laugh as blaze destroys Notre Dame cathedral during Holy Week," by Kyle Olson, American Mirror, April 15, 2019 (thanks to the Geller Report):
A whole lot of people with Arab names are finding the historic Notre Dame ablaze very funny.
Twitter user Damien Rieu posted a video showing the amount of people responding to a video of the Paris church with a "laughing" face emoji.
Watch:
A sampling of the Facebook users taking delight in the tragedy…see if you notice anything in common:
Wahid Hadji
Oubbad Jsk
Yusuf Mohammedzai
Hessam Massa
Mohamed Hiadi
Mohamed Bensalem
Alaa Atfeh
Raidh Khaled
Ammar Sofiane
Abdelhakim Noui Oua
Mohamed Amin
You get the picture.
Witnesses say the fire broke out at the 850-year-old cathedral earlier today.
The roof and spire have collapsed and officials believe "nothing will remain".
Rieu posted other examples of Muslims cheering the demise of the Christian relic during Holy Week.
"Allah est grand," Mohamed Mouara commented at the sight…
Those who believe in the divinity of Christ are unbelievers: "They have certainly disbelieved who say that Allah is Christ, the son of Mary." — Qur'an 5:17 (cf. 5:72)
Jesus is not the Son of God and belief in the Trinity is "excess": "O People of the Book! Do not exaggerate in your religion nor utter anything concerning Allah save the truth. The Messiah, Jesus son of Mary, was only a messenger of Allah, and his word which he conveyed to Mary, and a spirit from him. So believe in Allah and His messengers, and do not say 'Three.' Cease! It is better for you! Allah is only One Allah. It is far removed from his transcendent majesty that he should have a son. His is all that is in the heavens and all that is in the earth. And Allah is sufficient as Defender." — Qur'an 4:171
And: "It is not befitting to Allah that he should beget a son. Glory be to him! When He determines a matter, he only says to it, 'Be,' and it is." — Qur'an 19:35
"Notre Dame FIRE: ISIS fanatics praise blaze and call it 'RETRIBUTION,'" by Rebecca Perring, Express, April 16, 2019:
ISIS fanatics have posted a chilling message bidding "au revoir" to Notre Dame after the historic cathedral was ravaged by a devastating fire.
A poster created by an ISIS affiliated propaganda wing shows the cathedral engulfed by flames with the words "have a good day" and describes the inferno as "retribution and punishment". According to the Terrorism Research & Analysis Consortium, the Al-Muntasir group created the poster, which reads: "Its construction began in the year 1163 and ended in 1345. It's time to say goodbye to your oratory polytheism."
This is not the first time the Al-Munatsir media organisation has revelled in terror attacks that have rocked France over the years.
The Paris prosecutor's office have ruled out terror-related motives for now and say they are treating the fire as an accident….