Six-foot
pipe bomb is found at Sri Lanka's main airport hours after series of blasts killed at least 207 including five Britons in Easter Sunday terror attacks targeting Christians at churches and luxury hotels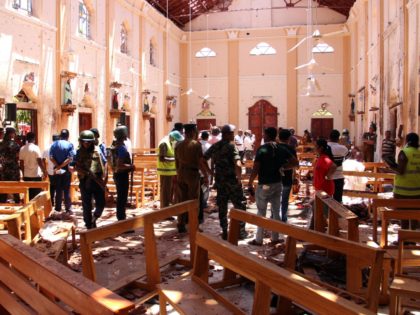 Explosions Rock Sri Lanka Churches, Hotels
207+ Dead, 450+ Injured
Sri Lankan intelligence agencies had informed the PM about the names, telephone # and groups that were planning the Easter attack on churches, but the PM didn't read or share the information. 200+ died due to the inherent clerical nature of desi politicians.
At least 207 people were killed and 450 wounded after eight explosions rocked hotels and churches
The blasts, mostly around Colombo, have killed at least 35 foreigners including Britons and Americans 
Three British nationals and two holding dual UK-US nationality are among the dead, Sri Lankan officials said 
This evening it was reported a further explosive was found and disposed of at the country's main airport 
Seven suspects have been arrested after Sri Lanka's worst violence since the end of its civil war in 2009 
A curfew has now been imposed in the country and a social media ban is in force to stop false information  
Eight separate explosions occurred – an initial six in three churches and hotels, followed by a further two later
One hotel manager said a suicide bomber had queued for a breakfast buffet before blowing himself up today 
A warning was issued about a possible Islamist attack on churches last week, but no-one has claimed attack 
WARNING: GRAPHIC CONTENT 
'A PVC pipe which was six feet in length containing explosives in it was discovered,' Air Force Spokesman Gihan Seneviratne told the Sri Lankan Sunday Times.
He said the bomb device was discovered by Air Force personnel on a routine patrol and was disposed by the Explosives Ordinance Disposal Unit of the Air Force in a controlled area.
The airport was put 'on lockdown' while the security forces examined and detonated the device, according to reports from the scene.
It comes after this morning, six bombs went off in quick succession before another two blasts two hours later in Sri Lanka's worst violence since the end of its decades-long civil war in 2009.
As details of the horror emerged today, Sri Lankan TV chef Shantha Mayadunne and her London-based daughter Nisanga were among the first victims named.
Meanwhile a manager at the Cinnamon Grand hotel in Colombo said the attacker had set off the horrific explosion in a packed restaurant at 8.30am, after waiting in a queue for a breakfast buffet.
At least 35 foreigners are feared to have been killed in the attacks – including five Britons, two of whom were joint US-UK citizens.  Foreign Secretary Jeremy Hunt condemned the the 'horrifying attacks' which he said had killed 'several British nationals'.
Further fatalities are said to include three Indians, two Turks, one Portuguese citizen and an unknown number of Dutch and Chinese nationals.
Seven suspects have been arrested, as it emerged the country's police chief had warned of an Islamic extremist plot to target 'prominent churches' just 10 days earlier, but no group has yet claimed responsibility for the attack.
Sri Lanka's defence ministry has now ordered curfew with immediate effect 'until further notice' while access to social media messaging services has been shut down.
Sri Lanka terrorist: terrorist: "Anyone who disagrees with Muslims should be killed"
https://twitter.com/Imamofpeace/status/1120035503468883968
A woman injured during one of the explosions to rip through Sri Lankan churches on Easter Sunday was taken to hospital in Batticaloa, Sri Lanka
Hospital staff push a trolley with a casualty after an explosion at a church in Batticaloa, Sri Lanka
Sri Lankan military stand guard near the explosion site at a church in Batticaloa,with police tape keeping out bysanders
Last photo: Shantha Mayadunne (second left) and her daughter Nisanga (right) were among the victims of the Sri Lanka bomb attacks on Sunday. The family posted this picture of their Easter breakfast at the Shangri-La hotel just before the blast there
Security forces inspect the St. Anthony's Shrine after an explosion hit St Anthony's Church in Kochchikade in Colombo
More than 400 people have been injured after the initial six near-simultaneous explosions across the country, an official said (pictured: The aftermath in one of the churches)
State minister of defence Ruwan Wijewardene said investigators have identified the culprits behind the 'terrorist' attacks (pictuerd: Shangri La hotel, Colombo)
Footage appears to show bomb going off at church in Sri Lanka
At least 156 people are dead in an Easter Sunday terrorist attack targeting Christians in Sri Lanka after explosions ripped through high-end hotels and churches (pictured: Outside a hospital in Colombo)
 Sri Lanka's defence ministry has now ordered curfew with immediate effect 'until further notice', and the Sri Lankan government said it had shut down access to social media messaging services, sources say
Security forces conduct raids after deadly Sri Lanka bombings
A map showing where the eight blasts went off today, six of them in very quick succession on Easter Sunday morning
Pictured: Shantha Mayadunne and her daughter Nisanga. The victims include at least 35 foreigners, believed to include Britons and Americans as well as nationals of Turkey, China, Portugal and the Netherlands
The bombings targeted the luxury Cinnamon Grand, Shangri-La and Kingsbury hotels as well as St Anthony's Shrine in Colombo, all frequented by tourists.
Other blasts were reported at St. Sebastian's Church in Negombo, a majority-Catholic town, and at Zion Church in the eastern town of Batticalo.
Later in the afternoon, two died in a strike at a hotel near a zoo in the south of Colombo, before a suspected suicide bomber killed police officers in the suburb of Orugodawatta in the north of the capital.
Shantha Mayadunne and her daughter Nisanga, believed to have been a student in London, died just moments after sharing a picture of their Easter breakfast at the Shangri-La hotel.
A friend of the family told Gulf News: 'Nisanga was a very popular girl in college.
'Besides the fact that she was bright and smart, her mother Shantha Mayadume, a renowned chef, made her more popular in college. She was well respected and an inspirational chef for Sri Lankans.'
Describing the Cinnamon Grand bombing, a hotel manager said the attacker had registered the night before as Mohamed Azzam Mohamed.
The bomber was just about to be served when he set off the explosives which were strapped to his back, killing himself and numerous guests.