The ABC is back to their usual BS reporting:
Sri Lanka Muslims fear backlash from Easter attack
The ABC doesn't actually report about Islamic terrorism, it focuses on a small group of Ahmadiyya Moslems who are hauled up in Sri Lanka.
And just like that, an Islamic terror attack which killed 359 people has largely dropped out of the headlines.
Muslims are the victims, as always:
Sri Lanka's Muslims fear retribution in wake of Easter attacks
"What has happened now is that the entire Muslim community is being vilified, demonized and Islamophobia is being heightened like never before on the island, and it has also been reinforced in other parts of the world." …
Muslims pray under military protection in Sri Lanka after riots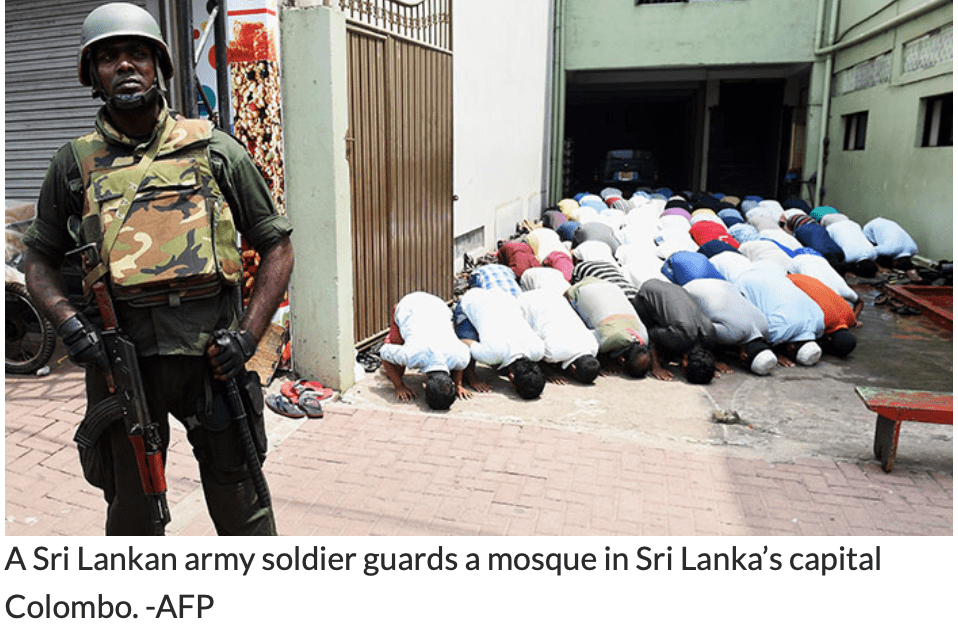 COLOMBO: Soldiers and police guarded mosques across Sri Lanka during Friday prayers amid fears of new anti-Muslim attacks after four days of riots that have left at least three dead.
Sri Lanka Catholic Church Services Suspended After Blasts: Priest
"On the advice of the security forces we are keeping all churches closed," a priest told AFP.
A series of coordinated bombings on Easter Sunday rocked Sri Lanka, killing at least 253 people (death toll revised down from 359 by authorities) and wounding 500 others.
Melbourne 'radicalised' him!
Racism and intolerance only applies when Mohammedans don't get their way. Don't even mention that Islam doesn't tolerate the infidel. That would be racist and intolerant.
Relatives of one of the Sri Lankan suicide bombers claim it was during his time living in Melbourne, that he became radicalised. @renaehenry9 #9News pic.twitter.com/Gsfb8OfzzY

— 9News Australia (@9NewsAUS) April 26, 2019
One of the Sri Lankan suicide bombers, responsible for the deaths of hundreds of Christians over Easter, was allegedly radicalized in Melbourne, Aus.
Australia has a problem with radicalism – but it sure as hell isn't coming from the "far right".
The far-left care about minority voices and the oppressed*
*So long as they parrot far-left dogma. Otherwise they must be destroyed
Leftoids have no interest in debate at all. They believe free-speech, the rule of law and parliamentary democracy are institutionalised power structures for white, European, Christian men.
Salvini Demands Security Services Increase Observation of Islamic Cultural Centres
Salvini should shut down the illegal mosques. Islam is not 'culture', it's  ideology in the guise of religion.