Facebook video calling Islamic culture 'barbaric' and 'primitive' shared by federal CLP candidate Jacinta Price
A typical BS article from ABC scribbler  Oliver Gordon, who just can't see anything wrong with Islam.
A video featuring a provocative Syrian-American commentator describing Islamic culture as "barbaric" and "primitive" was shared by Country Liberal Party (CLP) candidate for Lingiari Jacinta Price on her personal Facebook page.
Key points:
Wafa Sultan made the comments about Islam and Muslims in a 2014 interview with Al Jazeera
She claimed the world was seeing a clash between "the culture of the West" and the "backwardness and ignorance of the Muslims"
A Country Liberals spokesman said Ms Price shared the video as part of her campaign "against the use of religion or culture to justify violence against women"
The candidate shared the video on her Facebook account in 2014, but did not comment on it or endorse it.
The post still appears publicly on her personal Facebook profile, where Ms Price goes by the name Nampin MacGregor.
The video, which claims to contain "the naked truth about Islam", featured Wafa Sultan — who is a psychologist — sharing her views on what she saw as the destructive nature of Islamic civilisations.
Islam is destructive. It is not a 'civilisation'. It is pure barbarism.
In the video, Dr Sultan compares how Jews and Muslims dealt with adversity, saying "only the Muslims defend spread their beliefs by burning down churches, killing people and destroying embassies".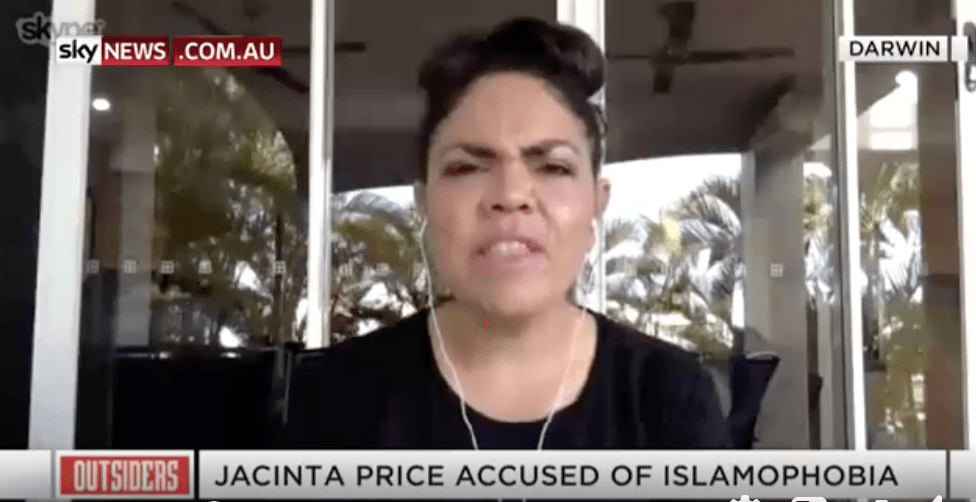 She also claimed the world was seeing a clash between "the culture of the West" and the "backwardness and ignorance of the Muslims".
The online video originated from the controversial Middle East Media Research Institute (MEMRI), and featured footage of Dr Sultan speaking to the Al Jazeera news network.
Dr Sultan is a divisive figure, but was named in Time Magazine's most influential people list in 2006, described as a "bad girl of Islam". She has referred to herself as a Muslim who does not believe in Islam.
The absurdity of calling Wafa Sultan "divisive" is offensive. Islam divides the world in believers & unbelievers. To deny this is outrageous.
CLP president Ron Kelly confirmed that the Facebook page was Ms Price's, and that she shared the video, but he did not comment further.
Ms Price was contacted for comment but did not respond.
In a statement, a CLP spokesperson said: "Ms Price has long campaigned against the use of religion or culture to justify violence against women and this was the only motivation for sharing this Al Jazeera interview of Dr Sultan five years ago."
'Islamophobic' video emboldens 'hateful views'
Not. Islam emboldens hateful views. Learning the truth about Islam is not "hateful".
The Australian National Imams Council has condemned the video.
"The video is clearly Islamophobic. It vilifies and demonises approximately 1.6 billion Muslims worldwide and dismisses entirely their religion and beliefs," said spokesman Bilal Rauf in a statement.
"Islamophobia" doesn't exist. It is an insult to all the worlds infidels to suggest they suffer from a mental deficiency when they dislike the cult.
"It does so in a manner which engenders hatred towards Muslims and Islam.
Suggesting that we must all bow to Islam without criticising it is outrageous.
.
Mr Rauf said such videos could be extremely damaging, pointing to the mass murder of 50 people at mosques in Christchurch in March.
Mr Rauf conveniently forgets to mention the 35.500 major Islamic terrorist attacks since 9/11 that killed and maimed millions.
"They also embolden those who harbour hateful views and potentially encourage them to act on those views to cause injury and harm."
We have a sacred duty to oppose the Islamic expansion project. This drivel must be ignored. We are not "hateful". Mohammedans are.
He called for a mutual respect and care across Australia's diverse society, and called for those in positions of leadership and in public office "not to act in a way which contributes to division, hatred and the vilification of any particular community within our society".
Islam divides. Islam hates us. Islam vilifies us and seeks to destroy us.
'We all make mistakes': Islamic Council
But the Islamic Council of the NT struck a different tone, with chairman Chowdhury Sadaruddin saying, "we all make mistakes while using social media".
"ICNT believes that Jacinta Price is not well informed about the history of Muslims, hence innocently shared the video without any ill feelings towards the Muslims in general," he said in a statement.
Sure. She needs to be "educated" so she can submit and wear hijab. 
Mr Sadaruddin said he could not discern from the sharing of the video revealed what Ms Price's "true intention" was, or her views regarding Muslims in general.
The council has offered to work alongside Ms Price to clarify her understanding of Islam.
Or else….
Social media posts shaking up election
It is not the first time this campaign that past social media posts have resurfaced for federal candidates.