Free speech is dead, hello George Orwell's 1984.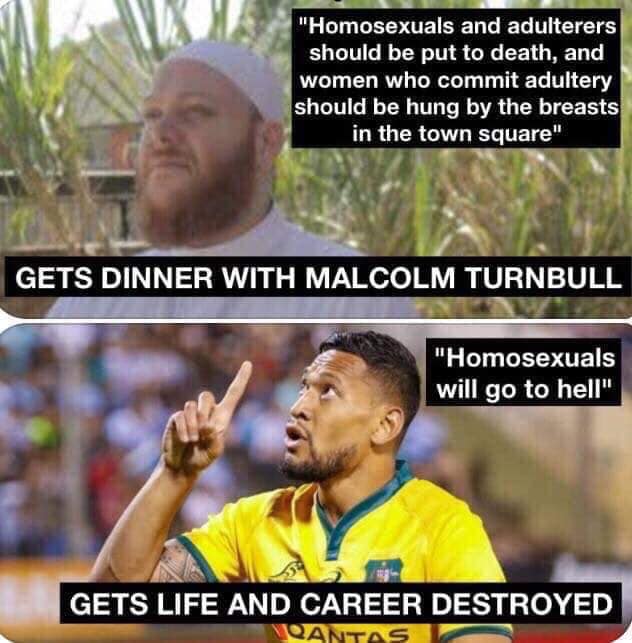 Folau hit with high-level code breach
Israel Folau has been found guilty of a high-level breach of his contract with Rugby Australia, with a code of conduct tribunal now to decide what punishment he faces.
The finding is ominous for the three-time John Eales Medallist because only a high-level breach enables Rugby Australia to terminate his contract.
Folau's career now teeters on the brink of ruin. The question is whether Rugby Australia will consider how this issue has polarised its fan base and indeed a large percentage of the Australian public.
The best punishment Folau can hope for is a suspension and/or a fine. He also has the right of appeal, a process that would involve a completely new three-person panel being selected.
The panel of chairman John West QC, Kate Eastman SC and John Boultbee handed down its finding late today.
It will now take written submissions from Rugby Australia and Folau before determining what sanction to impose.
The hearing had considered what level of breach — if any — Folau had committed by posting social media comments last month stating that homosexuals and others the Bible described as sinners were bound for hell unless they turned to God for repentance.
It is not known how long the panel will take to consider what level of sanction to impose but the last time a code of conduct tribunal arrived at this stage of proceedings, having found a player guilty of a high-level breach, it didn't end as Rugby Australia expected.
Kurtley Beale was fined $45,000 in 2014 for sending a pornographic image to a female employee of the then Australian Rugby Union — an incident that led to Wallabies coach Ewen McKenzie walking out on the job.
At the time, Rugby Australia had been prepared to tear up Beale's contract.
The significant difference was that Beale's teammates were still prepared to play with him. Whether the same can be said of Folau, especially after he was formally warned 12 months ago against doing precisely as he did, is problematic.
Should he be sacked, Folau would be the first Australian athlete dismissed for expressing fundamental religious beliefs.
Even before the case potentially reaches the courts, it has developed into one of the most drawn-out legal stoushes in Australian sporting history.
The hearing stretched for 22 hours over three days. As well as the extraordinary length of the hearing, the cost of the case is also mounting. The two parties are thought to have paid an estimated $300,000 in legal bills since Saturday alone.
Wallabies coach Michael Cheika has stated that he can't see how Folau can play for Australia again and a number of senior players, including halfback Will Genia and five-eighth Bernard Foley, have indicated they could have difficulties playing with him again.
Rugby Australia will need to take into account the statement of leading Pasifika player Samu Kerevi, that he didn't want anyone "terminated". Wallabies and Queensland prop Taniela Tupou also insisted that a player's religion had nothing to do with rugby and if the plan was to terminate Folau's contract, then Rugby Australia might as well "sack us all" because just about all Pacific Islands players felt the same way.
If Folau's contract is terminated, he could launch action for religious­ discrimination under section 722 of the Fair Work Act, according to lawyer Mark Fowler. "However, it is a quirk of the act that the same claim is not available to him where he is issued with a lesser form of sanction," he added.