Tommy is a political prisoner. The establishment wants to get rid of Tommy. The Judge says she wants to send Tommy to prison immediately — as in, this afternoon.
In sum: Tommy will be sentenced to prison for 19 weeks, and will be released half-way. So that's 9.5 weeks in prison. More than two months in prison. For journalism.
Thanks to Ezra Levant
Dame Victoria says she wants to make an example out of Tommy. (That's what the Attorney General said — he asked the court to punish citizen journalists.)
Dame Sharp says there is no sentencing guideline.
Therefore: no suspended sentence.
Therefore the total penalty — new contempt, plus old contempt: 9 months.
Now they're ordering Tommy to pay costs, but they will give his lawyer 28 days to give them submissions about costs. They're literally making him pay for his own conviction.
Tommy is going to prison. The first journalist since the 1940s to go to prison for contempt of court.
For livestreaming political commentary outside the trial of a rape gang.
Welcome to the UK in 2019. Americans, if you're listening: protect your First Amendment at all costs.
Update:
A final indignity: the prosecution asks that Tommy Robinson have to pay for his own trial. £25,000. Those rapists who were convicted up in Leeds didn't have to pay for their own trial. Tommy will pay for his.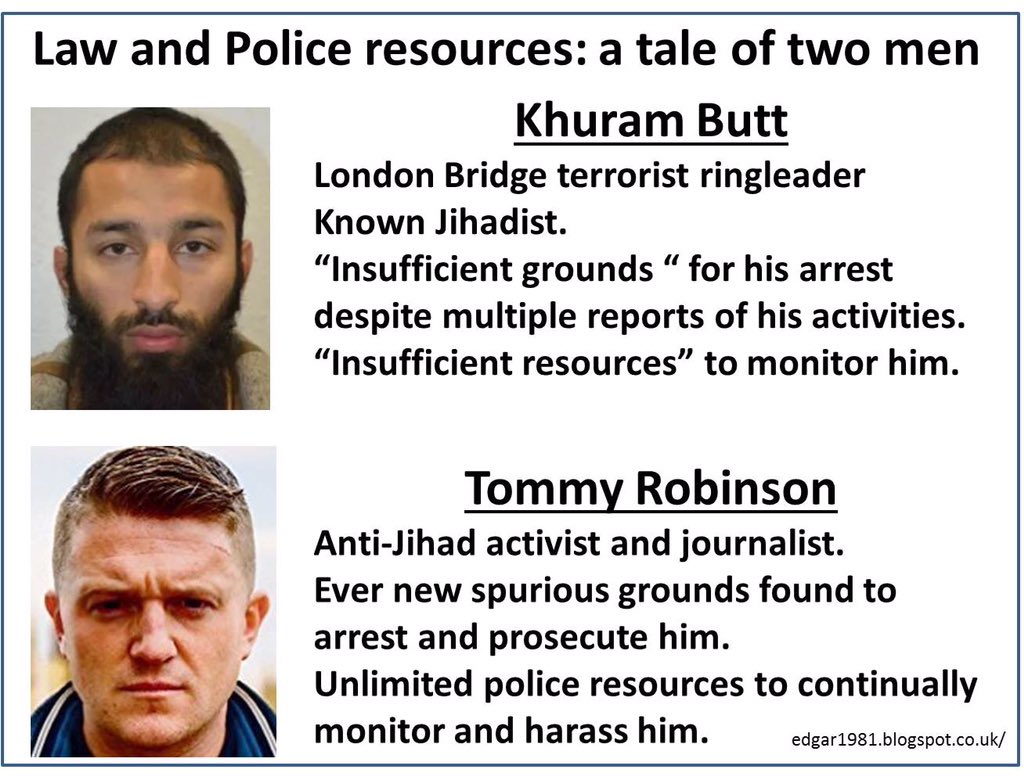 https://twitter.com/KTHopkins/status/1149226644277727232
Robert Spencer:
Tommy Robinson is heading back to jail, with a sentence that could be a death sentence at the hands of Muslim inmates who threatened and menaced him when he was in prison before, for doing what reporters routinely do outside criminal trials. The British government is clearly making an example of him in order to try to deter more Britons from protesting against its policies of mass Muslim immigration and its covering up of crimes perpetrated by Muslims in the name of Islam and in accord with its teachings. This conviction and sentencing shows not Tommy Robinson's contempt of court, but the contempt of the British government for its own citizens, and particularly for the victims of Muslim rape gangs.
"Tommy Robinson jailed for nine months for contempt of court," by Zoe Drewett, Metro, July 11, 2019:
Two senior judges found on Friday that the former English Defence League (EDL) leader was in contempt when he filmed men accused of the sexual exploitation of young girls and live-streamed the footage, in breach of a reporting ban, outside Leeds Crown Court in May 2018.
Tommy Robinson has been jailed for nine months for filming defendants in a grooming gang trial and live streaming the footage to Facebook.
Robinson, 36, was found to have committed contempt of court on Friday after a two-day hearing at the Old Bailey. Sentencing him, judge Dame Victoria Sharp said: 'We are in no doubt that the custody threshold is passed in this case.'
The nine month jail sentence includes six months for filming outside Leeds Crown Court last year and three months for an incident at Canterbury Crown Court the year before.
After deduction for time served in prison last year for the same offence, the sentence in practice amounts to 19 weeks – and he will be released on licence after 10.
Robinson arrived late at court this morning carrying an overnight bag and wearing a t-shirt emblazoned with the words: 'Convicted of journalism.' Reporters in court said he had changed his shirt once in the court building as the letters were no longer visible when Robinson faced judges.
At the start of the hearing, his barrister Richard Furlong apologised for his client's late arrival, blaming 'a number of people outside who are here to support him'. Dame Victoria replied: 'Well, it's not a very good start, is it?'
The former English Defence League founder, whose real name is Stephen Yaxley-Lennon, was found in contempt in three respects when he filmed men accused of the sexual exploitation of young girls, in breach of a reporting ban, outside Leeds Crown Court in May 2018. He has 11 previous convictions for violence, public order, fraud and disobedience of court orders.
After he was found in contempt, Robinson released a video of himself begging President Donald Trump to grant him 'political asylum' in the US, claiming he would be killed if he was put in prison in Britain. He said: 'I beg Donald Trump, I beg the American government, to look at my case.
'I feel like I'm two days away from being sentenced to death in the UK.'
His appeal continued: 'I need evacuation from this country because dark forces are at work.'…