The Guardian's Global Warming Predictions Are Coming Due
2020 is only half a year away. Enjoy life while you can, because as The Guardian informed us in 2004, next year doom will be our reward for continuing to make use of the fossil fuels without which we could not sustain more than a small fraction of the current population and for failing to submit to centralized socialist rule.
The warmists revealed the contents of a "secret report" that was "suppressed by US defence chiefs":
[M]ajor European cities will be sunk beneath rising seas as Britain is plunged into a 'Siberian' climate by 2020. Nuclear conflict, mega-droughts, famine and widespread rioting will erupt across the world. …
As early as next year widespread flooding by a rise in sea levels will create major upheaval for millions.
Checking my calendar… Hey, the flooding was supposed to happen 14 years ago! Instead of major upheaval, all we have are doctored (see e.g. here, here, here, here, here) temperature data suggesting that the climate might be continuing to fluctuate like it always has.
Climate change 'should be elevated beyond a scientific debate to a US national security concern', say the authors, Peter Schwartz, CIA consultant and former head of planning at Royal Dutch/Shell Group, and Doug Randall of the California-based Global Business Network.
Allegedly, the Bush Administration suppressed this report in the interests of Big Oil, heedless of the onrushing cataclysmic doom.
Already, according to Randall and Schwartz, the planet is carrying a higher population than it can sustain. By 2020 'catastrophic' shortages of water and energy supply will become increasingly harder to overcome, plunging the planet into war.
Should we wait until after 2020 has come and gone uneventfully? Or should we burst out laughing at these outrageous lies right now?
(Moonbattery)
Guterres replaces Pachauri as climate alarmist-in-chief
UN Secretary-General "Guterres was the Socialist prime minister of Portugal from 1995 to 2002 and served as president of the Socialist International from 1999 to 2005."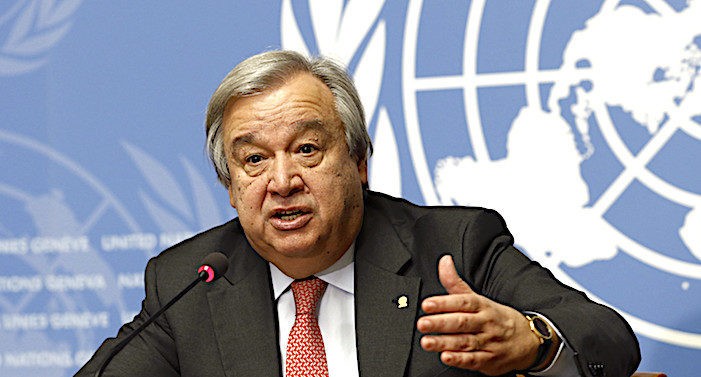 UN Secretary-General Antonio Guterres has mastered the language of climate change as agent for revolution and is the new alarmist-in-chief, writes Graham Lloyd.
Guterres replaces Pachauri as climate alarmist-in-chief
Before his fall from grace over allegations of sexual harassment, former Indian railway employee Rajendra Pachauri was recognised, if not always respected, as the world's top climate change diplomat.
With Pachauri stripped of his role as chairman of the Intergovernmental Panel on Climate Change and on trial for molesting a junior staff member, most people would be hard-pressed to picture his replacement, Hoesung Lee of South Korea.
With Pachauri in disgrace, Barack Obama out of office, Donald Trump in the White House and Al Gore weighed down by the baggage of past exaggerations, the role of public champion for climate action has fallen to UN Secretary-General Antonio Guterres.
He has mastered the language of climate change as agent for revolution and rebellion. He accepts climate impacts that have pushed ahead of the accepted science set out in IPCC documents.
Behind the scenes the questions that dog climate discussions in Australia, extreme weather and energy security, are playing out on the global stage.
Further discussion of the IPCC's landmark report on 1.5C warming has been banished from formal climate talks, as an alternative to acknowledging that some countries have questioned the science that underpins it.
In recent weeks Guterres has posed for photographs knee-deep in water dressed in a business suit on a Pacific Island beach to highlight the dangers of rising sea levels. From the Pacific he rushed to Bonn, attempting to inject urgency into a UN Framework Convention on Climate Change process that sputtered, if not stalled, in Poland last December.
From Bonn, Guterres flew to Japan for the G20 meeting and then on to the desert city of Abu Dhabi this week, where he took a helicopter flight over the newly commissioned world's biggest private solar power station.
The Abu Dhabi gathering was a warm-up for what will be Guterres's showcase event, a UN Climate Action Summit in New York in September, where countries have been asked to bring plans on further reducing their greenhouse gas emissions.
Guterres has been spreading the message that even if pledges made under the Paris Agreement are met, they will not deliver the results that climate scientists say are required. But many countries, Australia included, will most likely say they have agreed to revise their actions next year, not now.
To build momentum, Guterres has been honing the message that the world is running out of time.
"Climate disruption is happening now … It is progressing even faster than the world's top scientists have predicted," he said in Abu Dhabi. "It is outpacing our efforts to address it. Climate change is running faster than we are. Every week brings new climate-related devastation … floods, drought, heatwaves, wildfires and superstorms."
He warned the situation would only deteriorate unless "we act now with ambition and urgency".
The UN chief called on young people to initiate a green political revolution. "You need to revolutionise the world and force my generation to understand that it is our obligation to move fast," he said.
"You need to make as much noise as possible, you need to org­anise yourself as strongly as possible. You need to ask for more. You need to push for more because, let's be clear, with the present level of engagement and of international commitments to address these problems, we will not solve the challenges we face."
The lack of engagement can be judged by the indifference that greeted a joint statement by China, France and Guterres on the margins of the G20 summit in Osaka.
The trio "reaffirmed their strong commitment to enhancing international co-operation on climate change to ensure full and effective implementation of the Paris Agreement". The parties voiced their support for multilateralism and committed to updating their national determined contributions to "reflect their highest possible ambition".
China has agreed to publish long-term mid-century low greenhouse gas emissions development strategies by next year. China, France and the UN said developed countries should fulfil their commitment to provide and mobilise $US100 billion ($142bn) each year for climate finance by 2020 for developing countries. They "attached great importance to achieving a successful and ambitious replenishment process of the Green Climate Fund".
The G20 meeting proper, however, failed to speak with one voice. After the G20 gathering, leaders issued a statement in which 19 members reaffirmed their commitment to the "full implementation of the Paris Agreement, reflecting common but differentiated responsibilities and respective capabilities, in the light of different national circumstances".
The US reiterated its decision "to withdraw from the Paris Agreement because it disadvan­tages American workers and taxpayers". A paragraph dedicated to the US position in the G20 communique says the US "reaffirms its strong commitment to promoting economic growth, energy security and access, and environmental protection".
"The US's balanced approach to energy and environment allows for the delivery of affordable, reliable, and secure energy to all its citizens while using all energy sources and technologies, including clean and advanced fossil fuels and technologies, renewables and civil nuclear power, while also reducing emissions and promoting economic growth," the communique says.
"The United States is a world leader in reducing emissions. US energy-related CO2emissions fell by 14 per cent between 2005 and 2017 even as its economy grew by 19.4 per cent largely due to the development and deployment of innovative energy technologies.
"The United States remains committed to the development and deployment of advanced technologies to continue to reduce emissions and provide for a cleaner environment."
The US position mirrors the concerns that plague Australia and other nations: energy price and security. The human impact on extreme weather events is also on trial.
Politicians in the US, meanwhile, have been hearing arguments about how solid are the foundations on which the climate change narrative has been built.
Climate scientist Michael Mann told a congressional hearing that climate change was already reflected in extreme weather events. "Just as climate models almost certainly underestimate the impact climate change has already had on such weather extremes, projections from these models also likely underestimate future increases in these types of events," Mann says.
He says climate scientists have become increasingly comfortable talking about the connections between climate and weather. "Much like medical science has developed key diagnostic tools, we have developed sophisticated tools to diagnose the impact climate change is having on extreme weather events.
"One of these tools, 'extreme event attribution', can be thought of as climate science's version of an X-ray," he says. "In this case, a climate model is run both with and without the human effect on climate. One then compares how often a particular extreme event happens in both the 'with' and 'without' cases. If it occurs sufficiently more often (ie, beyond the 'noise') in the former case, a study can 'attribute' and quantify how climate change affected the extremeness of the event."
More sophisticated tools are being developed because "some climate change impacts on extreme weather are too subtle to be captured by current generation climate models", he says.
In her blog, weather and climate expert Judith Curry dismissed Mann's assertions, much of which she said had been drawn from his own articles and publications. "Whatever happened to climate scientists using the IPCC and national assessment reports in their analyses, either to support their arguments or otherwise refuting specific statements in these reports?" Curry asks. "It seems that only scientists of the non-alarmist persuasion are citing these reports any more."
Curry says the paradox of weather disasters is that they are highly surprising as well as quite predictable. "We shouldn't be surprised by extreme weather events, when comparable events have occurred during the past century," she says. "The sense that extreme weather events are now more frequent or intense, caused by man-made global warming, is symp­tomatic of 'weather amnesia'."
Curry says recent international and national assessment reports acknowledge that there is not yet evidence of changes in the frequency or intensity of hurricanes, droughts, floods or wildfires that can be attributed to man-made global warming. The increased level of wildfires in the western US since the 1980s is partly caused by state and federal polices that have resulted in catastrophically overgrown forests. Comparable levels of wildfire activity were observed earlier in the 20th century.
The National Climate Assessment recognises that the Dust Bowl era of the 1930s remains the benchmark period for extreme drought and heat in the historical record.
Curry says owing to the large natural variability in extreme weather events, it is difficult to discern any trends in such events that can be attributed to man-made global warming. The IPCC special report on extreme events says there is not yet evidence of changes in the global frequency or intensity of hurricanes, droughts, floods or wildfires.
Curry says blaming extreme weather events on man-made climate change, and focusing only on what to do after lives and property have been destroyed, deflects from understanding and addressing the real sources of the problems, which in part include government policy. She warns that conflating the issue of extreme weather events with man-made climate change can be counter-productive in terms of understanding the variability of extreme weather events and reducing vulnerability.
"By avoiding the conflation of weather disasters with man-made climate change, the acrimony associated with the political debate surrounding climate change can be avoided," she says.
This is a message the climate change community is unlikely to embrace.