School kids in Pakistan are raped, killed.  Imran Khan govt & clerics recommend abayas
Pak. Government Proposes Abayas to Curb Child Molestation…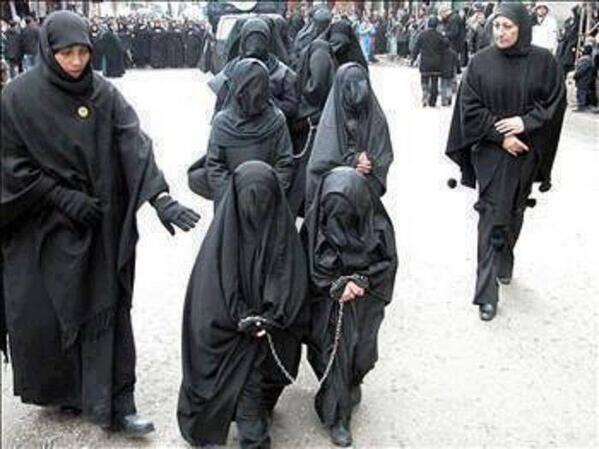 Police in Pakistan confirmed this week that three boys – aged eight and nine – who were missing for nearly three months were raped and killed.
In yet another absurd chain of events in Prime Minister Imran Khan's 'Naya Pakistan', the ruling party's government in Khyber Pakhtunkhwa made it mandatory for girls in public schools to 'cover themselves up' with a gown, abaya, veil, or chadar. The reason behind the decision gave a lot away: the government, which had already circulated its order in a district a couple of days ago, believed its measure would protect the girls from "unethical incidents".
The Imran Khan government, which is responsible for the safety of young girls and boys, hides under tradition, religious and cultural values to pass its responsibility onto the children themselves. It seriously believes that enforcing a regressive practice on schoolgirls is the best way to protect them from harassment or abuse.
Somali Entitlement Whores Stuck in Indonesia Rally to Be Taken in by Australia
Every thing have a limit.Especially the patience of refugees , 7 years is Enough.#RESETTLEMENT4SINGLEREFUGEES#HELPREFUGEESININDONESIA@Indorefugees@rac_canberra @rac_sydney @RACSaustralia @racvictoria @UNHCRCanada@Refugees pic.twitter.com/hOy7cTXhtU

— INDOREFUGEES (@Indorefugees) September 25, 2019
Londonistan Mayor Sadiq Khan says Donald Trump is 'the poster boy for the far-right around the world' in latest round of their war of words
Sadiq knows how to dish it out. It's amazing he never had any serious blowback.
Sadiq Khan made comment at fringe event of annual Labour Party conference  
Khan was asked why he thought the US president chooses to tweet about him  
Mayor joked he has 'no idea' why he 'tweets about the Muslim mayor of London'
London Mayor Sadiq Khan has dubbed Donald Trump 'the poster boy for the far-right around the world' – in the latest round of their long-running feud.
Speaking to a fringe event at the Labour Party's annual conference in Brighton on Sunday, Khan was asked why he thought the US president chose to tweet about him so often.
Trump, who has shared his disapproval of the London mayor several times, most recently called him 'the incompetent Mayor of London, Sadiq Khan' earlier this month.
In response to the question, Khan joked: 'I have got no idea why Donald Trump tweets about the Muslim mayor of London.
London Mayor Sadiq Khan (pictured) was asked why he thought US President Donald Trump chooses to tweet about him so often at a fringe event at the Labour Party's annual conference