'If you don't want to live here, go to Pakistan' – Indian cop to Muslim protesters against new citizenship bill
So what's the problem? The problem is Mukhtar Abbas Naqvi, a Minister for Minorities Muslims, who believes the world belongs to Islam.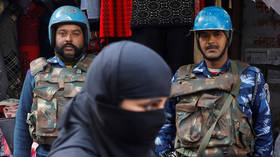 India's minister for minorities has called for disciplinary measures against a police officer who told Muslims protesting a new citizenship bill to "go to Pakistan" after a video of the incident went viral.
.
Union Minister for Minorities Mukhtar Abbas Naqvi said that "immediate action should be taken against the police officer" if the allegations are true. He stressed that the government would respond if police or officials were found to have carried out "atrocities on the people."
Citizenship Amendment Act (CAA).
The CAA offers a fast track to Indian citizenship for religious minorities in three Muslim-majority neighboring countries: Pakistan, Afghanistan, and Bangladesh. Critics say the law is discriminatory because it does not extend to Muslims. The Indian government has defended the legislation on humanitarian grounds, while blaming the violent protests on misinformation spread by opposition parties.
There were 22% Hindus in Pakistan at the time of Partition," said Rupani. "Now, due to persecution, rapes and constant torture, their population has reduced to just 3%. That is why Hindus want to come back to India. We are doing what the Congress was supposed to do to help these distressed Hindus. And when we are doing it now, you are opposing it."
India's tourism industry hit hard by citizenship law protests
About 200,000 domestic and international tourists have cancelled or postponed trips to Taj Mahal in last two weeks.
India's tourism industry has been hit by a wave of violent anti-government protests across the country against a new citizenship law, with at least seven countries issuing travel warnings.
At least 25 people have been killed in clashes between police and protesters, and demonstrations against the Citizenship Amendment Act (CAA), which critics see as anti-Muslim.
The United States, the United Kingdom, Russia, Israel, Singapore, Canada and Taiwan have issued travel advisories asking their citizens to either refrain from visiting or to exercise caution when visiting regions embroiled in India's protests.