The French media is forbidden to report how many cars the Mohammedans set alight every year.  Some clever gov't apparatchiks came up with the idea that if it's not reported it's not happening, so the Mohammedans don't feel the need to set new records every year.
https://twitter.com/RockyWinston007/status/1212171949796921440
'Citizen journalists' are banned from reporting the numbers because that encourages the (Mohammedan) "yoots" to burn more cars to break previous records.
https://twitter.com/sotiridi/status/1212323789373087747
https://twitter.com/Squill_whispers/status/1212194932489932801
Iran huffs & puffs:
Senior Iraqi Shiite Militia Official Sheikh Kazem Al-Fartusi Responds to U.S. Airstrikes against Iran-Backed Militias in Iraq: Every U.S. Soldier Can Expect to Be Killed pic.twitter.com/slTFWX3m9i

— MEMRI (@MEMRIReports) January 1, 2020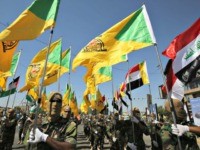 Leftist degenerates wasted no time slamming President Donald Trump over his decision to use military force to protect Americans from terrorists in Iraq.
Lefturds say the dumbest shit.