The French media is forbidden to report how many cars the Mohammedans set alight every year.  Some clever gov't apparatchiks came up with the idea that if it's not reported it's not happening, so the Mohammedans don't feel the need to set new records every year.
Just in – Reports of dozens of cars has been set on fire in #Paris in #France, right ahead of the new year's eve celebrations…
When you import flux of shits from sh*thole countries, you are turning your countries into next sh*thole.pic.twitter.com/xqlrKpxLyq

— Covfefe Winston 007 (@RockyWinston007) January 1, 2020
'Citizen journalists' are banned from reporting the numbers because that encourages the (Mohammedan) "yoots" to burn more cars to break previous records.
#Breaking: Just in – Around 220 vehicles have been set on fire on #NewYear's eve, in the French city of #Strasbourg.#France pic.twitter.com/G7bdAt3Aeu

— Sotiri Dimpinoudis (@sotiridi) January 1, 2020
I think someone is angry! Death to America ! That's why Trump has deployed troops about 2 hrs ago! Don't threaten the United States, this isn't the Obama administration your messing with! We're coming Jihadipic.twitter.com/dnRleTVQXK

— Squirrel Mama? (@Squill_whispers) January 1, 2020
Iran huffs & puffs:
Senior Iraqi Shiite Militia Official Sheikh Kazem Al-Fartusi Responds to U.S. Airstrikes against Iran-Backed Militias in Iraq: Every U.S. Soldier Can Expect to Be Killed pic.twitter.com/slTFWX3m9i

— MEMRI (@MEMRIReports) January 1, 2020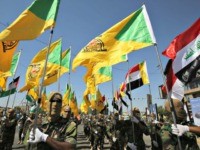 Leftist degenerates wasted no time slamming President Donald Trump over his decision to use military force to protect Americans from terrorists in Iraq.
Lefturds say the dumbest shit.