These self-appointed masters of the universe must be put in their place. Monopolies like Google must be dismantled.
Communist infiltration is everywhere.
Antonio Gramsci would be pleased. The long march through the institutions was more successful than any revolution.

That shows you that BoJo is a limp dick. If he wasn't complicit, he would stop this.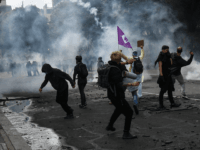 Macron's bully boys will arrest anyone who opposes Antifa.