Black on black violence? Don't mention it!
https://twitter.com/TrumpJew/status/1270573689151594497
There you have it. All good intentions, all education is completely wasted on savages like this who sees whitey as nothing other than a provider. This guy is a parasite & a cargo cultist.
YOUTUBE.COM
.
"…the rich people they got all this money, and they not tryin' to give us none" – Milwaukee Riot
.
The journaille is too dense to call him out on his parasitic worldview.
New York Times Explicitly Calls for Abolition of Police
The liberal media establishment is the enemy of the American people.
This is not hyperbole. The New York Times, flagship publication of the MSM, is literally calling for the abolition of the police, so that the USA might be plunged into anarchy that leftists can exploit for their extremist purposes like they have been doing in Seattle.
This is an actual New York Times headline in the Opinion section:
Yes, We Mean Literally Abolish the Police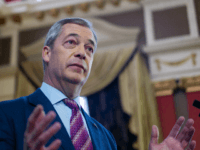 Farage to Breitbart: 'I Have Never Seen so Many People Scared to Say What They Think'