This is not about "Black Lives Matter". It is about an insurrection against a democratically elected President Trump and his Administration Government.
Here it comes: the soy boy brigades!
They should be reprimanded & demoted. this is not what a soldier does.
Our US military should never kneel to anyone, including the mob. pic.twitter.com/1MAoY3WNpH

— Jenna Ellis (@JennaEllisEsq) June 4, 2020
Disgraceful! 2 generations of dumbing down & the republic is ready to surrender to Obamunist looters. There goes the 'shining city on a hill'.
"I want to acknowledge that much of the violence and destruction, both here in Seattle and across the country, has been instigated and perpetuated by white men," she wrote Sunday night on Twitter, adding that they "experience the height of privilege and are co-opting peaceful demonstrations."
Scumbag Wilhelm aka DiBlasio: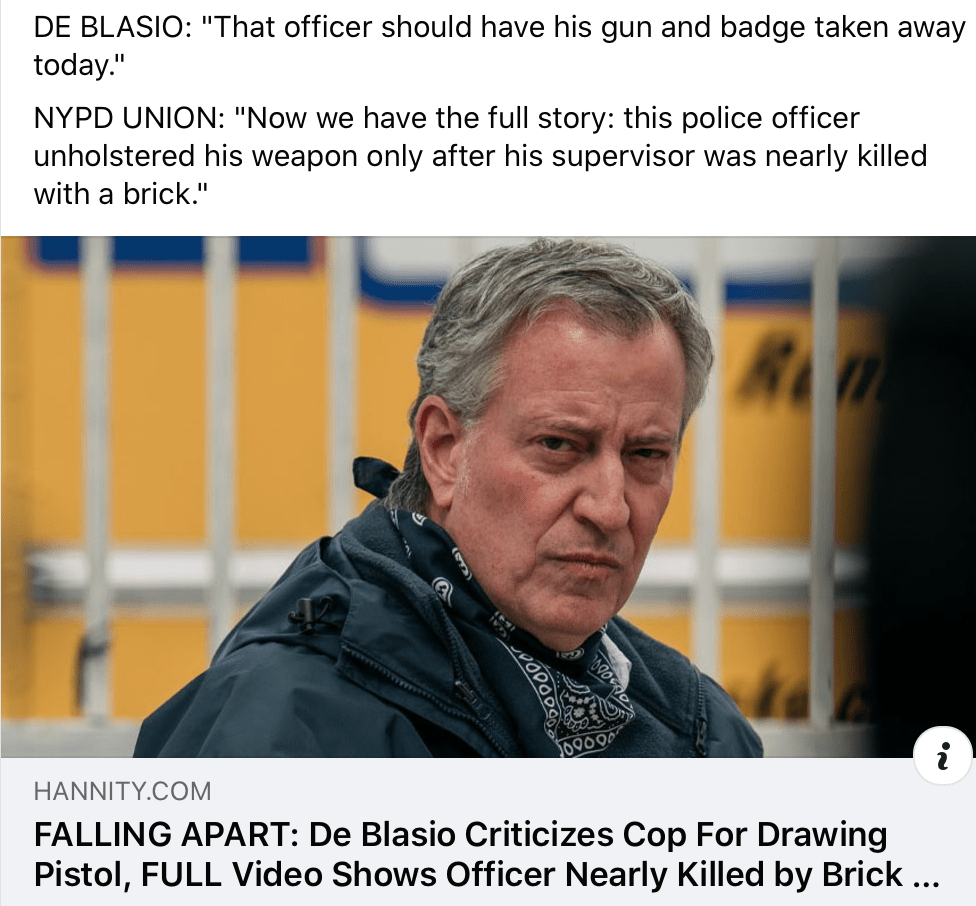 There is a disturbing wilful blindness toward, and romanticising of, the violent activist group among left-wing commentators in Australia, writes The Mocker:
As anyone who listens to the ABC would know, its presenters habitually preface certain names and phrases with the term "so-called". By doing so they insinuate what follows that expression is value-laden or contains an otherwise questionable premise. That in itself is unremarkable, but the ABC's selective applying of this preface is another matter.
For example, a cursory search of ABC's website reveals presenters apply the preface to terms such as seal of the confessional, African crime, war on drugs, Islamic State, Pacific Solution, and secondary boycott. Conversely, expressions such as affirmative action, climate change, hate speech, the Uluru Statement from the Heart, and toxic masculinity have no such qualifier.
The absence of the preface is an informal certification that the expression's name or concept accurately depicts what it implies, and its inclusion the reverse. Contrast, for example, the ABC's reporting "The Prime Minister has confirmed he's considering using taxpayers' money to invest in so-called clean coal technology," with "Investors ramp up pressure for green energy-led COVID-19 recovery".
READ NEXT
.
But have you ever heard ABC presenters referring to "so-called" anti-fascists when discussing militant far-left group Antifa? The election of US President Donald Trump in 2016 both galvanised and enraged Antifa's members, many of whom used violence to suppress its political opponents in Portland, Oregon, and the University of California, Berkeley. "In the name of protecting the vulnerable, anti-fascists have granted themselves the authority to decide which Americans may publicly assemble and which may not," wrote Peter Beinart in The Atlantic in 2017. "That authority rests on no democratic foundation," he said, noting the irony in Antifa's supposed eschewing of authoritarianism.
The movement can take comfort in the fact there is a bevy of commentators ready to defend it. "You can talk about Antifa; I've watched them in streets protesting in different situations, okay," said CNN journalist Chris Cuomo last year. "There are certainly aspects of them that are true to a cause, that is a good cause; they want social justice, they want whatever they want in that context." Claiming "all punches are not equal morally," he defended the group's resorting to violence. "But fighting hate is right. And in a clash between hate and those who oppose it, those who oppose it are on the side of right."
Cuomo, who was born and raised in New York City and is the brother of the state's governor, might want to reflect on those words in the wake of mass looting and destruction in Manhattan on the weekend. What began as a protest in Minneapolis over the death in custody of African American man George Floyd at the hands of the city's police has now turned into mass disorder and destruction across the country. To suggest it is driven solely by rebellion against racial injustice is a claim looking increasingly hollow.