JIHADWATCH.ORG
"A video has also surfaced on social media in which a Pakistani cleric can be seen threatening to behead those supporting the construction of the Hindu temple in Islamabad. Addressing a congregation, the Muslim cleric said, 'Your heads will be laid at the temple and fed to the dogs.'"
STANDARD.CO.UK
So, the UK now have a BLM statue in Bristol, to replace the historical one that was vandalised. The BBC is celebrating this fact.
So, England is now celebrating vandalism, looting and anarchy, over and above their own history. Whatever will be next?
Are they now going to erect statues across our country celebrating Islamic child rape gangs? As absurd as it seems, anything is clearly now possible in this insane country when a statue is erected celebrating lawless and radical criminal behaviour.
The toppled statue of Edward Colston in Bristol has been replaced in a dawn ambush by a sculpture of a Black Lives Matter activist who watched him fall. A team of 10 people, directed by the artist Marc Quinn, erected the figure of Jen Reid at around 5am on Wednesday.
Moslem family who broke public health restrictions by celebrating the end of Ramadan caused one of Victoria's biggest COVID-19 clusters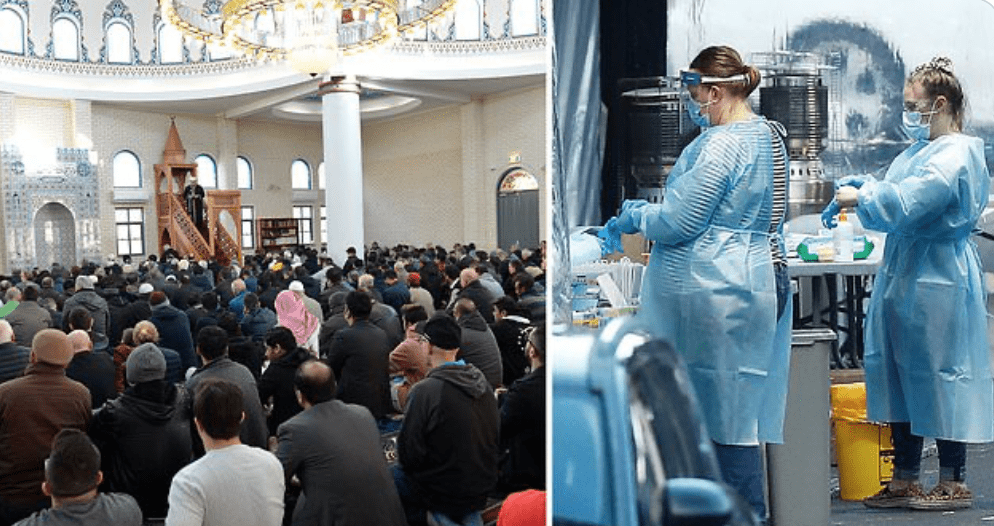 One of Victoria's biggest coronavirus clusters came from a Muslim family who broke public health orders to celebrate the end of Ramadan.
The state has had 128 new cases of COVID-19 in the past week, with 20 cases and a death recorded on Wednesday.
A gathering in Coburg last month has been linked to at least 14 new cases
All attendees of the Eid gathering were in breach of Victoria's lockdown laws
At the time of the gathering, households weren't allowed more than five guests
It was to celebrate the end of the Muslim holy month on May 23 and 24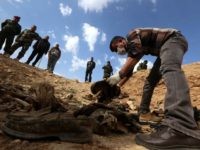 HOW COVID LANGUAGE GETS TWISTED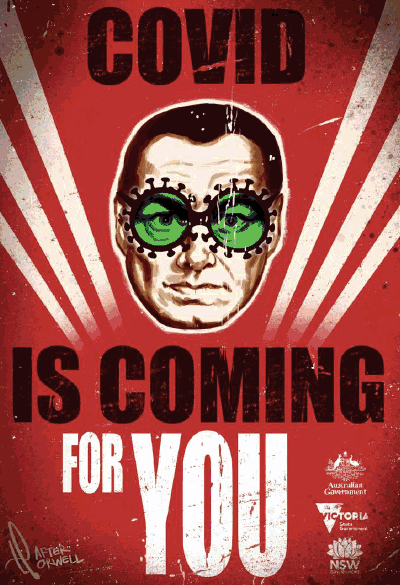 Here is Alan Jones' Daily Telegraph column from yesterday:
It was George Orwell who argued, "no one ever seizes power with the intention of relinquishing it". How else can you explain the persistence with which Australian politicians continue to alarm us over coronavirus.
We are told breathlessly how many new cases there are every day.
The number of cases in Melbourne from an unknown source has ­increased!
Gladys Berejiklian says, "southwest Sydney could become a hotspot … we are just hanging on".
In Western Sydney, we have disease detectives on the job!
A Jindabyne hotel, up in ski country, has been shut for 72 hours because they breached the "public health order".
Why wouldn't people be alarmed?
We are left with the certain conclusion that our political leaders seem to have a morbid desire to frighten and alarm the nation.
People are terrified out of their wits. They won't get in a lift if there are more than two people; they are volubly complaining if someone dares get within two metres of them in a supermarket.
Yet, there are so many things that we are never told.
Why are we told the number of "cases" but never the number who are "critical"?
Is this the George Orwell tactic to hang onto the power over all of us? It is going to backfire.
Why is the nation not told that the rate of fatalities to infection is very low?
Victoria has occupied the headlines. Yet, since March, there have been 24 deaths. There are 440 deaths in Australia every day.
We are told, in order to frighten us, that America have 135,000 deaths. That is 4 per cent of those infected and 0.004 per cent of the population. Does this constitute a pandemic?
Why aren't the people of Melbourne told, when they have been locked up like battery hens, that the World Health Organisation says 99 per cent of cases around the world are mild and 99.85 per cent of all infected cases will recover.
Why are we not told that in 2009, Australia, like much of the world, suffered from swine flu.
There weren't 10,000 cases as there are with coronavirus. There were 38,000. There were not 108 deaths, but 191.
Few people today even remember swine flu from 2009. There were no lockdowns. There were no border closures. There were no calls for tighter government controls.
We are constantly told to listen to the "experts".
Well, thankfully this week people like Graham Turner, the managing director of the Flight Centre Travel Group, has highlighted the contradictions of government policy, and says, "endless economic, social and community health damage will be caused if we continue to react with hard ­lockdowns."
Of course, we must protect the vulnerable. Hopefully, in all things, as Australians, we will always do that.
Innes Willox, the chief executive of the National Employer Association Ai group has said, "…we can't keep taking a sledgehammer to our economy time and time again and expect businesses to survive, consumer confidence to remain above the water line and jobs to be retained and ­created."
What is concerning is that the statement by the prime minister on March 15 has not been acted upon.
The prime minister said: "The truth is, while many people will contract this virus, it is clear, just as people get the flu each year… for the vast majority… around 8 in 10 is our advice, it will be a mild illness and it will pass. However, for older Australians and those in remote communities and those with pre-existing health conditions, it is a far more serious virus and that is our concern. Our aim in all of this is to protect the most vulnerable."
We seem to have departed very significantly from those sentiments.
Professor Peter Doherty is a Nobel Prize winner. He is patron of the University of Melbourne's Institute for Infection and Immunity, named after him.
He was quoted at the weekend about the reproductive rate of the virus and said: "It does seem to be about 2.5 (that means, each infected person could be expected to transmit the disease to 2.5 others) which makes it about as infectious as a bad flu but infinitely less infectious than measles."
Why aren't the public told this?
We have shut down the economy, closed schools, 2.2 million children who thought they'd be at school in Victoria this week have been forced back home with unknown damage to their mental wellbeing and educational future.
The number of "cases" bares little relationship to those at risk.
If you go to the Australian government's Department of Health website it gives you an update.
In Australia, as of yesterday, 50 Australians are in hospital, 17 in intensive care; none in the ACT; six in NSW in hospital and one in intensive care; Northern Territory, two in hospital; Queensland, one in hospital; South Australia, none; Tasmania, none; WA None; Victoria 41 in hospital and 16 in intensive care.
If this is a pandemic, words have lost their meaning.
Why isn't the Australian public being told by political leaders who lecture us at every turn and thrive on this alarmist talk that the likelihood of death from infection has plummeted? Is it because not dying is bad for the headlines?
We are told to listen to the "experts". Professor John Ioannidis is a professor of medicine and epidemiology at the Stanford University School of Medicine.
He has said: "If we had not known about a new virus out there, and had not checked individuals with PCR tests, the number of total deaths due to 'influenza-like illness' would not seem unusual this year.
"At most, we might have casually noted that flu this season seems to be a bit worse than average.
"The media coverage would have been less than for an NBA game ­between the two most indifferent teams."
We are left with the conclusion, surely, that the real virus is among our political leaders through the alarmism and anxiety they have generated among all Australians.
We are entitled to the whole truth from our political leaders, not one or two extracts.