It matters little to the Marxists and anarchists what a statue or monument represents. All that matters to them is that it represents America's past, and therefore, it must come down.
Source: P Photo/Andrew Harnik
The suspect is a Rwandan refugee who worked as a volunteer and was in charge of locking up the cathedral.
The  asylum seeker from #Rwanda  is said to have been angry at France as he was about to be deported from the country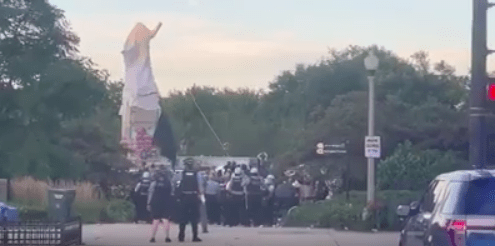 Antifa and Black Lives Matter rioters are now pulling down the Columbus statue in Chicago. They've got the ropes on.
MSN.COM
Beetlejuice is becoming increasingly unhinged.
Blacks killing blacks? Crickets!
At least 49 people have been shot, including seven fatally, in incidents across Chicago this weekend, police said, continuing a trend of increased shootings and murders in the city. Seven teenagers, all boys, were among those wounded since Friday evening.
Once again, it's only a problem when whitey kills a black man. 

Donald J. Trump
We are trying to help Portland, not hurt it.
Their leadership has, for months, lost control of the anarchists and agitators. They are missing in action. We must protect Federal property, AND OUR PEOPLE. These were not merely protesters, these are the real deal!
***