$5,000 fine for attempting to escape from Melbourne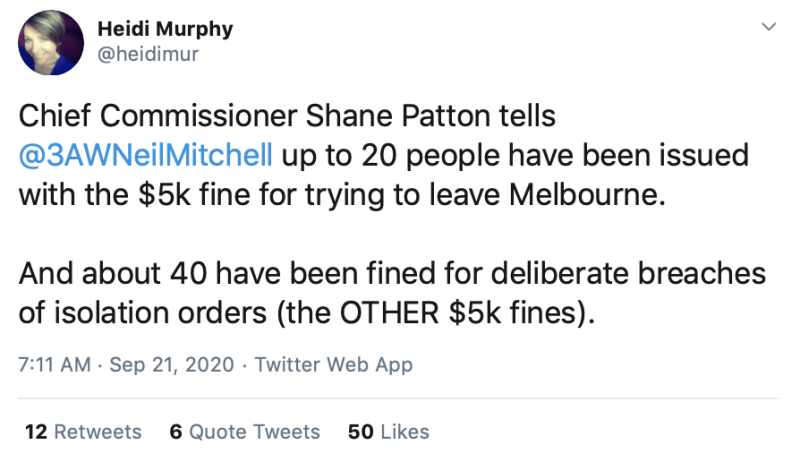 CORONAVIRUS: HOW VICTORIA'S MULTICULTURAL MADNESS KILLED HUNDREDS
Multicultural Victoria is insane. The Premier has said yes to handcuffing protesting grannies in a park, but no to fining Afghans actually spreading the virus.
In an extraordinary press conference on Saturday, Daniel Andrews said his police would not charge the 34 Afghans from five families who'd just got — and spread — the virus by breaking social distancing rules.
Their information was too good: "The value of the information that allows you to take one test result and then find the 33 other people who've got it, is much more than $1652."
Outside, meanwhile, Andrews' police again showed no such mercy to non-Afghans posing a health threat to no one.
Once again, they chased away women protesting in sunny parks, gang-tackled and handcuffed a man at the beach, and told an old woman to not stop for breath on her walk.
BETTER PEOPLE DIE THAN HEAR A WORD AGAINST DAN
The Age runs a protection racket for the most lethally incompetent Premier: "What's really intriguing is the gulf between Sydney and Melbourne on how the Dan take-down [in a Chris Uhlmann column] ran on Wednesday. The SMH, as always, featured Uhlmann prominently, both in its print edition and online.  Not so for The Age. He was nowhere to be seen."
DICTATOR DAN TO HIRE MORE PEOPLE TO JAIL VICTORIANS WITHOUT TRIAL
Andrew Bolt, Herald Sun
Victoria's police state is about to get even nastier. Next: hiring almost anyone — even ethnic bosses — who can lock up Victorians on mere suspicion they're a virus risk.
I never thought a democracy could be so easily frightened out of its freedoms by a messianic politician.