Australia's great and costly retreat from coal
The warming agenda will break this PM's neck just like it destroyed the political careers of the insufferable KRudd & the inept Turncoat. But who is pulling the strings? Who is calling the shots that makes these hapless acteurs sign up to idiotic warming agreements that are detrimental to the national interest?
The biggest story of the moment, the biggest structural change in our politics, is that the Morrison government has admitted comprehensive and probably permanent defeat on coal. It seems like a different era in history when Scott Morrison as treasurer proudly brandished a lump of coal in parliament to demonstrate his party's commitment to our black gold.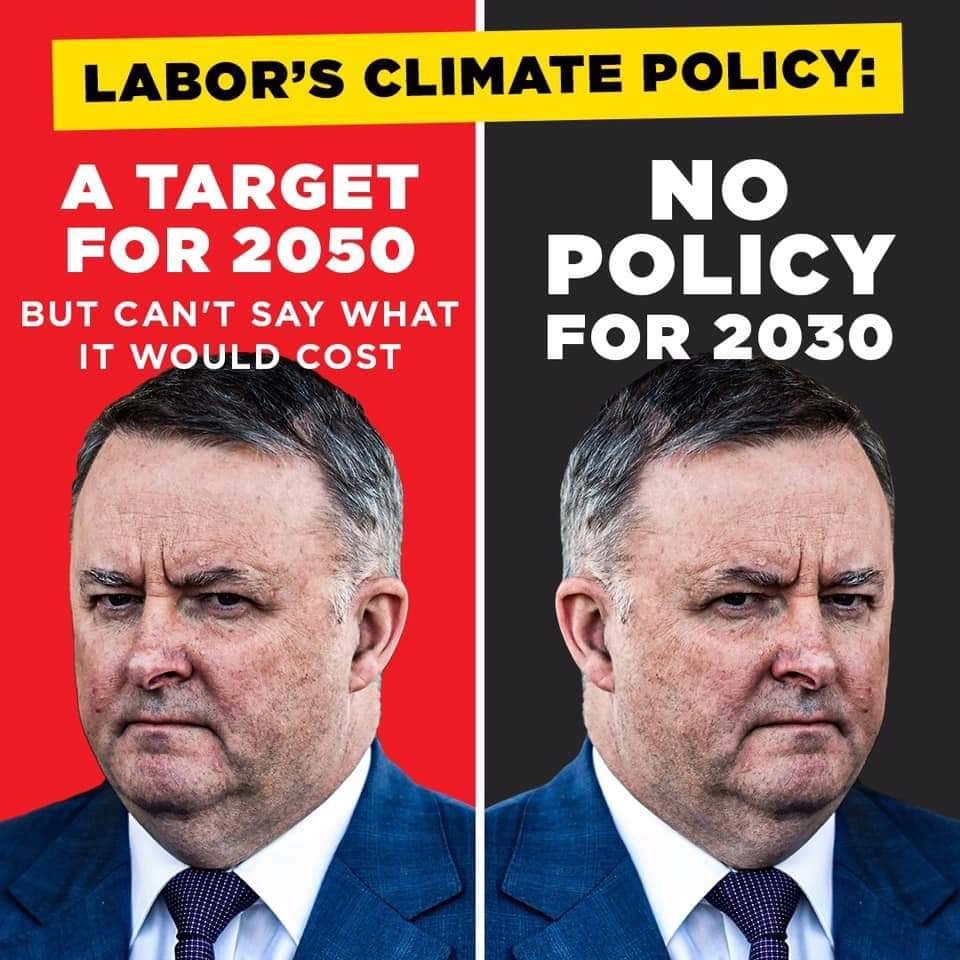 Still the largest source of our power, still our second biggest export, coal has been placed in the Coalition's fantasy technology basket, to be revisited one day in the mythical future when renewables don't need subsidies, pumped hydro creates more energy than it consumes, China's carbon market comes into operation, and Australia wins soccer's World Cup 6-0 against Brazil.
.
The new lowest common denominator on coal is we continue to export it but there are no circumstances in which we build a coal-fired power station. This is how conservative governments embrace long-term strategic defeat. They win a thousand tactical victories as they march backwards. The Coalition has lost the coal argument. It came into office in 2013 never dreaming it would abandon coal, but that is what it has done.
.
Labor and the Greens have won the argument even as they have lost the elections. The conservatives — meaning the Liberals and the Nationals — have accepted defeat. The Coalition has a good chance of retaining government by arguing that it will implement the left's policies more carefully, cautiously, modestly, competently and with less economic damage than Labor would.
.
The abandonment of coal has serious strategic implications for Australia. We will never recover a robust manufacturing industry without cheap energy and we won't have cheap energy without coal. The day after the government announced its wish list of fantasy technologies of the future — which any Labor government would have been proud to unveil — AGL Energy dumped a plan for a discounted electricity contract for Victoria's Portland aluminium smelter. The long and the short of it is that unless the government shells out massive subsidies we are likely to lose aluminium and then steel as we continue, suicidally, our march away from any manufacturing capability.
.
Don't think that in abandoning coal-fired power we are reflecting a global trend. The only people who think that are those whose globalism em­braces New York and Los Angeles, London and Paris, and almost no other part of the world. This year Germany has opened a new coal-fired power plant. Japan has 20-odd in the works over the next five years.
.
Ultra-supercritical coal-fired plants — the so-called high-efficiency, low-emissions plants — create about 30 per cent fewer emissions than old coal and a similar amount more than new gas. Such plants are being built in many parts of the world. It is a crazy woke fantasy to think coal is being phased out. Such thinking reflects a spectacular ignorance of Asia, which is becoming an ever bigger part of the global economy.
.
Not the only story about coal but by far the biggest is China. The Asia Society's Policy Institute in New York has rounded up the figures in an extremely useful paper, China's Response to Climate Change. Almost every climate commentator in Australia refuses ever to confront the China figures. Let me offer you a few of them.
This year alone China has approved new coal-fired power plants that can produce 17 gigawatts of energy. That is a huge capacity. And China is accelerating its approval and construction of coal-fired power plants, for that is more than it approved in the previous two years.
.
Kevin Rudd, in a recent oped in The Washington Post drawing on the Asia Society paper, pointed out that the new coal-fired power plant capacity being developed in China "is larger than the remaining fleet in the United States".
.
The Asia Society records that China has 1040GW of coal-fired energy capacity, but this will be 1100GW by the end of the year. The China Electricity Council and the China State Grid both suggest raising this to 1300GW by 2030. Coal is declining slowly as a proportion of China's energy mix but it is continuing, as these figures show, to increase rapidly in absolute terms.
.
The report also demonstrates the massive increase in coal, and other fossil fuel use, taking place as part of Beijing's Belt and Road initiative. Specifically, Chinese finance and support is involved directly in new coal-fired power plants in The Philippines, Vietnam, Indonesia, Bangladesh, Pakistan, Mozambique, Malawi, South Africa, Zimbabwe and Serbia. Beyond China, Indonesia has a huge program of coal-fired power plants being built. Before COVID-19 knocked everything off balance, India was planning to increase its coal-fired electricity generation by almost a quarter over three years.
.
COVID-19 will slow all this, but only temporarily. What is clear is that coal is booming in most parts of the world not ruled by The New York Times or the BBC. Our corporate leaders, or many of them, are happy to recite the mantra that coal has no future, partly because they want to avoid social media campaigns against them. In the West coal is moving away from public companies and into private equity hands, or into Asian investments directly. None of the expansion of coal outlined above has been denied finance because some Western banks now find coal politically inconvenient.
.
UN projections are that Africa's population will increase to 4.5 billion by the end of this century. If any of them want to live above subsistence level they will need cheap energy. Coal is sure to play a big part.
.
If you are a friend of the environment, indeed if you want to moderate greenhouse gas emissions, you will want Australian coal to be used everywhere that's possible because ours is the cleanest coal in the world. It's just a geological fact. If a coal-fired power station in China or India is using Australian coal it will generate fewer greenhouse gas emissions per unit of energy produced than if it is using Chinese or Indian coal.
.
And as the biggest exporter (though by no means biggest producer) of coal, we could make a contribution by doing something clever on the technology of getting ever lower emissions from ultra-supercritical coal-fired energy plants. By not doing this we make ourselves poorer economically and weaker strategically, while our competitors, economic and strategic, become richer and stronger.
The Liberals, and even more the Nationals, know all this at some level but can no longer make a fight of it. Their political judgment is probably correct. Political parties must always deal with political reality. Gas is at least better than complete renewables madness. But the Coalition had no thought of this when it entered government. Its surrender on coal ought, though, at least be noted, given its grave implications for the national interest.
AUSTRALIA, UNPLUGGED
The Alan Jones comment
Daily Telegraph
,
Courier Mail and Gold Coast Bulletin
:
Instead of using our world-class natural resources to provide ourselves with cheap and abundant energy, even the Liberals are sounding like Labor on emissions targets.
.
It would be laughable if it weren't so serious to see, yet again, the federal government and the Albanese opposition fighting one another for a spot on the energy roundabout.
.
Labor, of course, have an excuse, wedded as they seem to be, to outdated and irrelevant ideology, whether it be on climate change or coal.
.
The Liberal Party don't have such an excuse.
Remember, as I have said many times, anyone who thinks Anthony Albanese is nuts with his net zero carbon dioxide emissions scheme should be aware that the Liberal Party is riddled with people who agree with him.
.
The Prime Minister commanded a headline only days ago, "Net zero emissions by 2050 achievable", and Gladys Berejiklian said it would be her "dream" to reach zero carbon dioxide emissions by 2050.
To voting Australians, I suspect it would be closer to a nightmare, with its consequence on jobs, industry and in particular, manufacturing.
.
It's interesting, isn't it, how former Prime Minister John Howard is celebrated as an exalted figure within the ranks of the Liberal hierarchy, but only when it suits.
.
John Howard said in an interview with me on November 15, 2006: "If we close down every power station in Australia tomorrow, it would take China nine months of emissions to cancel that out."
"That is why you can't seriously address this problem on a global scale, unless you have China, India and the US working together, which is 50 per cent of the world's population."
.
He made a further crucial point, 14 years ago: "Australians don't want us to unfairly disadvantage our coal industries; and they certainly don't want to see this country sign an international energy agreement that burdens us with penalties and lets other countries get away scot-free."
.
I would have thought, 14 years on, that is not a bad text for the nation, unless, of course, we are ideologically hidebound, which I suspect, too many politicians are.
.
Earlier this year Scott Morrison made it quite clear that he would back any jobs for the new coal-fired power station at Collinsville in Central Queensland.
.
He said, very cleverly: "I know where Collinsville is. Labor might not. I know where the jobs are in Collinsville, our government believes in jobs, we believe in jobs in North Queensland."
.
Singing off Matt Canavan's song sheet, Morrison said: "We believe in ensuring that manufacturing continues to be able to get access to the reliable power it needs to ensure that they can support jobs …. into the future."
.
That's fine in terms of rhetoric; the reality is different. The only three things an energy policy should offer is that the energy be available, reliable and affordable. Renewable energy is none of those three.
.
No one is denying we need a new major base-load power station; quite frankly, we need six.
.
But why on earth would you abandon our abundant supply of coal and uranium? What is worse, why would you export coal and uranium so that other countries can have cheap energy while we fiddle around with misplaced ideology.
When people now are asked in Australia about their attitude to climate change and associated issues, such as drought, bushfires, farming and cost of living, climate change is never rated among the most important policy issues.
.
It's the same across the world.
PEW research recently asked Americans to rate climate change among other issues, such as the strength of the economy, health care costs, education, terrorism — dealing with climate change came last out of 18 in 2018 and it was 17th out of 18 in 2019.
.
What people want is low cost reliable energy.
Enter Scott Morrison. But the Prime Minister is spooked by the Left; spooked by climate change renewable energy zealots and the anti-coal fired power minority.
.
If coal will remain a critical energy source, according to the PM, why on earth would you talk about building a gas-fired power station in the middle of the Hunter Valley, the world's best thermal coal base?
And, yes, gas is a fossil fuel.
.
As Matt Canavan has pointed out, the man whom the Morrison government don't want on the front bench, 90 per cent of our coal resources are mined for less than $1.75 a gigajoule.
Almost all our gas resources cost more than $6 per gigajoule to extract, three times more expensive than coal. And we have a lot more coal than gas.
.
The maths will tell you that to make gas competitive, you need a gas price of about $3 a gigajoule.
.
And that is well below the cost of production. It is insanity.
Matt Canavan has made the further point that because of the geological nature of our gas fields, gas extraction is much more expensive than that of coal. But coal won't get a guernsey because the government is terrified of the Greens.
.
We have the fourth highest electricity prices in the world.
And yet, we are one of the world's richest countries in terms of energy resources.
.
How on earth, in this environment, can we turn our backs on coal fired power?
.
A gutsy leader would unapologetically take this issue to the electorate.
.
If you don't want coal-fired power, sack me.
If you don't want cheap electricity, sack me. I will tell you which way the public would vote.
.
Yet Governments surrender to a minority who want to replace all of this with unaffordable renewable energy, which will never meet our energy needs.
.
Which brings us, of course, to the gigantic hoax, the notion that carbon dioxide is a pollutant and everything with a sniff of carbon dioxide must be disowned and that means fossil fuels.
.
Just as no one can explain, in the current environment, how we have a "pandemic" when 99 per cent of all cases, according to the World Health Organisation, are mild, how on earth can carbon dioxide, which is 0.04 per cent of the atmosphere, worldwide, be the bogey man that the alarmists seek to make it.
.
Why are we not told that even the International Energy Agency predicts that the share of fossil fuels will decline only from 81 per cent today, to 74 per cent by 2040.
.
And when we talk fossil fuels, we mean petroleum, coal and natural gas.
.
But they produce carbon dioxide when they are burnt; and worldwide it is 0.04 per cent of the atmosphere.
Am I the only one who is shaking my head?
.
We are writing a national economic suicide note.
.
Prime Minister, stop worrying about minorities and misplaced ideology. The source of our former wealth is here in front of us.
Use it and stop pandering to ideological misfits.