The FBI needs to be exposed for their obstruction of justice.
Wray's FBI is beyond redemption.
It needs to be razed and started over.
FBI had Hunter Biden's laptop for almost a year! OUTRAGEOUS that NOTHING had been done with it. https://t.co/zVrKpZ6RF2

— Tom Fitton (@TomFitton) October 24, 2020
It was a coup! Everyone needs to see this film by Amanda Milius about Team Nunes as they battled the DC Deep State. Based on Lee Smith's bestselling book.

If you want to know what really happened in Russiagate – WATCH THIS

THE PLOT AGAINST THE PRESIDENT https://t.co/TQtW87NANP

— Donald Trump Jr. (@DonaldJTrumpJr) October 23, 2020
Important Film: Amanda Milius explains how @PATPmovie exposes the greatest political scandal in our country's history and why it is important for all Americans. Watch it at https://t.co/p6JifeK4SD. #MAGA #AmericaFirst #Dobbs pic.twitter.com/GZoz2DN8gv

— Lou Dobbs (@LouDobbs) October 23, 2020
Partial list of foreign payments to @JoeBiden's son Hunter:

Russia:
$3.5 million

Elena Baturina, wife of former Moscow mayor Yury Luzhkov wired at least 3.5 million to Rosemont Seneca Thornton LLC, founded by Hunter Biden.

Source: https://t.co/PsXzetSzpc pic.twitter.com/phit0Zi7QJ

— Reagan Battalion (@ReaganBattalion) October 23, 2020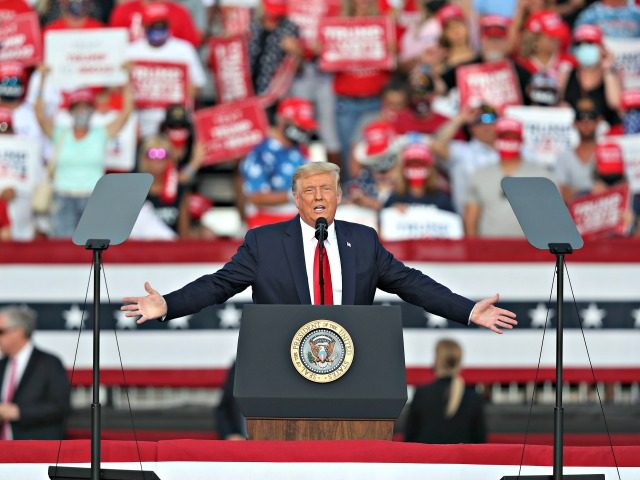 "Joe Biden works for big tech, big media. They're his boss," Trump said to his crowd of supporters in Pensacola, Florida.