Schumer protects Biden Crime Family
Biden brags about having the most "extensive & inclusive voter-fraud organisation in the history of American politics"
Joe Biden: "We have put together I think the most extensive and inclusive voter fraud organization in the history of American politics."
Joe Biden: "We have put together I think the most extensive and inclusive voter fraud organization in the history of American politics." pic.twitter.com/9kCZdvY2f7

— Trump War Room – Text TRUMP to 88022 (@TrumpWarRoom) October 24, 2020
Most dangerous time in America's history is now.
We are being devoured from within by communist forces from without.
And the media is hiding it all from the Democrat voters.
Every Democrat I know doesn't even know who Soros is.
The media have brainwashed half a nation to believe @realDonaldTrump is the enemy of America. It's the exact opposite and yet their ignorance when voting may sink America. Communist corporate-owned media is KILLING OUR NATION. Corporate-owned media MUST be dismantled!
RINO Subversion: Lou says it's time to tune out Lindsey Graham after the senator said he will not subpoena Twitter & Facebook's CEOs until after the election. #MAGA #AmericaFirst #Dobbs pic.twitter.com/oqFCAoGSBS

— Lou Dobbs (@LouDobbs) October 23, 2020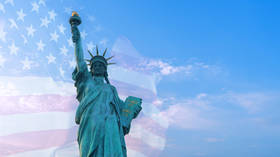 Big Tech's plundered the world like some money-grabbing mafia-style monopoly. At last, action is underway to thwart it OP-ED
Joe Biden would not know the truth if it smacked him in the face. A reminder of his dishonesty & political expediency:
I never ask direct favors of my followers, but would every one of you watch this brief video to the end, please? pic.twitter.com/pGeXCownog

— James Woods (@RealJamesWoods) October 24, 2020
The MSM Desperate To Help Biden, Even If It Means A Media Blackout.
Woke Tech goes full Biden as Expensify warns 10 MILLION customers that a vote for Trump may mean 'CIVIL WAR'
Did Biden just say Obama's admin put together the best Voter Fraud Organization and he's doing this now too?

Correct me if I'm wrong! https://t.co/uLLMryYSNK

— Sandra Schulze (@sandraschulze) October 24, 2020
the wheels are falling off the Biden bus:
Retweet!!!! 👇👇👇👇 https://t.co/2vvG30T7M9

— Brian G 🇺🇸🇮🇹🇺🇲🍄 (@Bg2200) October 24, 2020
Please, every responsible citizen of the U.S., listen to Rudy! Only YOU can change the destiny of this country. Chinese patriots are doing the BEST we can to expose the #CCP & the dirty corrupted politicians colluding w/ them to enslave the Chinese people and soon the Americans! pic.twitter.com/Uqwh2y7xMj

— 琥珀先生(amber) (@OTcaUcap23PTd25) October 24, 2020
Did anyone tell the Director this man's story of Biden corruption has been on the Biden hardrive. FBI has had it for 10 months and it's only after I reveled it that they pay attention. Something really wrong. https://t.co/EOe6QTXCKq

— Rudy W. Giuliani (@RudyGiuliani) October 23, 2020