That's why the EU has been going hard on Poland and Hungry. They are ethnic strongholds that resist. Now they're turning up the heat.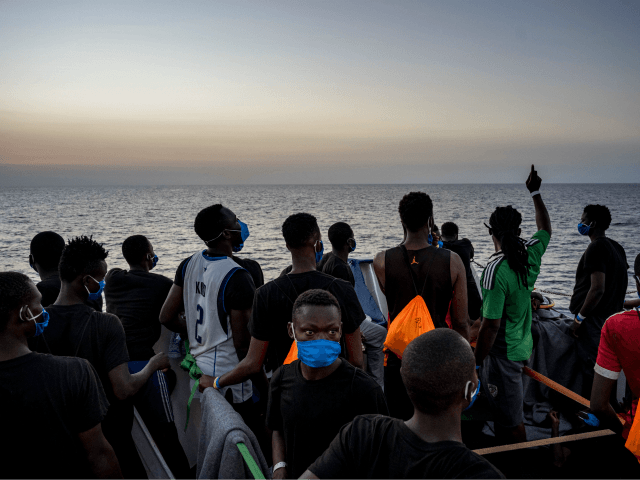 Most Tunisian Migrants Given Citizenship in Safe Italy Use EU Free Movement to Move to France
Why in his right mind would give Mohammedan invaders citizenship? WTF is wrong with these people?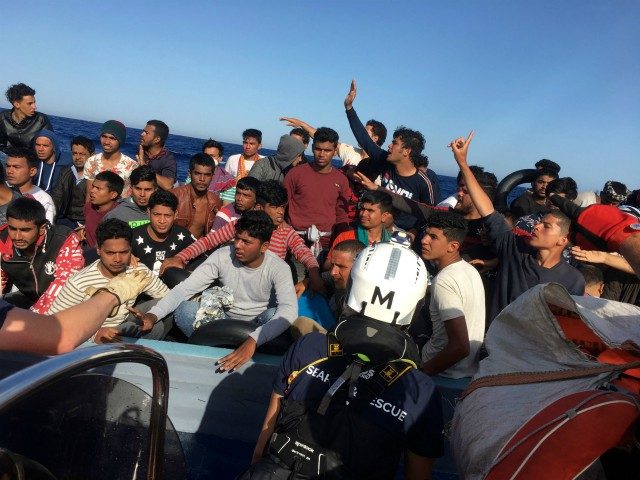 SHAHZAD ABDUL/AFP via Getty Images
Over half of the Tunisian migrants who claimed Italian citizenship between 2012 to 2017, 56 per cent, used EU Free Movement rules to move to France.
Statistics also reveal that of the Tunisians granted asylum in 2011, just 10 per cent remained in Italy by 2018, the lowest level of any nationality.
In recent months, Italy has seen a new surge of mass migration, primarily from Tunisia via the Italian island of Lampedusa. Many of them have made the trip north to the town of Ventimiglia, which lies on the border with France, after arriving.
Delia Bonuomo, a Ventimiglia bar owner, told French newspaper Le Figaro that many come directly from Lampedusa and do not bother trying to stay in Italy at all.
WATCH: 'France Does Not Belong to the French!' – Hundreds of Illegal Migrants Occupy French Airport https://t.co/Q1Rr1SvhIO

— Breitbart London (@BreitbartLondon) May 20, 2019
"They do not have the marks of suffering like Africans from southern Sahara, who have thousands of kilometres of wear in their legs and have sometimes experienced tragedies. They want to join cousins in France," Ms Bonuomo said.
The bar owner said that she offers them limited help, such as letting them charge up their phones, "but they can't ask me to take them to France," she said.
"Among them are rude people and thugs who even steal from each other. Some think that women like me should lower my eyes before them," she added.
Bonuomo said that people-smugglers charge the migrants up to €500 to get across the French border, but that they are often pushed back by French police.
"Some people try three, four, seven, up to ten times to get to France. They can take a month or two, but they always end up getting there," she said.
Adel Chehida, chairman of the Association of Tunisians in Italy, told the newspaper that many young Tunisians leave the country because of the lack of job prospects.
Tunisian migration into France came under scrutiny last month after it was revealed that the radical Islamic terrorist  who killed three people in a church in Nice was Tunisian and had arrived in Lampedusa illegally earlier in the year.
Italian populist Senator Matteo Salvini called on Italy's Interior Minister Luciana Lamorgese to resign over the affair and questioned how many more radical Islamists had come through the country illegally.
Continued:
According to the plan, "monitoring the effectiveness of policies (related to integration) over the long term, and having accurate and comparable data on the extent and nature of discrimination suffered by migrants, is important," French newspaper L'Express reports.
The call for the recording of such statistics was also made in September when the EU presented another plan to combat racism in which it noted there was a lack of ethnic data compared to other areas of discrimination.
"Integration and inclusion are an investment for a stronger society socially and economically. It is a win-win," Home Affairs Commissioner Ylva Johansson said, adding that "We need to do more in this area."
Johansson's native Sweden is one of the countries that seldom publish ethnic data on certain subjects, such as crime statistics, with the government blocking a request for information on the relationship between crime and migration in 2017.
France, as L'Express reports, rarely publishes any ethnic data at all and notes that gathering such information is strictly regulated. French government statistics do, however, note country of birth and the country of birth of an interviewee's parents.
A lack of data has made it difficult to determine the exact demographics of France, with some noting the rise in popularity of Islamic-origin names given to newborns as a sign of a changing ethnic make-up in various areas of the country.
In a rare move, earlier this year the group France Stratégie, affiliated with the Prime Minister's Office, released statistics showing the growth in numbers of non-European migrant children in various urban areas from 1968 to 2015.
In the Paris no-go suburbs of Seine-Saint-Denis the rates were highest, with the commune of Clichy-sous-Bois, having 83 per cent of its children aged zero to 18 coming from non-EU migrant backgrounds in 2015.
****
"The European Union has recommended member states record statistics on ethnicity to assess the effectiveness of the integration of migrants."
That can be reworded as:
"European Citizens are noticing that integration actually means the wiping out of their own culture and their Western way of living. They are seeing the massive increase in violence, lawlessness and the degradation of their towns and cities.
So the EU needs to know those areas where there are the highest percentage of ethnic Europeans still left. This is so that they can be targeted and specifically flooded by new arrivals, instead of sending them to areas that have already been taken over."