Spiked Online Editor Brendan O'Neill says a school in Britain has "capitulated to religious extremists" in issuing a public apology to Muslim protestors over a teacher who showed his class a cartoon of Muhammad.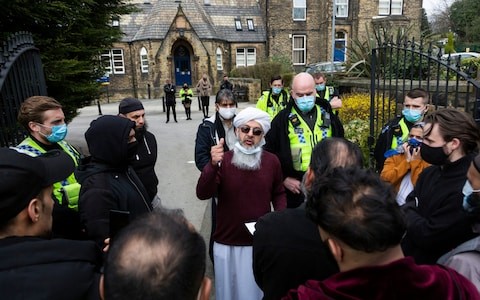 That's what Mohammedans have been doing for 1400 years. Curiously, no one seems to have learned a thing. Except for the Chinese. They know how to deal with Mohammedans.
Get used to it, Ricky. The British intelligentsia has sold you out. The British intelligentsia has betrayed Britain as a free society for fear of being called "racist." If you speak out against this too much now, you'll be targeted as an "Islamophobe" and your career will be ruined. Fall into line behind the others, there's a good lad.
Gervais doesn't understand that Muslims are a PROTECTED VICTIM GROUP and they may never be criticized according to the Left.
Doesn't Gervais know??? … even when Muslims commit mass murders … it is the fault of white male conservatives.
Ricky Gervais appears to react to Prophet Muhammad cartoon row: 'It's 2021 for f***'s sake,'" by Roisin O'Connor, Independent, March 27, 2021:
Ricky Gervais has apparently chimed in on the row over a school teacher who showed his class a cartoon of the Prophet Muhammad.

Batley Grammy [sic] School in West Yorkshire became the subject of protests after children were shown the cartoon, with parents complaining that the image was taken from the French satirical magazine, Charlie Hebdo.

The teacher in question has been suspended and has since apologised, while the school also offered an "unequivocal" apology.

The incident has prompted a row between protestors accusing the teacher of Islamophobia and those who claim the incident is a case of free speech and "censorship" in the classroom.

Gervais appeared to share his view on Friday (26 March), tweeting: "Blasphemy? F***ing Blasphemy? It's 2021 for f***s sake. What next? People being punished for insulting unicorns?"

The comedian has been a vocal campaigner for free speech for years, telling Fox News in an interview last year that people being offended was "the lesser of two evils".

Crowds of people, many wearing masks, were seen outside the gates of the school on Friday morning, with police also at the scene.

Demonstrators – about 30 men and teenagers – said they had gathered outside the school for a second day running "to show the country Islamophobia won't be tolerated", saying that the image is "so offensive" to them….