Mad Max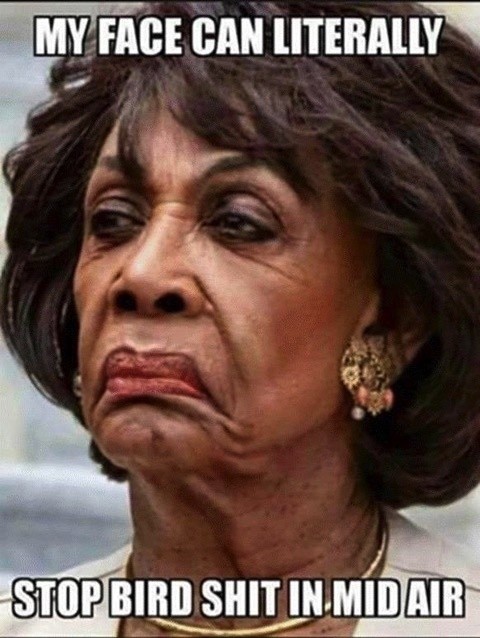 Genuine Americans still have some representation in Washington. Yesterday, Rep Jim Jordan (R-OH) asked technocratic overlord Anthony Fauci to give us some clue when Big Government might stop using the ChiCom virus as a pretext to keep its boot on our neck. Surely there must be some benchmark that we can go back to our lives after reaching.
Fauci became ruffled and was unable to articulate a coherent response. So the powerful Maxine Waters, Chaircorruptocrat of the House Financial Services Committee, stepped in to rescue him with this eloquent explanation of Democrat Covid policy:
"Shut your mouth!"
Watch the video to see what the American people are now ruled by:
Presiding over the event was the still more powerful Majority Whip James Clyburn, the kingmaker said to be responsible for choosing Joe Biden as the figurehead for the radicalized Democrat Party. That's him raving bizarrely that restrictions will be lifted on the public "when 90% of the members of Congress get vaccinated."
Mad Maxine Waters is the Leader of ANTIFA and BLM. She continues to call for people to march in the streets, which is code for ANTIFA and BLM to riot and destroy our communities.pic.twitter.com/0v2C6wyz2i

— General⭐️⭐️⭐️⭐️🇺🇸🦅 (@TheGeneral_0) April 18, 2021
If you've seen even five minutes of CNN 'you know what their agenda is'
Sky News host Rita Panahi says if you've seen even five minutes of CNN "you know what their agenda is". It comes after a CNN staffer has been caught on camera admitting the network tried to undermine Trump during the 2020 election, calling his own employer a "propaganda" outlet.
Charlie Chester, a technical Director at CNN, was secretly filmed while on a series of fake Tinder dates with a woman who was an undercover journalist for right-wing group Project Veritas.