Race relations hit bottom during the disastrous reign of Hussein Obama. Naw that the commies cheated #Trump out of his second term, black rabble & white trash rule the streets of many American cities. This will not end well:
Civil Rights in 2021: "Kill Everything White in Sight"
Moonbattery
For the past year, the liberal establishment has been egging on maniacs as it submerses the public in ubiquitous antiwhite racism. Unsurprisingly, this has led to people taking critical race theory to its logical conclusion — the final solution:
A black rights activist at a weekend rally in Tulsa, Oklahoma, said that a time would come when black Americans would need to "kill everything white in sight."
As the previous statement illustrates, leftists have repurposed the word "rights." It now means "supremacy." Real rights, as upheld in the US Constitution, do not come at the expense of others who are less favored by the authorities, the way "black rights" and "LGBT rights" do.
The liberal establishment has been hyping a race riot that occurred in Tulsa a century ago. This has provided a platform for continued escalation of the Black Lives Matter mentality. Demands have grown more strident for "reparations" — i.e., direct cash payments explicitly for being black.
That's not all they want. They want blood. Not even killing whites will satisfy the unhinged hatred Democrats have deliberately stoked. An enlightened civil rights activist delighted a Tulsa crowd by calling for white people to be killed, then buried, dug up, and killed again:
— pine_tree_riots (@pine_tree_riots) May 30, 2021
another clip in case it wasnt clear enough pic.twitter.com/SZ4doF28PT

— pine_tree_riots (@pine_tree_riots) May 31, 2021
Statement on May 28, 2021 Antifa assault:

No journalist in America should ever face violence for doing his or her job.

Yet on Friday, May 28, Antifa tried to kill me again while I was reporting on the ongoing protests and riots in Portland, Ore. for a new chapter of my…

— Andy Ngô (@MrAndyNgo) June 3, 2021
Who will hand them free money after they have killed all the white people? They haven't thought it through that far. No doubt considering consequences would be regarded as "acting white."
Characteristically, the Biden Administration has been splashing gasoline on the fire:
Biden is reportedly set to visit Tulsa on Monday to honor the anniversary of the 1921 massacre, according to NPR.

According to the outlet, Biden is set to meet with centenarian massacre survivors to discuss their experience.

"He will also announce several steps aimed at narrowing the racial wealth gap, including ordering the federal government to direct more contracts to small, disadvantaged businesses," the outlet also reported.
"Disadvantaged" now means "racially privileged." It is an increasingly onerous disadvantage to not be disadvantaged.
Despite the phony rhetoric, healing is not on the Democrat agenda. The ruling party is more interested in searching out forgotten wounds and scraping at them until they bleed again. Democrats do not mean this country well.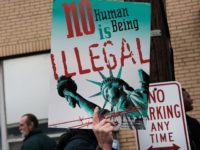 Sanctuary State Colorado to Give Professional Licenses to Illegal Aliens