"This is not about a virus it's about total government control of the people."
If you still believe the WuFlu attacks primarily the respiratory system, I got news for you: as a matter of fact, the virus appears most destructive when it attacks the brain cells of our provincial politicians and bungling bureaucrats.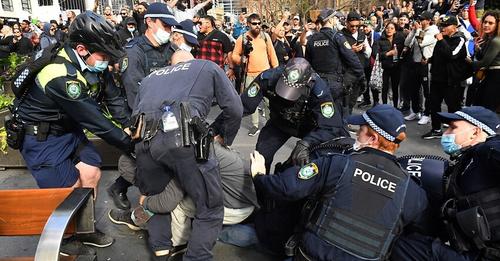 Protests against COVID-19 lockdowns have been staged in capital cities around Australia including Sydney, where thousands have marched unmasked.
Thousands of protesters who marched through Sydney's CBD in objection to the city's COVID-19 lockdowns have been slammed as "selfish" and "self-entitled".
NSW Police Minister David Elliott has announced the formation of a strike force comprised of 22 detectives to identify and track down the estimated 3,500 protesters who marched through the city on Saturday.
He said more than 90 infringement notices have been issued so far, with 57 charges made.
"I'm hoping we issue 3,500 infringement notices, I'm hoping we have people before the courts," he told reporters on Saturday afternoon.
"If you don't want to be in lockdown, obey the rules."
The rules change by the day. The power drunk bureaucrats don't.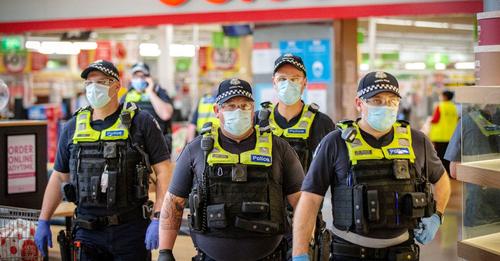 Here in Australia, the public sphere has been contaminated by media & officials using scare tactics to create hysteria. 
Mr Elliott described the protest as an "absolute disgrace", saying the "selfish and inappropriate behaviour" of protesters is "what's going to continue this city into lockdown".
"There is no doubt in my mind that at least one individual there today had COVID. Statistically, it is impossible for us not to consider that," he added, urging anyone who attended to get tested for COVID-19 immediately.
Premier Gladys Berejiklian said in a statement that she was "utterly disgusted" by the protesters who had shown "utter contempt for their fellow citizens".
"This type of activity during lockdown will not be tolerated and the full force of the law will be brought against anyone who engages in this type of illegal activity," she said.
NSW Police released a statement acknowledging the attendees were in breach of the COVID-19 rules. 
"The NSW Police Force recognises and supports the rights of individuals and groups to exercise their rights of free speech and peaceful assembly, however, today's protest is in breach of the current COVID-19 Public Health Orders," NSW Police said in a statement.
Thousands of angry people, many of whom were unmasked, marched from inner Sydney's Victoria Park to Town Hall in the central business district.
They broke through a police barrier to continue down George Street but were stopped at King Street. 
There is a heavy police presence in Sydney, including mounted police and riot officers.
Protesters threw plastic bottles and plants taken from the street at officers.
Signs carried by the protesters call for "freedom" and "the truth".
One dramatic image showed a protester, who is yet to be identified, appearing to strike a mounted police horse outside Town Hall.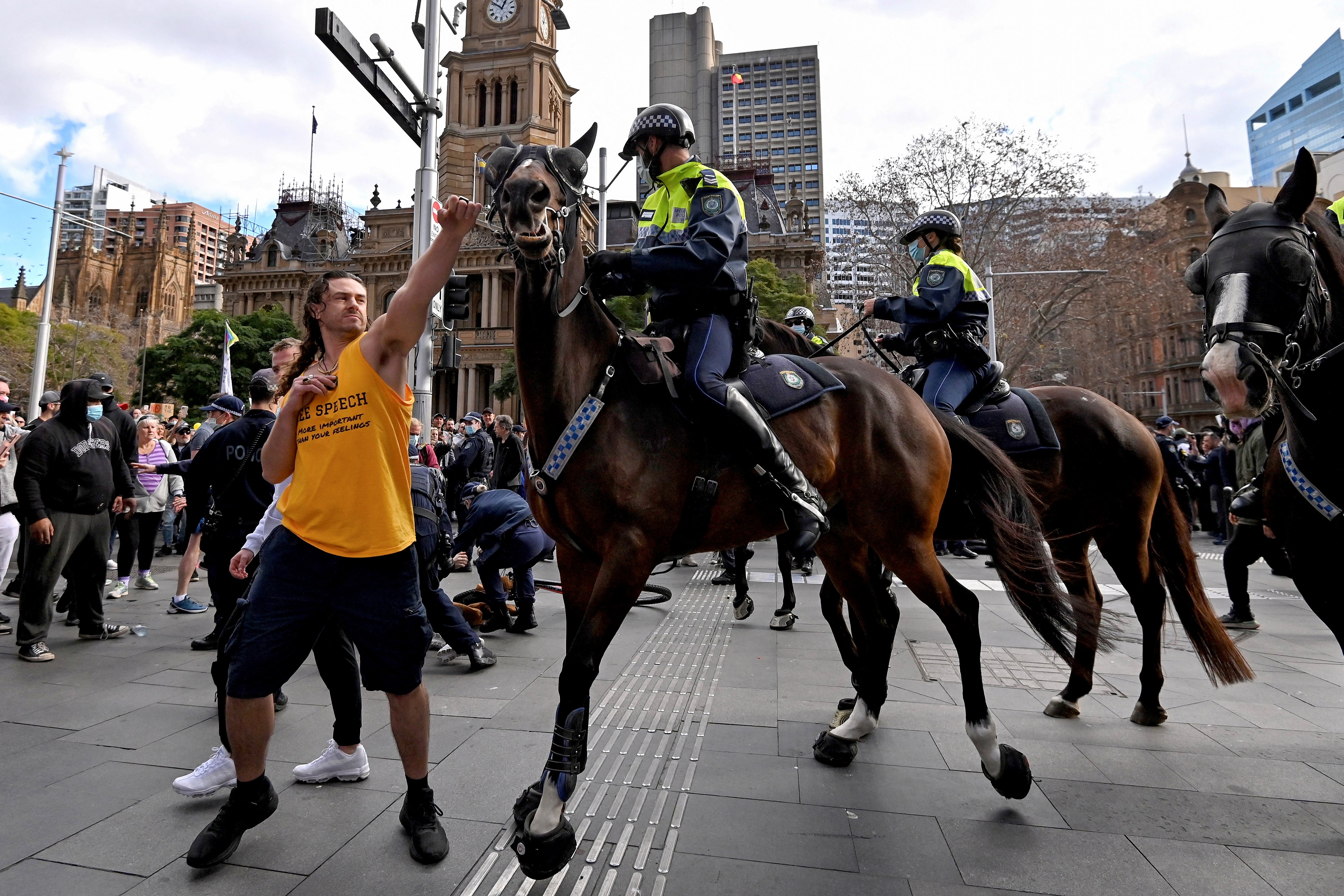 Steven Saphore/AFP
The image went viral and sparked widespread outrage online after NSW Police posted the photo of the horse, named Tobruk, to its Facebook page.
In a subsequent update, NSW Police confirmed the horse was safe and did not sustain injuries.
"Troop horse Tobruk was not injured and is recovering back at the stables after a hard day's work," it said.
"If you have any information to assist in identifying the man depicted, please contact police." 
The protest comes as COVID-19 case numbers in NSW reached another record high since the first wave in 2020.
Some 163 new local cases were reported in the 24 hours to 8pm on Friday, up from 136 the day before.
Greater Sydney has been locked down for the past four weeks, with residents only able to leave home with a reasonable excuse.
NSW Health Minister Brad Hazzard condemned the planned protest as "really silly" on Saturday morning.
"We live in a democracy and normally I am certainly one who supports people's rights to protest … but at the present time we've got cases going through the roof and we have people thinking that's OK to get out there and possibly be close to each other at a demonstration."
NSW Police Deputy Commissioner Gary Worboys said it was not the time for a protest.
He said police wanted to work with the organisers to make sure people were complying with public health orders and that it did not turn into a "disastrous" mass spreading event.
Melbourne protesters criticised for 'blatant disregard for others'
Meanwhile, in Melbourne, a separate anti-lockdown protest was brought to a violent end by police.
An AAP photographer wearing visible press accreditation was pepper sprayed as
police cleared the rally, as were other photographers.
The photographer described the rally as initially "eerie" with the crowd maskless and verbally aggressive, but said the atmosphere later mellowed.
Thousands of protesters of all ages chanted "freedom" as they gathered outside Victoria's Parliament House.
Some lit flares. They held banners, including one that read: "This is not about a virus it's about total government control of the people."
In a statement released on Saturday evening, Victorian Assistant Commissioner Luke Cornelius described the protesters as "selfish" and having "blatant disregard for others".
"It was disappointing to see so many people blatantly disregard the Chief Health Officer directions, putting the health of Victorians at risk," he said.
"Victoria Police supports the right to protest but now is not the right time during a global pandemic and when the state is in lockdown.
"The event organisers were not cooperative with police nor would they consider moving the protest to a later date when it would be safe to do so.
"As a result, we had to roster hundreds of police to this event because of their selfish actions and blatant disregard of others.
"This is not where we want to be allocating our valuable resources – they should be in the community keeping people safe – yet we continue to do so because of the selfish minority."
He said police are reviewing the evidence from the protest to "to identify as many protesters as possible so that appropriate action can be taken against them".
Earlier, Victorian Premier Daniel Andrews labelled the idea of protesting lockdown "ridiculous".
"Protest against this virus by staying at home, following the rules and getting out of lockdown," he said.
Hundreds also rallied in Brisbane on Saturday.
A car rally was also planned for locked-down Adelaide, with police warning they would make arrests over unlawful activity.