He certainly has the allures & the same megalomania.
Owners face a year in prison, €45,000 fine.
People in France who enter a bar or restaurant without a COVID pass face 6 months in jail, while business owners who fail to check their status face a 1 year prison sentence and a €45,000 fine.
Yes, really.
The punishments are part of a draconian effort by the French government to force citizens to get the coronavirus jab amidst multiple unruly protests across numerous major cities.
President Emmanuel Macron announced earlier this week that those unable to prove they're vaccinated or a negative COVID test (at their own cost) will be banned from using public transport, entering a cinema, shopping mall, bar, cafe, restaurant and other venues from August 1st.
French President Emmanuel Macron has announced that those who don't have a 'COVID pass' will be banned from participating in basic life activities such as visiting shopping malls, restaurants and using public transport.
In a public address to the nation, Macron made clear that only those who have taken the vaccine, can prove recent recovery from COVID or a negative test result will be allowed to enter the venues, in addition to hospitals, bars, cafés and tourist attractions.
Mass Protests in Greece in Response to Unvaccinated Being Banned From Social Life
"Hands off our kids!"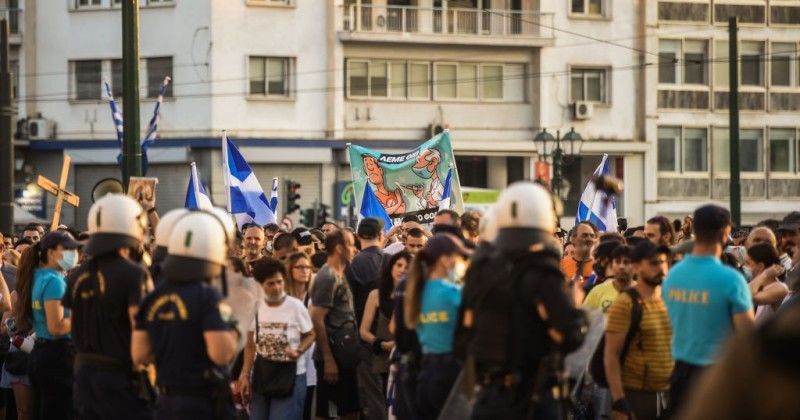 Greece has become the latest European country to be hit with mass protests after the government announced the unvaccinated would be banned from visiting bars, restaurants, cinemas and other public places.
Thousands of demonstrators descended on Athens and Thessaloniki, with crowds chanting "Hands off our kids!" and holding signs that said "We say no to vaccine poison."