Let this sink in:

For the first time in human history, we can transmit a disease we don't have…. to those who are immunized against it.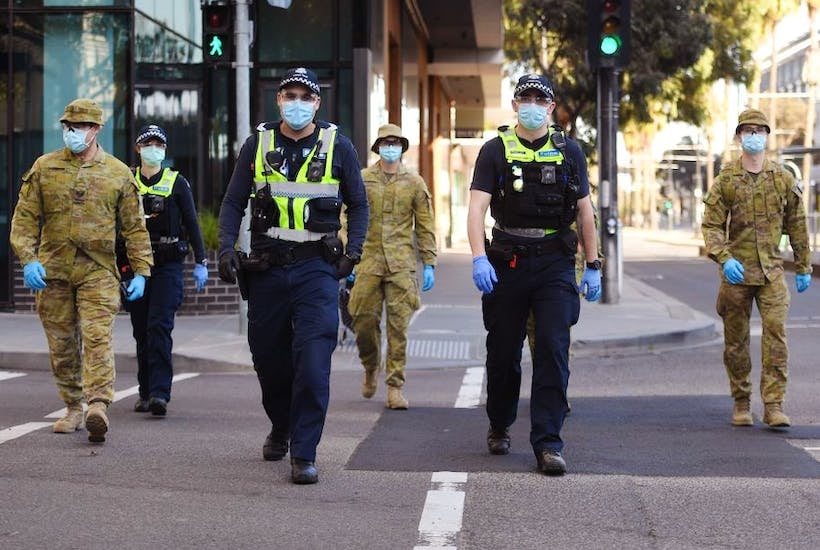 The need to make restrictions easy to impose frequently results in the restrictions being more onerous than is necessary – and often illogical. The approach in Western Australia (for example) in stopping all travel from a particular state, even when an outbreak is confined to a small area, simply makes no sense.
The federal ban on leaving Australia, other than with exit permission from the government, is also unjustified. People leaving the country are, by definition, no threat to those who are here and the pleading that it's to reduce the numbers attempting to return is not warranted. If those leaving are aware they travel at their own risk, then that should be the end of the matter. It's not for any government to try to take on risks that we voluntarily accept.
Sharri Markson, Liam Mendes The Australian July 30, 2021
.
Australia's top health officials are growing increasingly frustrated with the medical regulator's failure to rein in medicos undermining public confidence in the lifesaving AstraZeneca vaccine by perpetuating conspiracy theories about the jab. The Weekend Australian can reveal some of the country's leading officials are highly concerned that doctors, who have a strong social media following, appear to be flouting the legislated guidelines that state a registered health practitioner must not "contradict the best available scientific evidence".
See more below the fold.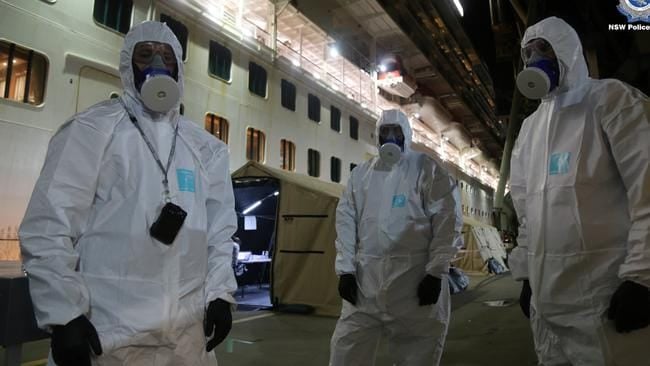 'Australians to regain freedoms when the nation is 101% vaccinated
James Macpherson The Spectator Australia 31 July 2021
.
Australians have been promised they will start to regain freedoms when the nation is 101 per cent vaccinated, under a deal struck in National Cabinet. Prime Minister Scott Morrison said borders would remain closed – except to politicians and celebrities – until an impossibly high number of people had received the jab.
He said state premiers had agreed that lockdowns would end when 101 per cent of Australians had been vaccinated, or when Afghan astronauts colonised Mars – whichever came first.
.
"These are targets for all Australians to achieve," he said.
Mr Morrison said National Cabinet had resisted the urge to put timelines on when more people than existed could be vaccinated.
"The Premiers and I agreed that it would not be good for our mental health to be locked down," he said.
.
"But Australians can rest assured, their human rights will be restored when we restore their human rights, and we will get there when we get there."
Mr Morrison said there had not yet been a decision on the vaccination rate to reach the final stage of the plan, which was living unrestricted.
.
"It is too hard to say what the situation will be in 2054," Mr Morrison said.
"There are too many unknowns before we can understand life as normal and, besides, who even remembers life as normal."
.
While Mr Morrison was stressing that "Australians will get this done by working together" the West Australia Premier Mark McGowan was insisting his state would do its own thing, reserving the right to enact lockdowns anywhere, at any time, for any reason, forever.
.
Mr McGowan also hinted that his state might never reopen its borders.
"Why would we?" he said.
.
"If people from the eastern states are anything like those I've met in the National Cabinet, then we will have a ring of steel stretching from Eucla to Kununurra. And I mean literal steel."
.
Meanwhile, Queensland Premier Anastacia Palaszczuk — who has just returned from watching the Tokyo Olympics, and in November will see her Chief Health Officer become the state's new governor — said she saw no reason to return to normal as she ordered 11 local government areas into lockdown.
.
"I quite like the new normal," she said.
The Australian Health Practitioner Regulation Agency policies also prevent abusive online conduct, stipulating doctors "communicate effectively, courteously, professionally and respectfully with and about other health care professionals".
.
Several vocal medical professionals have come to the attention of commonwealth and state health officials for aggressive anti-AstraZeneca commentary.
Robert Hackett, a Sydney anaesthetist, has also perpetuated a conspiracy theory that the Coalition is deliberately spreading Covid-19 in order to make money from AstraZeneca, calling for a royal commission into the vaccine and accusing the LNP of being a "crime family".
.
West Australian GP David Berger wrote online that "the evidence for AstraZeneca is very thin, and you know it" while Andrew Miller, the former president of the WA Australian Medical Association, posted a tweet which said it was "disturbing that the vax choices announced by our (Chief Medical Officer) not based on science".
.
Nick Coatsworth, an infectious diseases specialist and the former deputy chief medical officer, said the online conduct of some medical practitioners had eroded community confidence "during a critical time".
.
"Whilst there is clear benefit in having a plurality of medical views expressed during Covid-19, maintaining a high degree of professionalism and respect particularly online is critical to maintain community confidence in the advice of medical leaders," he said.
.
A senior government source told The Weekend Australian the AHPRA code existed to govern the public behaviour of health practitioners, including their social media activity.
.
"Professional guidance also requires that practitioners generally should not comment publicly on areas in which they are not considered expert by their peers," he said. "This guidance has been established to protect the community and other practitioners."
.
Dr Hackett, who has worked from home since the start of the Covid-19 pandemic – refusing to go into the hospital system on account of it being too dangerous for healthcare workers – has in recent months repeatedly warned the public against the AstraZeneca vaccine, despite government and health authorities pleading with Sydneysiders to get vaccinated as the Delta variant spreads.
.
"The agenda appears to be to let Covid-19 spread to increase uptake of AstraZeneca – the LNP vaccine," he wrote in a Twitter post on July 13.
In another tweet that day, Dr Hackett said: "Corrupt, evil government purposely allowing Covid-19 in through still inadequate quarantine and allowing it to unnecessarily spread through still inadequate lockdown.
#GladysMustGo
."
In a July tweet, he said Prime Minister Scott Morrison and NSW Premier Gladys Berejiklian were "trying to kill Australians".
.
Dr Hackett also claimed on Twitter in late June that there was reason to believe the "AstraZeneca vaccine in Australia is causing much more harm than good".
"We should have banned AstraZeneca in Australia months ago. While we persist with AZ we will only continue to kill Australians unnecessarily," he wrote.
.
Dr Hackett has called for an AstraZeneca Royal Commission, and has even suggested the Therapeutic Goods Administration was covering up deaths.
.
In one tweet on May 25, he said: "I feel like I'm at a crossroads where either the government stops unnecessarily harming and killing people with AstraZeneca or I'm kicked out of the industry for not condoning it. I'll let you choose @Ahpra."
Dr Hackett's online conduct has also been highly offensive. In a Twitter post directed at Dr Coats-worth in April this year, he wrote: "Until you're prepared to smear yourself in COVID I politely ask that you please shut the f**k up".
.
In another tweet he said: "you are no longer a healthcare professional You are merely the arsehole of the LNP farting out their bullshit rhetoric Shame on you, you sad pathetic person."
.
Both Dr Hackett and Dr Berger deleted their Twitter accounts after The Weekend Australian made inquiries about their online conduct on Wednesday evening.
Dr Berger, who has a long history of social and refugee activism and was a board member at the British Medical Journal Group when it debunked claims the MMR vaccine caused autism, has also come to the attention of officials after questioning the effectiveness of AstraZeneca.
.
"Meanwhile, we WILL get better and better vaccines, which will certainly be a lot more helpful than AstraZeneca. This is a complex, changing problem with complex, changing solutions. AZ is not one of them. Other measures which are, are being ignored. Go figure!" Dr Berger wrote in a Twitter post on May 20. When asked if his statements were appropriate, Dr Berger said he was an activist who is "generally to be found challenging the orthodox position".
.
"All citizens should be able to speak freely, including and particularly those with special expertise in the matter at hand, such as doctors," Dr Berger said.
Dr Miller, vice-president of the Australian Society of Anaesthetists, tweeted in December: "Claims that (government) is 'following advice of the best medical minds in the country' are outdated & those referenced should humbly reject political puffery."
.
He claimed in January that the vaccine choices made by the government – before their approval by the health regulator – were "not based on science". Posting an article on Twitter which noted most Australians were likely to get the AstraZeneca vaccine, Dr Miller wrote: "Disturbing that the vax choices announced by our CMO not based on science."
.
In response to questions, Dr Miller said he made the comment before TGA approval of the AstraZeneca vaccine and that health officials had made the decision to use it as our main vaccine for logistic reasons. "The tweet is, when read in context of the time, accurate," he said. He denied his comments may have contributed to hesitancy to take the vaccine.
.
"There are many studies into vaccine hesitancy, none of which refer to reporting facts on Twitter as being a factor to my knowledge," he said.
.
"By contrast it is far more plausible that the effects of, for example, deaths and complications attributed by the TGA to the vaccine, frequent changes in ATAGI guidelines and confused messaging from the government, while structurally having a confused two-vaccine approach, along with woeful advertising, are significant contributors to hesitancy."
.
Dr Hackett said he no longer stood by his remarks on Twitter and has now deleted them, along with his entire account, following inquiries. He said healthcare workers were "under significant pressure and risk to their own health and wellbeing".
.
Dr Coatsworth, who has personally been targeted online, would not comment on specific instances but said online abuse was "not acceptable" and set a poor example for junior doctors who are prolific social media users.
.
"If they see online abuse being made, and if the environment created by our regulators is permissive of that, then it is likely to influence their behaviour toward leaders in healthcare which is ultimately bad for patient care," he said.
.
"There has been significant online abuse of medical public officials since the start of the pandemic. It is reasonable to conclude that this erodes confidence in the community during this critical time for Australia. Doctors in particular need to be held to the highest standard of accountability for their online behaviour."
.
A spokeswoman for AHPRA said the online conduct of medical professionals was an issue that was increasingly being raised with boards, but confidentiality provisions meant it couldn't comment on "individual matters".
.
Its policy states: "A registered health practitioner who makes comments, endorses or shares information which contradicts the best available scientific evidence may give legitimacy to false health-related information and breach their professional responsibilities."