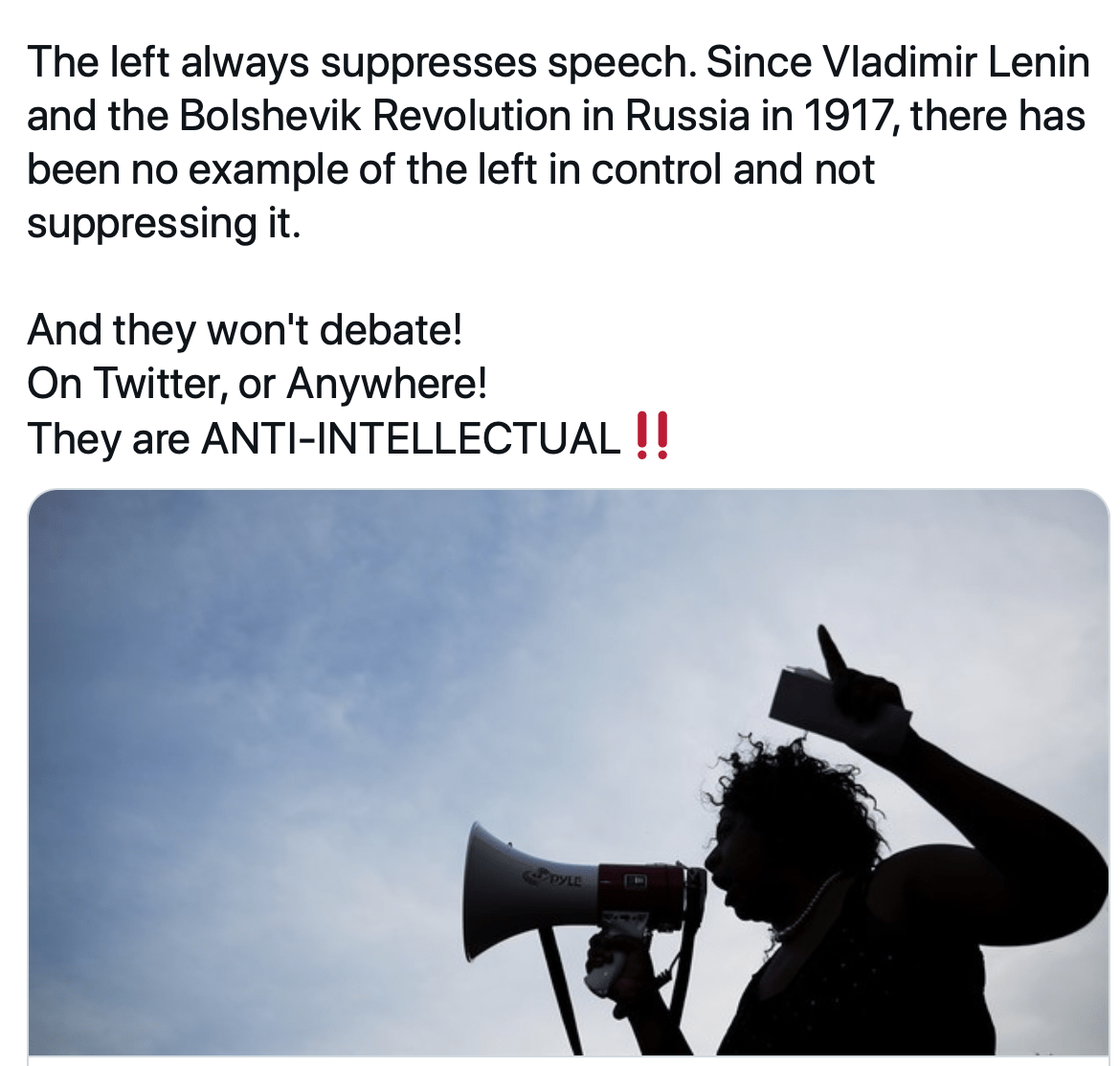 Let us begin with this fact: The left always suppresses speech. Since Vladimir Lenin and the Bolshevik Revolution in Russia in 1917, there has been no example of the left in control and not crushing dissent.
That is one of the important differences between liberal and left: Liberalism and liberals believe in free speech. (The present leftist threat to freedom in America, the greatest threat to freedom in American history, is made possible because liberals think they have more to fear from conservatives than from the left. Liberals do not understand that the left regards liberals as their useful idiots.)
The left controls universities. There is little or no dissent allowed at universities.
The left controls nearly every "news" medium. There is little or no dissent in the mainstream media — not in the "news" sections and not in the opinion sections.
The left controls Hollywood. No dissent is allowed in Hollywood.
That is why we have "cancel culture" — the silencing and firing of anyone who publicly dissents from the left, and even "publicly" is no longer necessary. The National Association of Realtors has just announced that if you express dissenting views (on race, especially) in private, you may be fined and lose your membership in the organization — which effectively ends your career as a realtor.
So, we return to the opening question: Why does the left need to crush all dissent? This is a question made all the more stark because there is no parallel on the right: Conservatives do not shut down dissent or debate.
The answer, though the left will not acknowledge it, is the left fears dissent. And they do so for good reason. Leftism is essentially a giant balloon filled with nothing but hot air. Therefore, no matter how big the balloon — the Democratic Party, The New York Times, Yale University — all it takes is a mere pin to burst it.
Leftism is venerated by intellectuals. But there is little intellectual substance to leftism. It is a combination of doctrine and emotion. The proof? Those with intellectual depth do not stifle dissent; they welcome it.
That is why universities are so opposed to conservatives coming to speak on campus. One articulate conservative can undo years of left-wing indoctrination in a one-hour talk or Q and A. I know this from personal experience on campuses. You can, too. Watch the speeches given by any conservatives allowed to speak on a campus — many of these talks are still on YouTube — and you will see large halls filled with students yearning to hear something other than left-wing pablum. Look at their faces, filled with rapt attention to ideas they never heard that are clearly having an impact. Universities are entirely right to fear our coming to speak. We come with the pin that bursts their $50,000-a-year balloon.
That is also why it is so hard to get any of them to debate any of us. In 35 years of radio, I have never mistreated or bullied a guest. I was unfailingly polite to an icon of the left, Howard Zinn, the America-hating author of the America-hating "A People's History of the United States." I even invited a UCLA political science professor and violinist, one of seven members of the Santa Monica Symphony Orchestra who refused to play when I conducted the orchestra in a Joseph Haydn symphony in the Disney Concert Hall — solely because I'm a conservative. Despite his public letter, in which he accused me of holding "horribly bigoted positions" and wrote, "Please urge your friends to not attend this concert, which helps normalize bigotry in our community," I nevertheless invited him on my national radio show. He agreed. I had him in studio for an entire hour and treated him and his wife (who accompanied him) with great respect, despite my contempt for his false accusations and his advocacy of the cancel culture. Every American should hear that hour.
Unfortunately for the emotional and intellectual health of our society, he, Zinn and a few others were anomalies. Of the 100 or so left-wing authors, professors and columnists invited to appear on my show, almost none has responded in the affirmative. They prefer NPR, where they are never challenged.
The opposite, however, is not true: Every conservative intellectual I know says yes to every one of the (very few) left-wing invitations we receive. Of course, we are almost never invited. We regularly invite leftists. Leftists almost never invite us. They claim it's because we are not up to their intellectual level and they have no desire to waste their time. One would think that the opportunity to publicly show how vapid we conservatives really are would be too good to pass up.
Leftists do not debate us or appear as guests on our shows and prevent us from speaking whenever possible, because they (correctly) fear conservatives. Race-baiters such as Ibram X. Kendi or Ta-Nehisi Coates or "White Fragility" author Robin DiAngelo would never debate Larry Elder, for example. Why won't they? Because they would be shown to be the intellectually shallow purveyors of hate they are. Deep down, they know it. Larry Elder is one of many conservative black intellectuals who left-wing blacks (and whites) refuse to debate.
Now you know why the left suppresses free speech: because they have to. If there is free speech, there is dissent. And if there is dissent, there is no more left.
*****
Here's an article that gives hope from February 2021. We shall revisit it from time to time to see if there's any progress. For myself, I am utterly pessimistic & disillusioned, knowing what kind of leftist ideologues are infesting our universities. They will defend their turf come hell or high water, and nothing short of their ousting will bring change. Change, for once, that would usher in a new era. Provided the replacement of the old Stalinist blockheads can be young enthusiastic conservatives who cherish Western civilisation.
Chancellors join the fight for freedom of expression
Janet Albrechtsen The Australian February 13, 2021
.
Here is an interesting exercise. On the University of NSW website, click on "Search for a Policy". Type in "freedom of speech". The university website says: "No results." This is the same university that has failed to adopt the model code of freedom of speech set down by former High Court chief justice Robert French in his trailblazing report in March 2019.
.
This exposes just one of the challenges faced by new Education Minister Alan Tudge. In his portfolio for around seven weeks, with a Christmas break between, Tudge says he is keen to work with the sector to implement the model code so that freedom of speech is embedded in Australian universities.
.
He will discover that many vice-chancellors are arrogant or deluded, and certainly intransigent on this front. Universities have had ample time to implement the model code.
.
And as Professor Sally Walker's report to the Morrison government last December shows, adoption of the model code has been less than impressive. Marking them, only nine of Australia's 45 universities are fully aligned with French's code, 18 are mostly or partly aligned, six have policies that fail entirely to meet the model code, and another eight may or may not be working to meet the code. One didn't respond.
.
Walker says she is "surprised" and "disappointed" by the results. Speaking with The Weekend Australian this week, Walker says "some universities' leaders think that academic freedom and freedom of speech are so axiomatic in their institutions that there's no need to have a policy … they probably think that it's a problem for other universities, not theirs."
.
Walker maintains that a code or policy on freedom of expression is important. "It gives confidence to staff and students," she says. "Everyone knows that sometimes they're going to write something that is controversial, and sounds like a heresy, although we know that today's heresies are tomorrow's orthodoxy — at least sometimes."
.
Walker is adamant that universities need more than a code. They need a culture of freedom of expression. "We need to educate our students about academic freedom and freedom of expression … not just tell them about a policy."
Walker agrees with French's findings that freedom of expression on Australian campuses "is a matter of public concern".
.
"It needs to be addressed by the sector, comprehensively and authoritatively," she says.
.
Take UNSW. This taxpayer-funded institution claims its position of freedom of speech is better than the model code. What position? There are a few statements from vice-chancellor Ian Jacobs. But comments from a VC passing through the VC office is not the same as a policy that is used to enrich a university's culture.
Culture is an infuriating word when it involves institutions overpaying consultants to write chapter and verse of gobbledygook. In fact, culture has a simple meaning at universities: from top to bottom, they should be committed to freedom of speech and academic freedom. In other words, they should be true to their mission.
.
"Because freedom of speech is central to the definition of a university, it's not just a matter for the VC but also for the governing council headed up by the chancellor," Tudge told The Weekend Australian this week.
.
"Ultimately we want to see greater viewpoint diversity on campus. Freedom of speech and freedom of academic inquiry are the prerequisites for that."
Tudge will be ably assisted by Walker's recommendation for annual attestation statements from every university's governing council to verify that their policies align with the French model code.
.
"This will provide a vehicle … for the governing body and senior leadership of the university to discuss things that have happened during the year and to describe how they have supported a culture committed to free speech and academic freedom," Walker says.
.
She describes these attestation statements, agreed to by the Education Minister, as "non-negotiable" parts of the model code.
Stephen Gerlach, who leads the Universities Chancellors Council comprising 39 Australian university chancellors, describes the new free speech audits as "reasonable". "It's part of our job," he told The Weekend Australian, adding "that it will happen because the minister has said it's going to happen".
.
Walker may take solace from that. But as former vice-chancellor of Deakin University and former pro vice-chancellor and senior deputy vice-chancellor at the University of Melbourne, she also knows where the bodies are buried when it comes to campus free speech. Walker is especially troubled by codes of conduct.
"A number of university policies include requirements that are not contemplated or not allowed for in the model code," she says. "I'll give some examples: a requirement that freedom of speech and academic freedom must be conducted reasonably, professionally and in good faith. That staff must engage in constructive criticism. That staff must behave in a way that upholds the good reputation of the university … What do these terms mean? They mean almost whatever anybody wants them to mean."
.
This gives university management subjective powers to get rid of troublesome academics and speakers. It is precisely what happened when James Cook University sacked marine physicist Peter Ridd, who this week won leave to appeal his removal in the High Court. His appalling treatment has raised questions about the robustness of freedom of expression and academic freedom across the entire sector because all universities have similar codes of conduct.
"Of course, we want academics and students to behave respectfully. Of course, we'd like them to 'disagree well', but … these are not appropriate restrictions … because they involve evaluative judgments and views may differ on them."
Walker contrasts Cambridge University, which last December emphatically rejected suggestions that staff must behave respectfully in relation to their criticism of other staff.
.
Cambridge University alumnus Stephen Fry weighed into the debate with his familiar flair and substance. "A demand for respect is like a demand for a laugh, or demands for love, loyalty and allegiance," the comedian and actor said in a statement released to the media. "They cannot be given if not felt. These are codes, much like a dress code, to which any reasonable person might be expected to conform. But please do not tell us what to think and feel."
.
By contrast, Tudge may discover that many vice-chancellors love their codes of conduct more than they love a charter of free speech. In which case, Tudge expects chancellors to step up. And his timing may be perfect. Insiders point to a tug of war between the nation's chancellors who form the UCC and the VCs who make up Universities Australia.
.
Last year, Gerlach and the UCC called for a review into UA. The chancellors' group includes heavyweights such as Commonwealth Bank chairman Catherine Livingstone from University of Technology Sydney, former foreign minister Julie Bishop at the Australian National University, retired Australian Defence Force chief Angus Houston at University of the Sunshine Coast, businesswoman Belinda Hutchinson at the University of Sydney, and businessman David Gonski at UNSW.
.
One senior university leader told The Weekend Australian that the quarrel between UA and UCC was not surprising given UA's botched handling of university funding before the 2019 election. UA failed to engage with then education minister Simon Birmingham, imagining that an incoming Labor government would deliver more funds. Universities were left with less funds after the election.
.
That patently stupid strategy has left egg on the faces of then UA chairwoman Margaret Gardner, Monash University's vice-chancellor, and UA chief executive Catriona Jackson.
.
Speaking to The Weekend Australian, Gerlach is frank about the unhappiness. "There has been a lot of disquiet among members of the UCC for some time now about the deterioration in the relationship with the federal government," he says.
"We have been concerned in the last 18 months, when the UCC had never been before, not officially anyway, of trying to build bridges and have communications with the minister and the government and other organisations of government to improve the ability for the UCC and UA to have more meaningful discussions about policy development."
.
That's seems to be code for UA had better get its act in order and chancellors will assume a greater oversight role.
.
Gerlach makes a pointed distinction between VCs who come from an academic background and the nation's 39 chancellors who come from business, law, government and other occupations. "They (the chancellors) have a broader view of the way they look at the sector," he says. "It is really a resource for the sector and for government that has been under-utilised in the past."
.
Gerlach and other chancellors have high expectations of the UA review, due in coming weeks. "We are hopeful that out of that process will come, not something just around the edges, but a really decent look at what can be done for UA to play a constructive role going forward," he says.
.
Ouch. But it is good news for the new Education Minister. Tudge has a unique chance, drawing on work done by French, Walker and his ministerial predecessor, to focus the minds of chancellors on the core mission of a university: to embed freedom of expression and academic freedom.
.
How far will Tudge go to ensure all Australian univer­sities, UNSW included, adopt French's charter on freedom of expression? To legislate or not? That is the question.