Fraudci Says Now is The Time to Eliminate Individual Freedom in The United States, Forced Vaccinations Are Now Required
What makes this such an "unusual time" is that the far left neo-fascists have never before been this close to achieving their goal of total political domination of this nation, so they are using any 'issue' they can to push their agenda of evil. It's a PLANDEMIC.
Fauci Admits He Is Playing Politics with Americans' Health…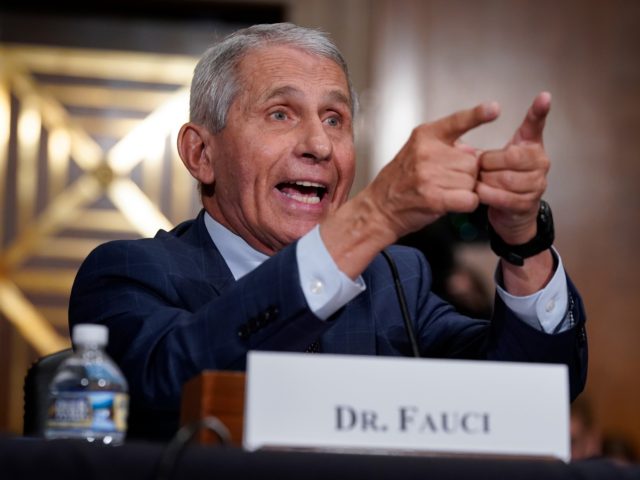 If YOU are vaccinated then YOU are supposedly safe from the virus, like your CDC overlords told you. But the CDC just admitted the vaccine doesn't stop you from transmitting the virus. Whether or not *OTHERS* are vaccinated is thus not even a little bit of your damn business.
The virus & the warming terror are both used to bring about the "Great Reset".
Climate Change Deniers 'Eerily Similar to People Who Are in Denial about COVID-19'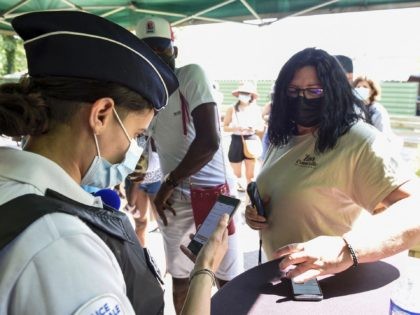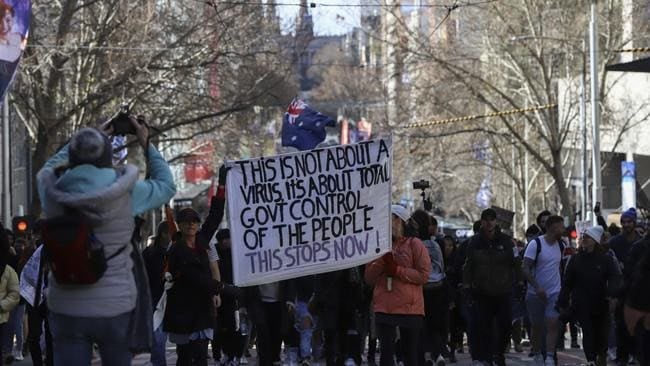 Chris Kenny The Australian August 7, 2021
.
Is it 'tragic' when a man dies with 86-year of age?
.
The extraordinary triumph of emotion and fear, over reason and calm, is exposed by how our political leaders, authorities, and media catastrophise some deaths and rationalise others. A Covid-19 death (even, as some were recorded last year, in palliative care) is accorded more weight than others, even those ­directly or indirectly attributable to pandemic responses – such as the baby lost when a northern NSW mother was turned away from the nearest major hospital across the Queensland border, the truck driver who crashed into ­vehicles queued in the middle of nowhere after South Australia slammed shut its Victorian border, or the suicide of a person whose social and economic prospects were crushed by another lockdown.
.
We see calm and reason when our leaders and media downplay deaths linked to AstraZeneca. These deaths do not lead news bulletins, they are described as "rare", and the public is encouraged to focus on the relative risks and rewards of vaccination; the most recent death was reported briefly 11 minutes into the main ABC television news bulletin on Thursday where it was noted the seven AstraZeneca-linked deaths came from 6.8 million doses. Perspective.
For emotionalism and fear, see how leaders and media cover Covid deaths. They lead bulletins and co-morbidities are never mentioned, even though the Australian Institute of Health and Welfare figures for 2019 show 79 per cent of all deaths have multiple causes (average 3.2).
The ABC last week described the death of an 89-year-old as "tragic" even though, again according to the AIHW, lung diseases and infections have long been leading causes of death for elderly Australians.
.
When a 27-year-old man died from Covid this week it certainly was a tragedy, and newsworthy, because he was Australia's youngest victim so far. But our leaders and media felt no need to apply context or rationalise the threat for young people. The death led news bulletins, with the ABC declaring a "devastating impact" and Channel 9 opening with this "heartbreaking reminder of the ferocity" of the Delta strain.
.
"It demonstrates again how this disease is lethal, how it affects people of all ages," said NSW Premier Gladys Berejiklian. The next day Victorian Premier Daniel Andrews said the death showed this is "not something that only happens to very frail old people or people who have critically poor health, it can happen to any of us".
.
Well, up to a point. Healthy young adults make up the vast bulk of infections, but a tiny minority of those who are severely ­affected. The under-50s have accounted for about 24,000 infections in our nation and six deaths (about 70 per cent of infections but less than 1 per cent of the deaths).
These are not opinions; they are just the facts. And the public deserves the facts, always.
.
The young need to be vaccinated, to be sure, but it is primarily to halt the spread of the virus, with their own protection an added benefit. But leaders and media try to create a hysterical perception, either for sensationalism or because they believe they need to frighten people to motivate them for a jab – either way, it is less than forthright and helps to feed lockdown overreactions in a country where the vulnerable are largely protected.
.
The disease remains, overwhelmingly, a threat to the elderly. More than three quarters of last year's fatalities occurred in aged care settings where now, thankfully, everyone has been offered vaccinations and most have taken them up. That is why the current outbreak in Sydney is not seeing the high death toll Melbourne saw last year; all 17 people who have died in this outbreak were unvaccinated (one elderly man had his first AstraZeneca shot in May but had not had the second) and most have been older Australians.
.
All this confirms that our path forward is not to eradicate infections but to ensure, through vaccines and treatments, that cases are not severe. Undoubtedly, we will need to persist with social distancing and other measures to slow spread and contain outbreaks, but wholesale lockdowns should be put behind us – they create social and economic pain, immeasurable other health impacts, and they only delay the inevitable.
.
About 15 million people are in lockdown this weekend essentially because politicians have boxed themselves into a zero-Covid performance indicator ­matrix. Large sections of the population are fearful and welcome this but, increasingly, mainstream Australians see the lack of logic and context, and the endless run of "one chance" decisions, extended "snap" lockdowns, lockdowns to prevent lockdowns, and lockdowns that are invariably described as the "only" option.
.
This country has not tried another option. Berejiklian looked set to try but was essentially forced to accept the national lockdown consensus or risk having the other premiers blame every Australian Covid infection on her.
.
Some readers were dismayed when I wrote last month that it might be a good thing if the NSW lockdown failed because it would force the nation to learn to live with the disease. That seems to be what is playing out – incrementally and reluctantly perhaps – but it is happening.
.
The lockdown fetishists portray this as welcoming sicknesses and deaths, as though there is another option. The day the virus ­arrived on our shores from Wuhan we were going to have to deal with these morbid realities; it is all about picking a sustainable, least-worst path. As I have argued in this column for more than year, there is no option but to find a way to live with Covid.
.
We should be grateful we can tackle this challenge with the benefit of vaccines after most of the world had to do so last year without them. Our closed international borders and hotel quarantine have given us that advantage but we need to get on with it, rather than pretend our zero-Covid hiatus can continue forever. We need to ramp up vaccinations, purposefully ease restrictions and embrace a prospective pandemic spring.
.
The thing about ending lockdowns – returning normal liberties – is that nothing is compulsory. Those who are particularly wary are free to remain isolated at home, and bureaucrats with good wages and permanent tenure who enjoy working from home can, no doubt, continue to have taxpayers fund their lifestyle. Many want to push forward, adapt to an ever-changing world that now carries an additional health risk. Others want to indulge in a kind of social cryogenics that snap freezes our lives, funded by the taxes of future generations, until we re-emerge into a Covid-free world.
.
Notwithstanding the implausibility of their aims, the cryogenicists have been winning.
.
In most of the rest of the world, the virus has been endemic for 18 months, so they have never confronted this false choice – in this respect we have been a victim of our own success.
,
This was always the risk of the zero-Covid strategy; instead of using our Covid-free year to prepare for the inevitable reality of living with the virus, our leaders, especially five of the six premiers, convinced the public they could "keep them safe" from the virus forever.
.
This promise, promoted by fear and amplified by a largely complicit media, was never possible and has been counter-productive.
.
It fostered complacency in the development of efficient QR code systems and contact tracing resources needed to live with outbreaks. It also undermined the public appetite for vaccinations, including a scepticism towards ­AstraZeneca. Indeed, the nation's almost zero-Covid reality helped trigger the damaging warning from ATAGI because it ludicrously weighed the risk of AstraZeneca against the almost negligible risk of catching the virus – that situation was never going to last, so the revisions have kept coming.
.
In a nation sharply divided in lockdown impacts, my Covid experience has been as good as it can get. In the past 18 months I've been able to go to work, travel to the US at the height of the pandemic, visit four Australian states, squeeze in a ski holiday, and keep my kids at school until this past month – so my aversion to lockdown is not driven by personal frustration.
.
It is the dire consequences that surround us, the people I speak to daily on television and in private, whose livelihoods, aspirations, ­options and lifestyles are stifled and threatened, and who ache with uncertainty and dread.
We are inflicting a terrible toll on small businesspeople, sole-traders, casual workers and the young. Disadvantaged primary and secondary school children will have lost a full year of schooling, perhaps without the technology or parental support they require at home, so that their one chance to forge a better path for themselves, their education, is disrupted, possibly irreparably.
.
Those of us with careers, families and decades of adult life under our belt have faced frustrations for a relatively short period. But young adults, eager to forge their careers, meet people, travel, pay the rent and chase their goals have had a period of extended financial hardship, social dislocation, immobility and limited options that, for a 22-year-old, amounts to more than a third of their adult life.
This purgatory triggers despondence. There is no magic fix, easy solution, or Covid-free path, but we owe it to the young to press forward.
.
1/ Healthy young adults make up the vast bulk of infections, but a tiny minority of those who are severely ­affected. Picture: Toby Zerna
2/ As I have argued in this column for more than year, there is no option but to find a way to live with Covid. Picture: NCA NewsWire / Gary Ramage
3/ Instead of using our Covid-free year to prepare for the inevitable reality of living with the virus, our leaders convinced the public they could "keep them safe" from the virus forever.