Culture of Corruption
REVEALED: Husband of Queensland Chief Health Officer's 'history' with Big Pharma Looks like he received travel perks & benefits when adviser to Pfizer Well, well TRUTH always comes out What other LINKS between Big Pharma & Big Govt who BULLY us to get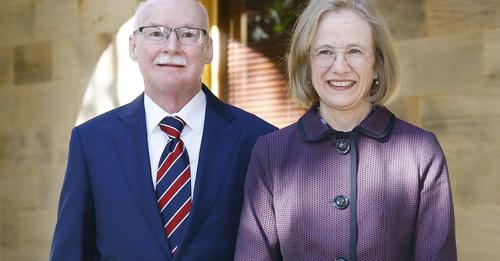 Revealed: Professor Graeme Nimmo's history with drug company Pfizer
The chief health officer's husband Professor Graeme Nimmo received travel perks and benefits while serving as an adviser to Covid-19 vaccine manufacturer Pfizer, it has been revealed.
Discussion about the link has emerged on social media after Dr Young said the AstraZeneca jab should not be given to Under 40s, and only given to Under 60s on medical advice, despite a study finding it had a 'similar safety profile' to Pfizer.
Doctors, Aussie MP battle pharma mafia for anti-COVID drugs that work
the world of global public health, public health in general, is being run like a mafia. There's a Don somewhere and he's got all these families that go by NGO names … world body names. These are like Mafia families and they are using money laundering and extortion and a kind of protection racket scheme to cripple nation states and at the same time of course, enrich themselves." –Independent researcher Polly St George aka "Amazing Polly" 
By TONY MOBILIFONITIS
IN March 2020 a group of critical care doctors called Frontline Covid-19 Critical Care Alliance, embarked on a project to compile research and trial results on ivermectin, an anti-parasitic medicine commonly used on animals, but also to treat COVID-19 (SARS_Cov2).
Over four months the group, led by Professor Paul E. Marik. found and reviewed numerous, controlled clinical trials from multiple centers and countries worldwide that reported consistent, large improvements in COVID patient outcomes when treated with ivermectin. A comprehensive scientific review of the trials is available at the Open Science Foundation pre-print server.
The summary of the research notes that an independent meta-analysis calculated the chances that ivermectin was ineffective in COVID-19 to be 1 in 67 million. By the most conservative estimates, that's at least 67 times less than the chances of getting a serious or fatal COVID vaccine reaction (nearly 4000 post-vaccination deaths so far in Europe).