Fraudci clearly lied to Congress. The NIH just admitted as much publicly. Will he face any consequences?
"If you have half a brain you know if you combine two viruses it might be more deadly"
Time to sue?
CNN has refused to apologize to Joe Rogan after falsely claiming the podcast host took "horse dewormer," claiming that its erroneous reporting did nothing more than 'bruise' Rogan's ego.
German State Allows Food Stores To BAN The Unvaccinated
Get a jab or… starve to death?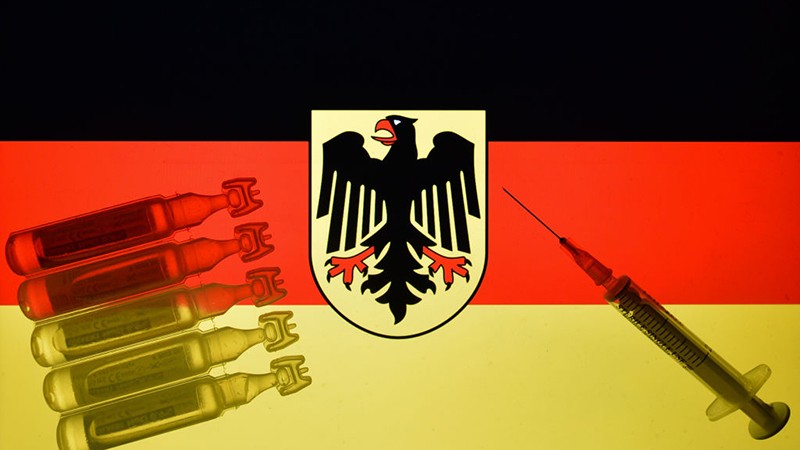 The German newspaper BILD reports that the state of Hesse has passed a motion that will allow food stores to decide whether they want to BAN unvaccinated people from entering.
An English language report on the development notes "2G regulations refer to public places where only vaccinated persons are given the option to enter."
The so called 3G rules still require anyone wanting to enter a building to prove they have tested negative, but the 2G rules remove that option altogether.
The German government had excluded supermarkets and stores selling essential items from most restrictions, but Hessen's government has now put this decision into the hands of the stores.
The federal state is home to more than six million people and includes the major city of Frankfurt.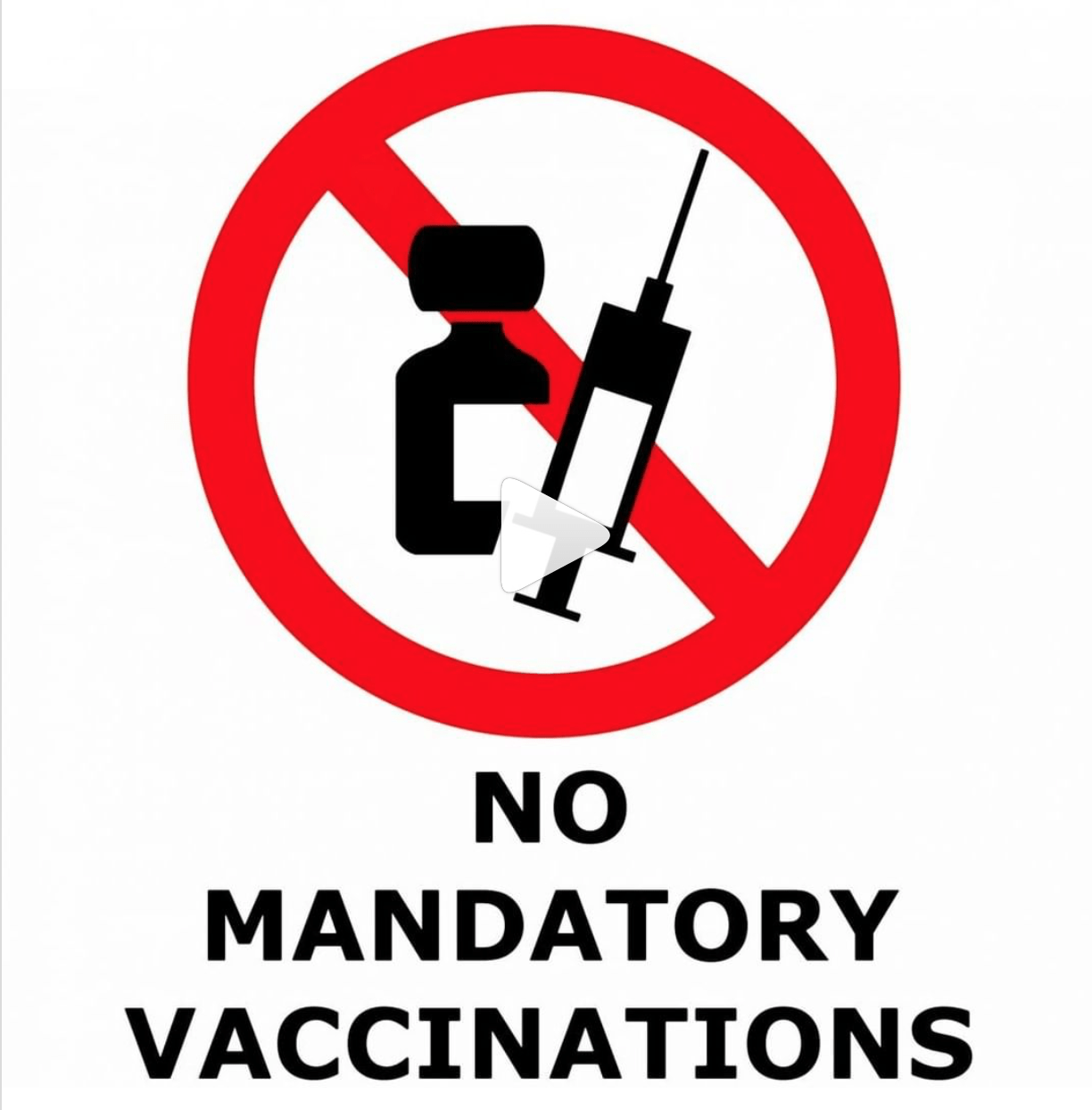 RECEIPTS! Patent PROVES Vaxx is Obedience Training Platform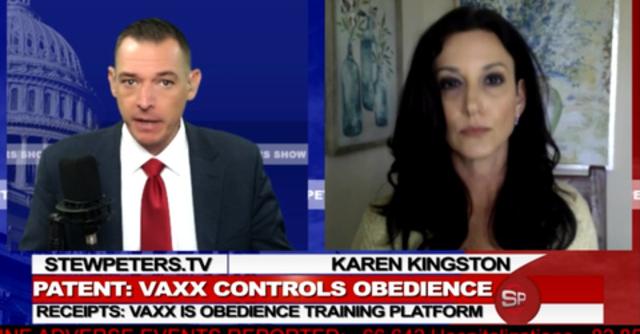 Rumble — The WHOLE WORLD WILL CHANGE if this interview is seen by the masses. This is it. This is the FINAL "Variant". Your life, the life of our children and every generation to come will be forever enslaved if this agenda is carried out! PLEASE SHARE! Dr. Zelenko Protocol: www.zStackProtocol.com Go Ad-Free, Get Exclusive Content, Become a Premium user: https://redvoicemedia.com/premium Follow Stew on social media: http://evrl.ink/StewPeters See all of Stew's content at https://StewPeters.TV Watch full episodes here: https://redvoicemedia.net/stew-full-shows Check out Stew's store: http://StewPeters.shop
They are coming for your children.
 Can't get any worse than the forces of evil we're up against. 
I will not allow your kids to get a potential death shot!
Mossman today, Cairns or Woree High tomorrow?
No way.
Parental Informed Consent.
You'd be crazy to allow it, if you are fully informed.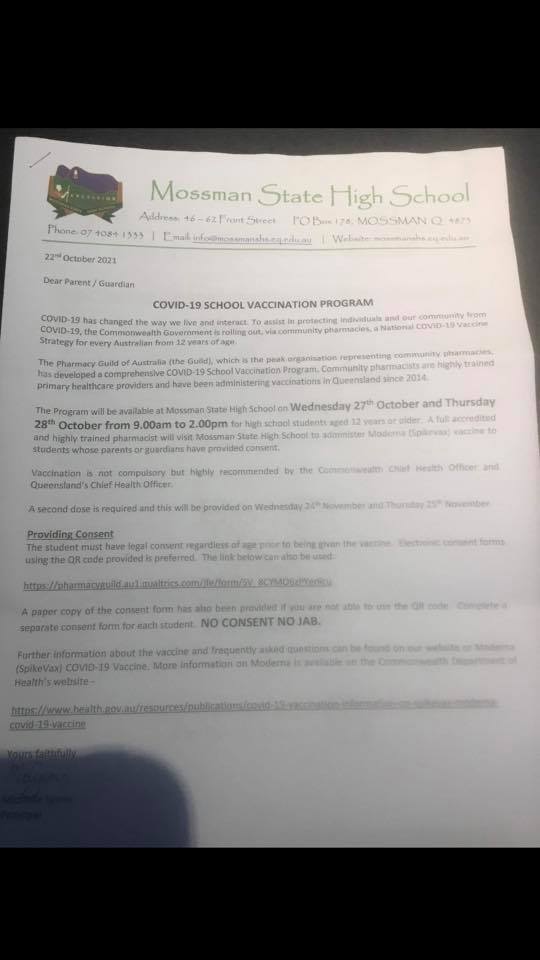 I DO NOT GIVE MY CONSENT TO A DIGITAL IDENTITY CARD/PASSPORT OR ANY OTHER KIND OF DIGITAL SYSTEM PROPOSED IN THIS LEGISLATION
.
This is a violation of my freedoms and sovereign human rights that allow me to maintain life choices and invades privacy to my spendings of my own hard earned money and personal habits.
.
I have a right to live without digital tracing, tracking, put under constant surveillance, forced or coerced into any social credit system in order to control individual movements, habits and lifestyles. I should not be forced to wear a mask, be PCR tested, be vaccinated and not be penalised for refusing to do any of those things.
.
I refer you to our laws in place to protect our human rights:
Commonwealth Constitution
Section 51
Sub-section 9
Sub-section 23A
Section 92
Section 58
Section 109
Section 115
Section 117
Section 118
Covid-19 Emergency Act 2020
Section 4 – This Act does not supercede Human Rights Act 2019
Public Health Act 2015
Section 2
Section 5
Section 23
Section 362D
Biosecurity Act 2015 (Commonwealth Law supercedes State Laws)
Section 60
Section 61
Section 62
Section 63
Section 95
Section 108
Australian Immunisation Handbook
Section 2.1.3 Valid Consent
10th Edition Page 487 – Vaccination is not compulsory
Privacy Amendment Act 2020
Section 94H