The Telegraph smears Eric Zemmour as "right-wing firebrand"
Not only the Telegraph: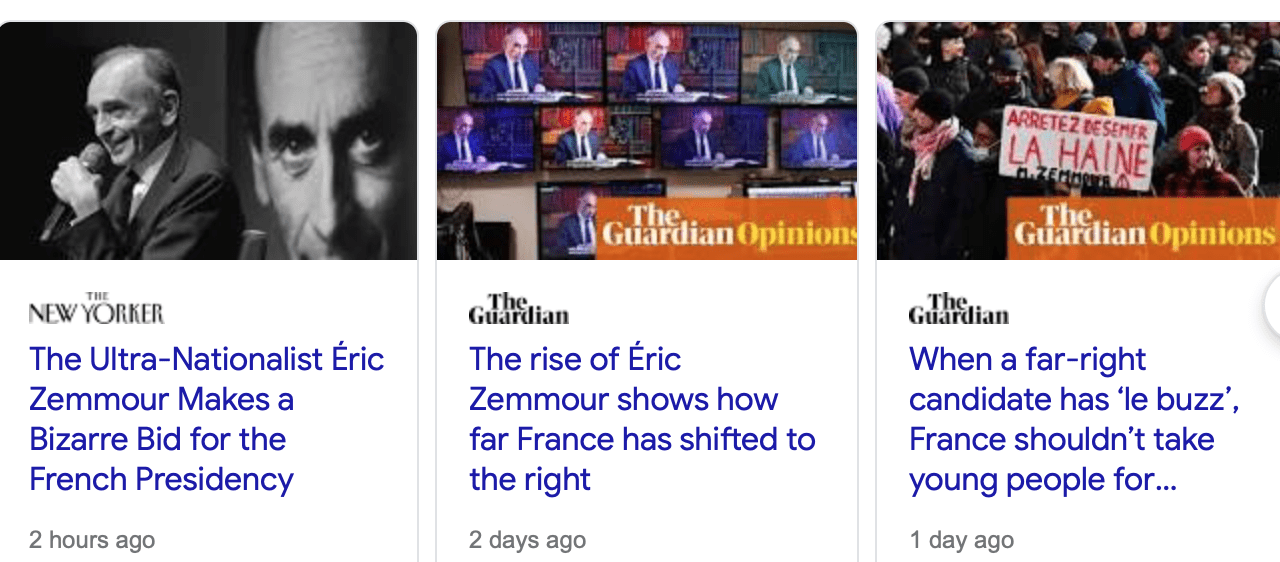 The journaille is demented.
Here's al Reuters:
Far-right figure Zemmour announces presidential run "to save France"
The New York Times goes further:
France's Old Bigotry Finds a New Face
These MF's are insane.
Éric Zemmour, a far-right pundit, runs for president of France
"People are not enough afraid of him," said a former adviser to the last Socialist president, François Hollande. "Nobody thought that Trump could win."
France's Éric
Zemmour
has been compared to Donald Trump. The far-right TV pundit declared his candidacy in the French presidential race on …..
.
Right-wing firebrand Eric Zemmour has put an end to weeks of speculation by officially announcing his bid to become France's next president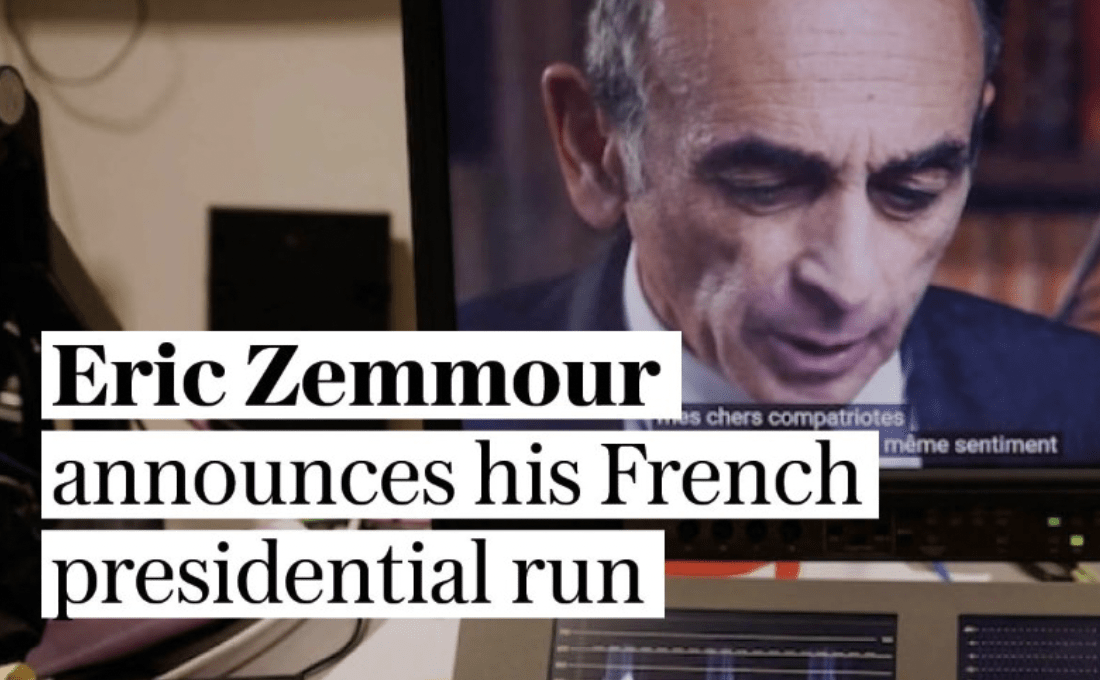 Zemmour's speech is "racist, sexist, Islamophobic and anti-Semitic".
Eric Zemmour, who has been framed as "far right" is as French presidential candidate, he said:

"By defending its border, Poland is giving a lesson to all of Europe." pic.twitter.com/P9zBkqh3hQ

— David Atherton (@DaveAtherton20) December 2, 2021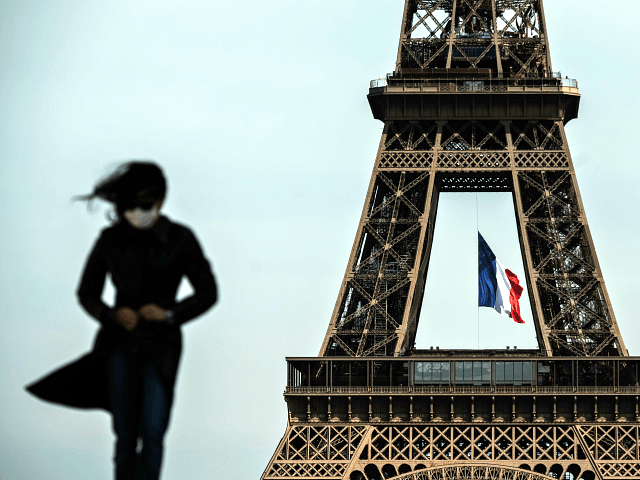 Slight and charismatic Zemmour, whose parents were French Algerian Jews, may be very French, but the media frenzy surrounding him and his background as an outspoken star of the small screen is drawing parallels to the former American president's meteoric rise. A recent video of Zemmour pointing a sniper rifle at journalists in Paris has been watched by millions. His controversial opinions on women and France's role in World War II have shocked many.  
But his leitmotif is immigration and Islam. 
"We will not let ourselves be dominated, subjugated, conquered, colonized," he said in a video announcing his candidacy Tuesday.
"We will not let ourselves be replaced," he added, a nod to the "great replacement," a conspiracy theory which posits that European, white and Christian populations are being supplanted by nonwhite immigrants from Africa and the Middle East, particularly Muslims. It has been adopted by white supremacists, and linked to mass shootings in the United States and New Zealand. 
This is the reality. It is a conspiracy, yes.  A conspiracy to eliminate white Europe. Anyone who denies this is either a liar, reality resistant, blind, dumb & deaf or in on the conspiracy. But it is certainly no "conspiracy theory".
Seemingly out of nowhere, Zemmour, 63, has electrified France's presidential race. The neatly-dressed firebrand has hammered home warnings of a country in decline and exploited sentiments thriving well beyond its shores to emerge as a new leader of the country's formidable far right, while still appealing to more mainstream conservative voters. More than one poll has predicted he could overtake Marine Le Pen, the doyen of the hard right, to reach the final round of the election in April and go head-to-head with President Emmanuel Macron.
"I think people are not enough afraid of him — they don't think he can make it," said Gaspard Gantzer, a former strategy and communications adviser to the last Socialist president of France, François Hollande. "Nobody thought that Trump could win."
Here's a bit more of the hate mongering, much of it from leftist establishment Jews:
France's chief rabbi, Haïm Korsia, has described Zemmour as anti-Semitic and racist. 
In response, Zemmour accused Korsia of being a "court Jew" who wanted to deliver his scalp to Macron.  
For Serge Klarsfeld, a historian and Nazi hunter, it is what Zemmour says about Muslims that is most alarming. 
"He speaks like Hitler," Klarsfeld said. "He has a beastly vision of society and what he says is either it's them or us." 
That's the demented schtick of establishment Jews. Totally detached from reality.
Some blame the media for giving oxygen to Zemmour's ideas. 
A recent poll found that 2 in 3 French people are concerned that a "great replacement" could happen in France. 
But Zemmour's supporters say efforts to protect the French people and their interests do not make Zemmour  — or them — racist. As for the charge of anti-Semitism, they point to the fact that he is Jewish and say he will protect Jews against insults and attacks by Islamists. 
Press contacts around Zemmour did not respond or declined to field requests for comment regarding allegations that the TV pundit's speech is racist, sexist, Islamophobic and anti-Semitic, as well as clarification about his run-ins with the French justice system.
Among his most vocal supporters is a group of young people, Génération Z, who have a strong online presence and are led by a cherub-faced president, Stanislas Rigault. 
Sitting on the terrasse of a Parisian cafe, the 22-year-old former law student described Zemmour as "the brains" of the French right and said he was the only person capable of synthesizing the working-class electorate of Le Pen, with those who usually vote for the conservative Les Republicains. 
"It's those two electorates that could lead to victory in the end," he added.