Scott Morrison addressing the Protestors said that The Federal Government has never Mandated Vaccines so as it says on my Passport that I'm a "Citizen Of The Commonwealth Of Australia" not "Victoria"
ScoMo is lying. He is trying to deflect anger on the premiers.
He coulda reigned them in. He didn't. he failed us, he failed to do his job. He allowed tyranny & terror to prevail and it still continues now in WA, in the NT and in QLD.
You just can't trust Morrison

Morrison will do ANYTHING

~ to deflect
~ not take responsibility
~ not to say sorry

Morrison COULD have stopped the Mandates

Morrison COULD end the Mandates

Morrison has FAILED to end the Mandates

I WILL#ConvoyToCanberra#ConvoyForFreedom2022 https://t.co/IyE69iJRZr

— Craig Kelly MP (@CraigKellyMP) February 12, 2022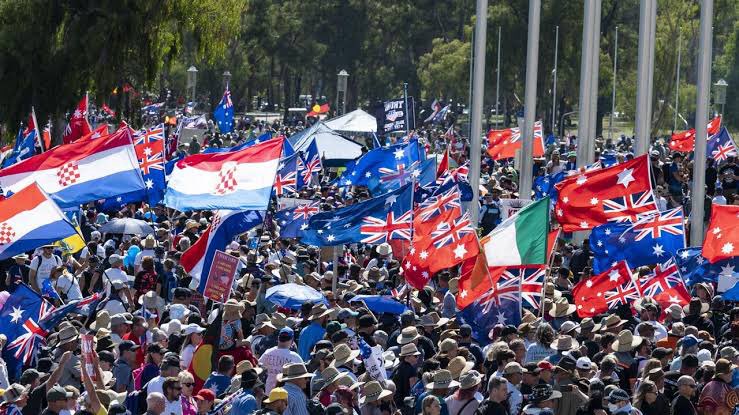 They want an end to immoral mandates, restrictions on free society and a return to normality.
They want Australia back.
🚨BREAKING: Our news chopper over Parliament House right now. One of the biggest protests I've ever seen. #7NEWS #auspol #ConvoyToCanberra pic.twitter.com/ox0crpU2oa

— Jennifer Bechwati (@jenbechwati) February 12, 2022
Freedom is contagious https://t.co/QhqshRgGmY

— Jeff Hecht (@JeffHecht24) February 12, 2022