Because the establishment & the institutions are derelict in their duty to protect. The police are infiltrated by Mohammedans and every investigation runs into shrieks of "racism & Islamophobia",  as if….
Woman was just 14 when she was raped by gang in Keighley, West Yorkshire  
Eight men were found guilty of 23 counts of rape and two of conspiracy to rape
The CPS said two were sentenced last year and four more were jailed on Friday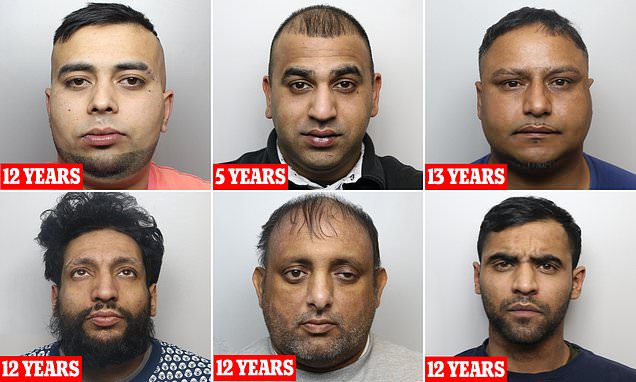 A grooming gang who raped a 14-year-old girl and 'abused her systematically and repeatedly' over a two-year period have been jailed.
The woman was raped by multiple men Paki Mohammedans in the Keighley area of West Yorkshire over a period between 2008 and 2009, when she was aged between 14 and 16.
The Crown Prosecution Service (CPS) said eight men were found guilty of 23 counts of rape and two of conspiracy to rape in two separate trials at Bradford Crown Court last year.
The CPS said two were sentenced last year and four more were jailed on Friday.
Nazir Khan, 30, of Keighley, Kamran Hussain, 29, of Keighley, Omar Safdar, 30, of Oldham, Imran Sabir, 42, of Keighley, Hassan Basharat, 32, of Keighley and Barber Hussain, 36, of Bradford have now been jailed.
Two others are yet to be sentenced.  
Everywhere. Not only in the UK. From Spain to Japan, from the U.S. to any place where Mohammedans have settled,  behind enemy lines, everywhere they use these 'corner shops' to advance the jihad. That is their Islamic duty, that's the purpose of their existence. Something the kuffars just cannot understand.
UK: Non-Muslim Child Prostitutes & Jihadist Teachers
Soldiers of allah enjoy the sex slaves:
Police Ignored Victims of Muslim Child Sex Trafficker who recruited non-Muslim child "prostitutes"; Detective: "the worst case I've ever had to deal with in my 22 years of service"
Is it any wonder that the Muslim sex trafficker of non-Muslim girls had utter contempt for his victims? Not only is it allowed under Islam, but Western law enforcement is sanctioning sex slavery under Islam. "These men were enjoying the sex slaves allowed by the Qur'an (men may enjoy 'what your right hands own,' 4:3) and Islamic law from among unbelieving women," said Robert Spencer.
Another version of "teacher, leave our kids alone!"
Wales: Primary school teacher suspended for ties to banned jihad group
Of course, this always happens. Primary school teachers are constantly getting arrested for ties to terror groups. To single out Sadia Malik would be "Islamophobic."
"Teacher Sadia Malik Suspended From Cardiff Primary School Over Islamist Extremist Links," by Lucy Sherriff for The Huffington Post UK, May 13 (thanks to JW):
A special needs teacher at a primary school has been suspended over links to an Islamic extremist group.Sadia Malik, a special education needs (SEN) coordinator at Cardiff Muslim primary school in Wales has been accused of "actively" promoting a banned hate group in the country's capital. According to the Sunday Times newspaper, which has accessed a confidential police report, Malik was present at a meeting organised by the Supporters of Tawheed group in January.

The teacher was named a "key subject of interest" by police and linked to extremist Sajid Idris – the head of the group and former spokesman for the banned organisation Islamic Path.

On its website, the Supporters of Tawheed claim: "It is only a matter of time until Islam will prevail in the whole world and this is something that we believe in and are striving to see."

There is no suggestion Malik's links to the group have impeded on her work at the school, the Times reported, but the school has launched an investigation….

Earlier this year, an Islamic teacher came under fire for calling on Welsh muslims [sic] to support the fight for Sharia law. Abu Hajar, who leads the same group Malik is allegedly connected to, told a meeting freedom and democracy are "false deities" before the it was broken up in an anti-terror raid.

The school was unavailable for comment.
What could they possibly say?