Deplorable state of affairs in Trudeau's Canuckistan:
Bill C-11, like its predecessor C-10, shows that the government doesn't trust Canadians with free speech & to make their own internet choices. #cdnpoli pic.twitter.com/vi6ecJROky

— Dr. Leslyn Lewis (@LeslynLewis) March 2, 2022
Mark Steyn at GB News: 'There's no warrant for my arrest…yet all my bank accounts have been frozen' — Tom Marazzo
'There are no warrants for my arrest, there are no charges, I haven't been convicted of anything… yet all my bank accounts with my name on them have been frozen.' Canadian protester & organiser Tom Marazzo on being punished for being connected to the Ottawa protests. Watch on TV: Freeview 236, Sky 515, Virgin 626 Listen on DAB+ Radio Download the GB News App to watch live wherever you are, catch up with all our shows and get the latest news from the GBN family. https://www.gbnews.uk/freegbapp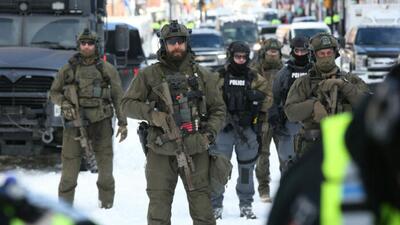 "If there was such a threat to public safety, how could you have allowed members of Parliament to walk by that protest every day?
I want to see politicians arrested and charged for enforcing unsafe vaccines.. an apology is not enough.
In New Zealand, conniving commie despot Jacinda Ardern is trying to do what Trudeau did in Canada:
New Zealand is peacefully accepting the "new normal"… pic.twitter.com/7LnQqUjxpd

— Aaron Ginn (@aginnt) March 2, 2022
Podcaster @joerogan savaged Prime Minister Justin Trudeau on a recent episode of the Joe Rogan Experience, criticizing Trudeau's use of emergency powers to crush freedom convoy protests and freeze the assets of its supporters. #cdnpoli https://t.co/thVfwYgCiX

— True North (@TrueNorthCentre) March 3, 2022