Five killed by Pali gunman in latest deadly attack in Israel

Two Ukrainian nationals, an Arab Israeli police officer, and two fathers were identified as the five victims of a shooting attack by a Palestinian terrorist in a Tel Aviv suburb on Tuesday.
The terrorist, identified as Diaa Hamarsheh, 26, a Palestinian from near the West Bank city of Jenin, smuggled into Israel illegally and began a shooting spree with an M16 assault rifle in the ultra-Orthodox city of Bnei Brak in central Israel.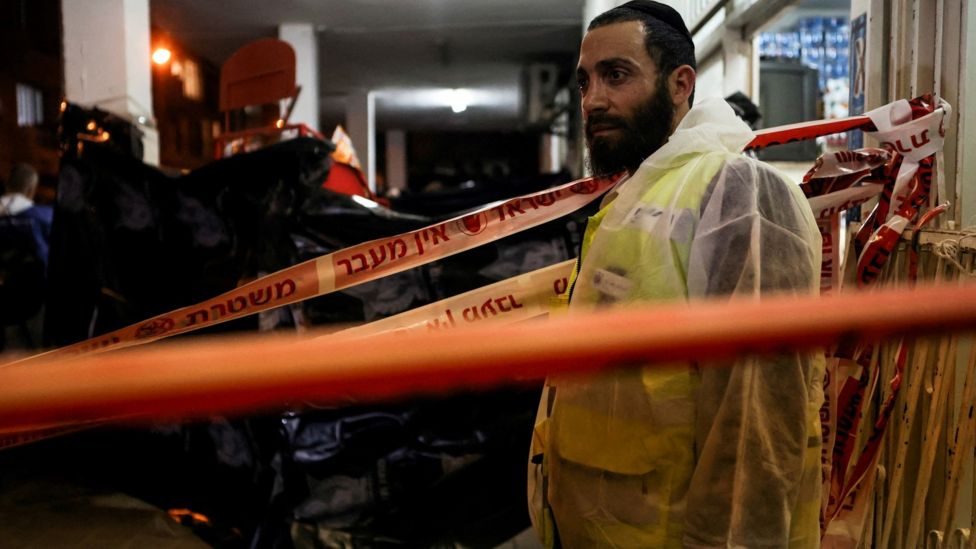 Five people have been shot dead by a Palestinian gunman in a suburb of the Israeli city of Tel Aviv, in the third deadly attack of its kind in a week.
It happened on Tuesday evening in Bnei Brak, one of the country's most populous ultra-Orthodox Jewish areas.
The gunman was shot dead by police, a paramedic at the scene said.
Israel security forces were on high alert after attacks by Israeli Arabs last Tuesday and Sunday, which left six people dead.
Israeli Prime Minister Naftali Bennett said the country was "currently dealing with a new wave of terrorism".
Israeli media reported that he first shot dead two Ukrainian men who were sitting outside a grocery shop. He also opened fire at a passing car, killing a man who was driving it.
.
He then shot dead a fourth man before being confronted by two police officers. One of the officers was fatally wounded during the exchange, while the second shot and killed the attacker.
Magen David Adom ambulance service paramedic Menachem Englander said he came face-to-face with the gunman, but survived because the rifle jammed.
Police said the officer who died was Amir Khoury, a 32-year-old Israeli Arab. Police Commissioner Kobi Shabtai told his family that he was a hero who "saved the lives of many civilians".
The attacker was named as Diaa Hamarsheh, a 27-year-old Palestinian from the village of Yabad, in the north of the occupied West Bank. He had previously worked in Bnei Brak and been jailed in Israel for security-related offences.
Three of Hamarsheh's relatives were reportedly among five Palestinians detained for questioning by Israeli forces in the West Bank on Wednesday, as investigators sought to find out if he had accomplices.
"Every few years, the State of Israel deals with a wave of terrorism," Mr Bennett said in a video statement on Tuesday night.
"After a period of quiet, there is a violent eruption by those who want to destroy us, those who want to hurt us at any price, whose hatred of Jews, of the State of Israel, drives them crazy."
The prime minister said Israel's security forces had to adapt to "read the tell-tale signs of lone individuals, sometimes without organisational affiliation, and to be in control on the ground in order to thwart terrorism even before it happens".
"They are up to the task and, as in the previous waves, we will prevail this time as well," he added.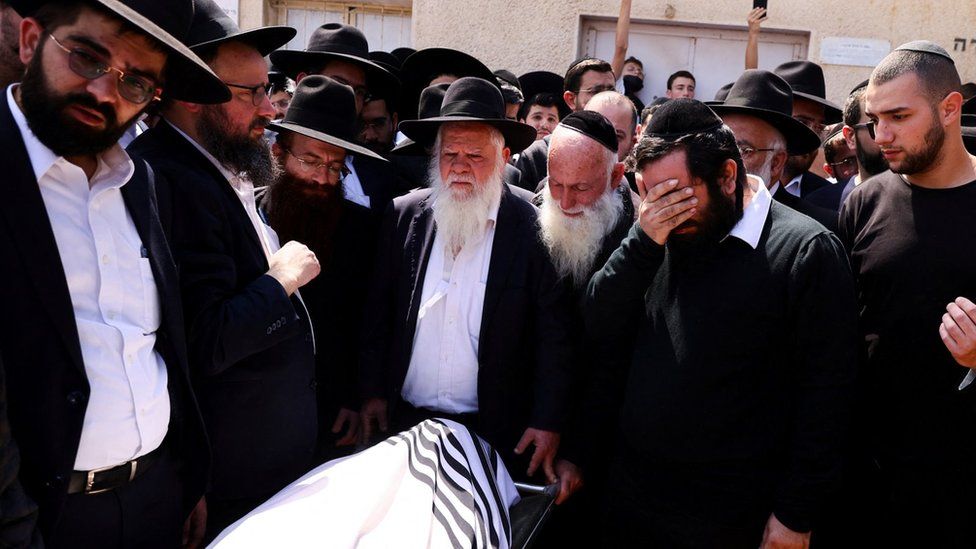 US Secretary of State Antony Blinken condemned the attack.
"This violence is unacceptable," he said. "Israelis – like all people around the world – should be able to live in peace and without fear."
The shootings were also condemned by Palestinian President Mahmoud Abbas.
"The killing of Palestinian and Israeli civilians will only lead to further deterioration of the situation, while we are all striving for stability," he warned.
However, the Palestinian militant group Hamas, which governs the Gaza Strip, praised the attack, saying: "We express our blessing to the Tel Aviv operation."
Security had already been stepped up across Israel and in the West Bank in the wake of the two previous attacks.
The first was carried out by an Israeli Arab who had planned to join the Islamic State (IS) group in Syria and had served a jail sentence for security crimes. The attacker drove his car into a cyclist, killing him, then stabbed three people to death outside a shopping centre in the southern city of Beersheba.
Five days later, two other Israeli Arabs opened fire at a bus stop in the northern city of Hadera, killing two 19-year-old police officers. IS said it was behind that attack. All three assailants were shot dead.
There had been fears of further incidents in the month ahead, when the Muslim festival of Ramadan, the Jewish festival of Passover and the Christian festival of Easter coincide in a rare convergence.