She's a real stinker. But the lame-stream media loves her.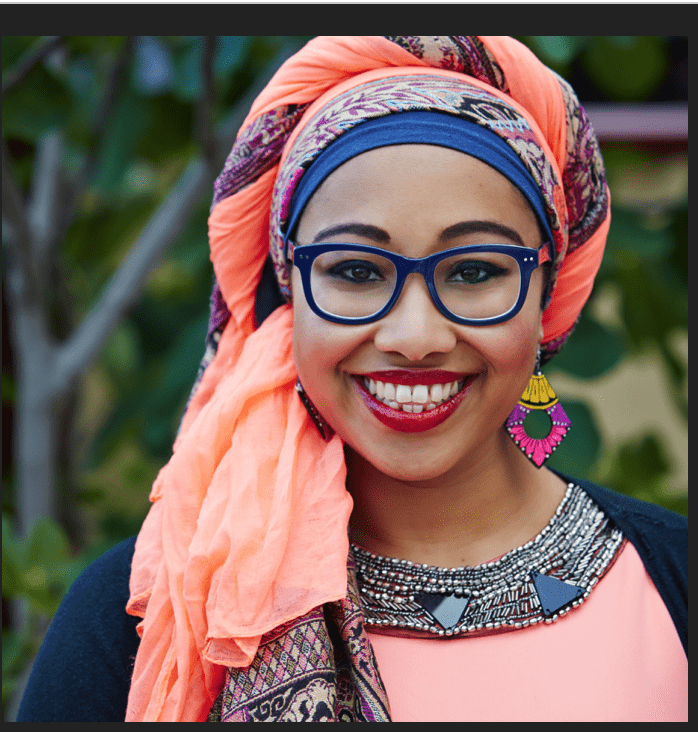 Yassmin Abdel-Magied has revealed she 'fantasises' about ditching her Australian citizenship and blasted the nation's 'blood-drenched soil'….
Ms Abdel-Magied says she still wants to scrap her Australian citizenship – but moans her Sudanese passport won't give her nearly as many opportunities.
'I fantasise about giving up my Australian passport,' she writes in her new book, Talking About A Revolution.
Just do it.
Previous blog entries:
Yassmin Abdel-Magied posts a controversial Anzac Day call-out to her followers
Why does the journaille inject that idiot word "controversial" into everything?
Ms Abdel-Magied has endorsed a former GetUp! director's call on Twitter for thousands of people to tweet "Lest we forget (Manus)" on Anzac Day next Wednesday.
Incoming Change.org national director Sally Rugg tweeted last night: "What if thousands of us all tweeted 'lest we forget (Manus)' next week on April 25th …"
The statement has been retweeted hundreds of times in less than 24 hours.
What if thousands of us all tweeted "lest we forget (Manus)" next week on April 25th…
Ms Rugg followed up her initial tweet with a statement saying: "Anyone who thinks this tweet is about refugees and ANZAC Day is missing the point :)."
Anyone who thinks this tweet is about refugees and ANZAC Day is missing the point 🙂
Ms Abdel-Magied then retweeted the statement Ms Rugg first posted with her own words: "Do it".
Ms Abdel-Magied shocked Australia with her Anzac Day gaffe last year, where she posted on Facebook: "Lest We Forget (Manus, Nauru, Syria, Palestine …)."
The former host of ABC 24's program Australia Wide amended the post to simply say "Lest. We. Forget" and issued an apology.
"It was brought to my attention that my last post was disrespectful, and for that I unreservedly apologise," she wrote.
Her latest controversial move comes after she was "deported" after being denied entry to the US last week with the wrong visa.
But that didn't mean she missed out on the event where she was supposed to speak.
The 27-year-old, who relocated from Australia to London last year, presented for PEN World Voices Festival via Facebook live yesterday, after being rejected entry into New York and unable to appear at the conference in person.
OPINION: If you defend Israel Folau's right to free speech, you must also defend Yassmin's
A video forum titled 'The M Word: No Country for Young Muslim Women', featured her and American Muslim identity Amani Al-Khatahtbeh discussing the tribulations of being young, female Muslims.
Abdel-Magied made a sensational claim the situation would have went differently if it was a white male.
"People said to me 'it's not that big of a deal', and I think it's very different to go through something like that as a person who is accustomed to understanding their place in the world versus someone who has never known very real danger," she said.
"If you are a person of privilege, a white straight male going through border security, you have a sense of assuredness this system has your back. You believe the rule of law is there to protect you.
"I don't believe the rule of law is there to protect me, in fact, I know there are laws out there that find ways to make life more difficult for people like me.
"A border control person being rude and aggressive to me can end in me being shot then them not going to jail. That's the risk we're talking about, it's not just discomfort for a few hours."
The former Young Queenslander of the Year also revealed why she felt she needed to leave Australia, the country where she grew up, and said she was still yet to find a place in the world where she felt valued.
"Part of the reason I'm in London was because I was being attacked in the Australian press, despite the fact I am Australian and had been brought up there, and proudly represented Australia across the world," she said.
"But the reality is once you step outside the bounds of what people think is acceptable, they are not OK with that, they can't handle it.
"They really turn on you whether you are in a western country or a majority Muslim country.
"There is no country for young Muslim women where they know they'll be totally safe, valued and looked after, or at least equal."
She has previously compared Australia to being like an "abusive boyfriend".