Watchdog petitions Israeli court against return of Fatah refugees to Gaza per instructions of Abbas
KHALED ABU TOAMEH and YAAKOV KATZ , THE JERUSALEM POST
The Association for Civil Right in Israel petitioned the High Court of
Justice on Sunday to prevent the state from returning Fatah refugees to Gaza
after they fled the territory on Saturday.
The petitioners stated that forcing the Fatah loyalists to return to the
Strip could endanger their lives and called it a serious violation of human
rights and of Israeli law.
The court ordered the state to respond to the petition by Monday.
Abu Maazen rejects his own people:
Earlier on Sunday, Palestinian President Mahmoud Abbas refused to grant West
Bank asylum to dozens of supporters who fled Hamas-ruled Gaza to Israel
under fire, during fierce factional fighting.
Soldier escorts Fatah supporters near the Gaza border
* Ironic, isn't it? The evil Jooozzz, the victims of Islamic terror and annihilation, provide shelter and refuge for their  Pali-killers.
Abbas stood his ground, with aides explaining that he felt his embattled
Fatah group must maintain a presence in Gaza. The escape posed a dilemma for
Abbas. After the Hamas takeover of Gaza last summer, he had agreed to
resettle some 250 of his Gaza loyalists in the West Bank.
 
The "Palestinian" Authority has asked Israel, which gave refuge to nearly 200, and gave free medical care to two dozen wounded, members or supporters of Fatah who had fled Gaza, not to keep them, nor to transfer them to the Arab-occupied "West Bank," but to send them back to Gaza.
The reason, as given by a "Palestinian" member of the Slow Jihad (Fatah) quoted in a Jerusalem Post article, is this: "Everyone knows that if we allow people to leave the Gaza Strip, almost all the residents living there would try to cross the border into Israel," said a senior PA official. "We don't want to leave the Gaza Strip to Hamas."
They would — "almost all" of them, "try to cross the border into Israel."
You know — into Israel, to which every Arab who can, whenever faced with Arab enemies — as the members of Black September were by Jordanian King Hussein's men (they waded crossed the Jordan, their hands raised, knowing that the Israelis would not harm them but would take them in) or the Fatah supporters now fleeing into Israel — that country, the country routinely denounced as "Nazi-like" or even "worse than the Nazis" (we all remember how the Nazis offered free medical care to Jews and other benefits, so that they would always flee to Nazi-held territory whenever they could). That country.
Don't forget this kind of telling display, and the even more telling comment by a Fatah official. Don't forget it, and don't forget to remind others, when they go into their Guardian-or-BBC or World-Council-of-Churches or Amnesty-International or Human-Rights-Watch or United-Nations slander-and-rant against Israel. Remember not to forget.
Posted by: Hugh 
 at August 4, 2008 9:09 AM
Analysis: Why Abbas doesn't want Fatah 'refugees' in West Bank
The Palestinian Authority's refusal to receive members of the Hilles clan who fled the Gaza Strip Saturday did not come as a surprise to many Palestinians.
 
Although the Hilles clan has long been known for its loyalty to Fatah, the PA leadership in Ramallah asked Israel Sunday to send almost all those who fled the Gaza Strip back home.
For many of the Hilles clan members, returning to the Gaza Strip is tantamount to a death sentence. However, this did not stop the PA from asking the men to return home.
PA officials explained that the reason behind their refusal to absorb the new "refugees" was their desire not to encourage other residents of the Gaza Strip to leave.
"Everyone knows that if we allow people to leave the Gaza Strip, almost all the residents living there would try to cross the border into Israel," said a senior PA official. "We don't want to leave the Gaza Strip to Hamas."
Yet there are also other reasons why PA President Mahmoud Abbas doesn't want the new refugees in the West Bank.
One is related to Abbas's fear that the presence of the Hilles "refugees" in Ramallah and other West Bank cities would damage his efforts to impose law and order there.
The powerful Hilles clan had established their own "mini-state" in the Gaza Strip, where they had their own extraterritorial "security zone" and militia.
The clan, which has long been affiliated with Fatah, had a military training base and a number of small factories for manufacturing various types of weapons.
Several members of the clan were also involved in various types of criminal activities, including murder, rape, kidnappings and extortion, according to sources in the Gaza Strip.
Bringing dozens of these clan members into the West Bank would have caused a big headache for Abbas, who is still facing difficulties in reining in numerous Fatah gangs that are continuing to roam the streets of West Bank cities and villages.
The last thing Abbas needs is another 180 bitter Fatah thugs from the Gaza Strip patrolling the streets of Ramallah, Bethlehem and Nablus and imposing a reign of terror on the local population.
Past experience has shown that the Palestinians in the West Bank have never been enthusiastic about the presence of their brethren from the Gaza Strip among them.
Shortly after the establishment of the PA in 1994, former PA Chairman Yasser Arafat deployed dozens of policemen from the Gaza Strip in a number of West Bank cities. This resulted in an "intifada" by the residents of these cities, many of whom openly rejected the presence of the Gazans in their communities. In many cases, West Bank families refused to rent out apartments to the "undesirables" from the Gaza Strip.
The experience was repeated in June 2007 when hundreds of Fatah members fled the Gaza Strip following Hamas's violent takeover of the area. Most of those who arrived in Ramallah are still finding it impossible to rent apartments in the city.
Many others continue to be shunned by local residents who treat them with great suspicion and often mock them for escaping from Hamas. A former Fatah security commander who was among the June 2007 "refugees" said recently that he had stopped going to public places in Ramallah because he felt that he was "unwanted" and because of the "ridiculing" looks he got from people.
Even the 150 Fatah men who fled to Egypt following the Hamas takeover have not been welcome there or in any other Arab country. In a recent letter to Abbas, the Fatah men, all former residents of the Gaza Strip, complained that they were being held in "military bases" belonging to the Egyptian army and were being treated as criminals rather than political refugees.
****
* Those evil Jooozzz won't give Fatah thugs medical care unless they spy on other Pals!
JERUSALEM (CNN)Â — Israeli agents have been pressuring sick Palestinians to become informants in exchange for permission to leave Gaza for medical care, a human rights group said Monday.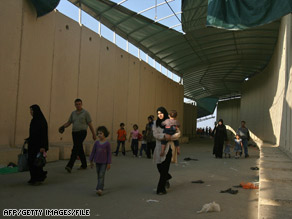 Palestinian families leave Gaza through the Erez Crossing in 2007.
Agents interrogate Gazans who want to enter Israel for medical care about their relatives, neighbors and friends — and those who don't cooperate often don't get travel clearance, said the group, Physicians for Human Rights-Israel.
But David Baker, spokesman for the Israeli government, said any allegation that receiving medical treatment is contingent on providing intelligence information is "ludicrous."
Since Hamas militants seized control of Gaza last year, Israel has limited the shipment of fuel and electricity into Gaza in an attempt to weaken the militants.
That move — along with the closure of a border crossing from Gaza into Egypt — has further limited the quality of health care in Gaza and increased the number of Palestinians seeking permission to cross into Israel to receive treatment there or in the West Bank or other places, a report from the group said.
Physicians for Human Rights-Israel said it has received reports from 32 patients in Gaza who say they were denied permission to leave for refusing to cooperate with Israeli questioners at the Erez Crossing between Gaza and Israel. The group's 80-page report documents the Palestinians' allegations.
The group alleges that Israel's actions violate the Geneva Conventions and the U.N. Convention Against Torture. Israel is wrong to use "the helplessness of the Palestinian patients in Gaza" to try to "pressure them to be collaborators," the founder of Physicians for Human Rights-Israel, Dr. Ruchama Marton, said at a news conference Monday.
Don't Miss
"They are trying to put the patient into a position to lose his or her life or to collaborate and we cannot agree to it," Marton said.
The Israeli Ministry of Defense said Israel must scrutinize people who want to travel from Gaza into Israel for possible security threats, particularly in light of rocket and mortar attacks from Gaza and the attempts of terrorists to infiltrate Israel, sometimes by "making cynical use of humanitarian intermediation."
Israel's internal security service and army "are not experts on medical issues; therefore, they are required to take only security precautions into account" when weighing whether to allow a resident of Gaza to enter Israel, the defense ministry said, according to a letter from the ministry that the human rights group included in its report.
At least two would-be suicide bombings were planned by women who entered or tried to enter Israel on the grounds that they needed medical care, the Israeli prime minister's office said.
Physicians for Human Rights-Israel handles appeals from Gazans who are denied permission to cross into Israel to receive medical treatment.
Despite the security threats, the number of people leaving Gaza for treatment in Israel has climbed steadily in recent years, from 8,325 in 2005 to 15,148 last year, the defense ministry said.
In its report, the human rights group said that Palestinians who are referred to medical treatment outside Gaza typically arrive at the Erez Crossing at an appointed time. Israeli authorities typically strip-search patients and sometimes confiscate their cell phones, recording numbers from a phone's memory, the report said.
"Interrogators then question the patient and demand information in return for permission to access care," the group said in a statement. "In some cases, patients are asked to collaborate … on a regular basis."
One man quoted in the report — a Palestinian father of two and colonel in the Palestinian National Guard — said Israeli agents strip-searched him and asked about his friends when he sought to leave Gaza for heart surgery.
"I remember that the questions were about my connection with Hamas. I said that I had no connection with them," the man said, according to the human rights report.
"He asked me about my friends, and I collected my papers in order to leave. I told him, 'If you want to decide on my entry for passage through Israel to the hospital or prevent it on the basis of collaboration with you, I will not collaborate.' "
The man said Israel did not allow him to enter.