That means back to the 7th century. This article is from 2008, but the hope for a 'reform Islam' was as preposterous then as it is now. And, as WoJ readers know, deleting the "misogynistic hadith" fizzled right there and then under pressure from the clerics.
.
What Ian Traynor here writes in the Grunard is written in ignorance. But as we all know, ignorance is bliss. Good for Traynor.
.
Turkey is engaged in a bold and profound attempt to rewrite the basis for Islamic sharia law while also officially reinterpreting the Qur'an for the modern age.

The exercise in reforming Islamic jurisprudence, sponsored by the modernising and mildly Islamic government of Recep Tayyip Erdogan, the prime minister, is being seen as an iconoclastic campaign
to establish a 21st century form of Islam,
fusing Muslim beliefs and tradition with European and western philosophical methods and principles.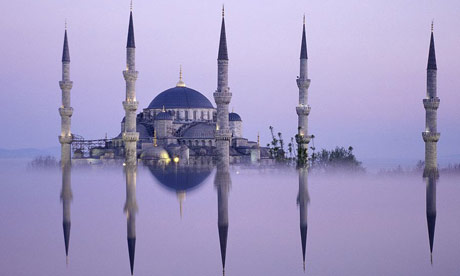 The result, say experts following the ambitious experiment, could be to diminish Muslim discrimination against women, banish some of the brutal penalties associated with Islamic law, such as stoning and amputation, and redefine Islam as a modern, dynamic force in the large country that pivots between east and west, leaning into the Middle East while aspiring to join the European Union.
A team of reformist Islamic scholars at Ankara University, acting under the auspices of the Diyanet or Directorate of Religious Affairs, the government body which oversees the country's 8,000 mosques and appoints imams, is said to be close to concluding a "reinterpretation" of parts of the Hadith, the collection of thousands of aphorisms and comments said to derive from the prophet Muhammad and which form the basis of Islamic jurisprudence or sharia law. "One of the team doing the revision said they are nearly finished," said Mustafa Akyol, an Istanbul commentator who reflects the thinking of the liberal camp in Erdogan's governing AK party. "They have problems with the misogynistic hadith, the ones against women. They may delete some from the collection, declaring them not authentic. That would be a very bold step. Or they may just add footnotes, saying they should be understood from a different historical context."

Fadi Hakura, a Turkey expert at Chatham House, described the project as an attempt to make Turkish Sunni Islam "fully compatible with contemporary social and moral values.

"They see this not as a revolution, but as a return to the original Islam, away from the excessive conservatism that has stymied all reforms for the last few centuries.
It's somewhat akin to the Christian reformation,
although not the same."
source