The last thing we need now is another pianist playing "imagine" or another senile folksinger singing "you got a friend".  We don't need candlelight vigils and we don't need no polit-clowns with lousy t-shirts proclaiming "je suis…."  this or that, because that's all phoney crap.  No more "diversity makes us stronger" BS, and especially not Manuel Valls "we must learn to live with terrorism" when our people are dying in the streets. Its time to chase the Muselmaniacs out of their ratholes. This is the time for blood!
There is no need for an investigation, because the jihadi's motive is obvious. There needs to be an admission that we are in a full-scale war — not just lip-service as Cazeneuve offers below, but a genuine acknowledgment, followed by a genuine war footing, and an end to the weepy memorials, empty condemnations, and po-faced get-nowhere investigations. This is not crime. This is war.
"At Least 84 Dead In Terrorist Attack After Truck Plows Into Crowd Celebrating Bastille Day In France," CBSNewYork/AP, July 14, 2016:
NICE, France (CBSNewYork/AP) — At least 80 people were killed, and dozens of others injured, in a terrorist attack after a truck loaded with weapons and hand grenades plowed into a crowd celebrating Bastille Day in Nice, France.
French Interior Minister Bernard Cazeneuve said 80 are dead in the attack, and 18 are critically injured. CBS News reported more than 50 were injured.
"We are in a war with terrorists who want to strike us at any price and in a very violent way," Cazeneuve said.
French President François Hollande said some children were among the victims in the terrorist attack.
"This terrorist attack is once again a very violent act, an absolutely violent act, and it's quite clear we must do everything to fight against the scourge of terrorism," Hollande said.
Hollande stated that France's state of emergency has been extended by three months as he will call a defense council meeting Friday that brings together defense, interior and other key ministers. He listed several measures to bolster security in France after two waves of attacks last year that killed 147 people.
Besides continuation of the state of emergency and the Sentinel operation with 10,000 soldiers on patrol, he said he was calling up "operational reserves," those who have served in the past and will be brought in to help police, particularly at French borders.
The truck's driver drove on to the sidewalk and plowed for more than a mile through a crowd of revelers who'd gathered to watch fireworks in the French resort city.
"It's a scene of horror," Eric Ciotti, head of the French department in which Nice is located, told France Info radio.
Nice prosecutor Jean-Michel Pretre described a horrific scene, with bodies strewn about along the roadway.
Sylvie Toffin, a press officer with the local prefecture, said the truck "hit several people on a long trip" down the sidewalk near Nice's Palais de la Mediterranee, a building which fronts the beach.
Toffin confirmed the incident was deliberate.
"It's an attack," she said.
Ciotti said on BFM TV that police killed the driver "apparently after an exchange of gunfire." It is not known if the driver had any accomplices….
CBS2's Valerie Castro reported French officials found a cache of firearms and grenades inside the truck.
The White House condemned the tragic attack in a statement.
"On behalf of the American people, I condemn in the strongest terms what appears to be a horrific terrorist attack in Nice, France, which killed and wounded dozens of innocent civilians," President Barack Obama said.
Obama added that the U.S. administration is in touch with French officials and ready to offer any assistance in the investigation….
More:
Bastille Day Blood Bath: Terror Attack in Nice, France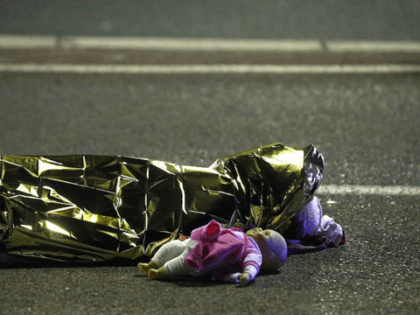 Sky News is reporting that at least 73 people have died and dozens injured during Bastille Day celebrations in Nice, France after a truck ran into a large crowd. Police have announced they are treating the incident as "an attack."