Here's a message for the double dealing Andrew Bolt, who likes to shoot from the hip: stop the pontificating!
In defense of Larry Pickering, like it or not, he is a cartoonist. Muslims hate and kill cartoonists. Remember Charlie Hebdo. Remember Molly Norris. Remember Garland, Texas. Remember the Danish cartoon riots. If Pickering says 'I can't stand Muslims' then I will not drop him like a hot potato because he is not politically correct. And no matter how tasteless his joke about homosexuals, ask yourself what you support: their subversion of our society with their demands for homo marriage or Larry Pickering, who rejects them because they side with Muslims against us.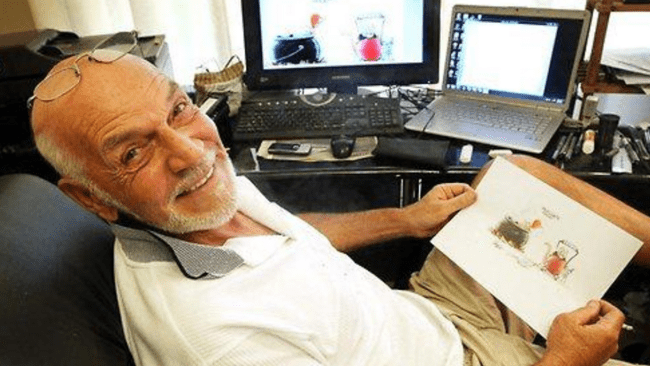 Defenders of free speech must damn Pickering
Defenders of free speech have a special responsibility to damn cartoonist Larry Pickering for his despicable slurs of gays and Muslims. 
And shame on all the conservatives and libertarians who did not howl him down when he said that while "I can't stand Muslims … they are not all bad [because] they do chuck pillow-biters off buildings".
I am talking particularly about the Australian Liberty Alliance's Kiralee Smith, who was at the Q Society meeting last night where Pickering spoke after donating a picture of a woman in a niqab being raped by her son-law.
Why didn't Smith throw the foul picture in Pickering's face? Refuse to accept the money that was raised in auctioning it off for her legal expenses?
But, sadly, I am also distressed that my Sky News colleague Ross Cameron, the former Liberal MP, did not make a stand, either.
He spoke at the same Sydney meeting on the subject of free speech, and not only failed to condemn Pickering but said he admired him.
In his defence, though, Cameron spoke before Pickering did, and says he was out of the room when it was Pickerng's turn to comment. He has since criticised Pickering on Sky News.
But Cameron in his own speech cracked his own "jokes" about the "Sydney Morning Homosexual", adding: "The NSW division of the Liberal Party is basically a gay club. I don't mind that they are gay, I just wish, like Hadrian, they would build a wall."
He has apologised for those comments, insisting he meant nothing homophobic, although his crack about a wall struck me as very unpleasant indeed.
There will be some deeply misguided advocates of free speech – or confused told-you-so Leftists – who will say that condemning Pickering went exactly against what Cameron was there at the meeting to advocate and which I, too, also wish: free speech.
Didn't Cameron warn the crowd of exactly what I am doing now, telling them that too often debate is shut down by people who say "the person who doesn't agree with me is a bad, evil, bigoted, redneck, racist xenophobe".
Well, here is me saying Pickering's comments were indeed bad, bigoted, racist, xenophobic – and homophobic, too. And that any self-respecting audience should have booed him off the stage.
This is not at all a contradiction of my stand against laws limiting our free speech – laws that are absurdly restrictive and misused to shut down debate on the new racism.
No. The argument free speech crusaders make is that the public can be trusted to decide for themselves what may be said and what crosses the line.
Bad speech, we say, will be driven out by good speech, and there is no need to call the cops, the judges and the whole activist class, so keen to supress views they themselkves do not like. Trust the public. Trust their goodness.
But we conservatives especially must show how this works. When a Pickering speaks so fouly, we must say so. We must condemn. We must with our good speech damn the bad.
To fail in this is to give the cops-calling Left their excuse to say we've been exposed: that what we we really seek is not the freedom to speak but the freedom to vilify, free of even the restraint of any goodness.
Here's an update:
Free speech works: Kirralie Smith attacks Larry Pickering
Yesterday I said defenders of free speech had a special responsibility to attack Larry Pickering for hijacking a free-speech event by saying Muslims "are not all bad, they do chuck pillow-biters off buildings". We must show that manners are best policed by the public, not judges.
Now Kirralie Smith of the Australian Liberty Alliance does the right thing:
I utterly reject and do not agree with Larry Pickering's reported statement "They are not all bad, they do chuck pillow-biters off buildings." I was completely unaware that he had made that statement on the night. The first I heard was when it was reported by SMH the following day. As I was about to board my flight to attend the Melbourne fundraiser I was bombarded with twitter abuse and had little idea of the matter.
In contrast I had heard Ross' speech, and while I do not agree with some of his statements, I felt in the context of his speech and his dry humour he had every right to say those things at a dinner defending freedom of speech.
I was yesterday critical of Smith, having assumed that since she was in the room with Pickering and the beneficiary of his donation, she heard what he had said.
She tells me she did not, because she was preoccupied with preparing her own speech as he spoke. If that is so, I apologise and applaud her now for criticising Pickering.
I have been called a hypocrite and worse by a number of readers for arguing for free speech but criticising Pickering vile comments.
The real hypocrites are my critics. If free speech means letting people say bad things without being criticised, why are they criticising me for saying what they claim are bad things?
In fact, free speech means no such thing. It means being free under the law to express your opinion, without being fined, jailed or even killed. But it does not mean everyone has to agree with you or stay silent while you vomit hate. It means instead taking your chances in a debate where people tell you you are wrong.
Pickering, I repeat, was wrong. Vile. He should be free under the law to say what he did, but I should be likewise free under the law to say it stinks. To draw the line. And it seems to me that too many of my critics are in fact angry with me for using my own free speech to call out Pickering's hate and bigotry.
Andrew Bolt is way out of line here.  Pickering is a cartoonist. He has every right to say "I don't like Muslims" because Muslims have a nasty habit of murdering cartoonists. And if he made a snide remark about homosexuals it is entirely his business, it is not the business of the Q-Society to condemn him or to agree with him.
It seems to me that those critics are not defenders of free speech (like my own). They are really defenders of homophobia.
Wrong. There is no such thing as 'homophobia'. Unless you want to declare 98 per cent of the population mentally deficient for not embracing a  lifestyle with which we disagree.