"Shame on the EU. Down with your European principles, values and justice…they started a clash between the cross and the crescent, there is no other explanation,"—Turkish despot Tayyip Erdogan
Erdogan accuses EU of anti-Islam 'crusade' over headscarf ruling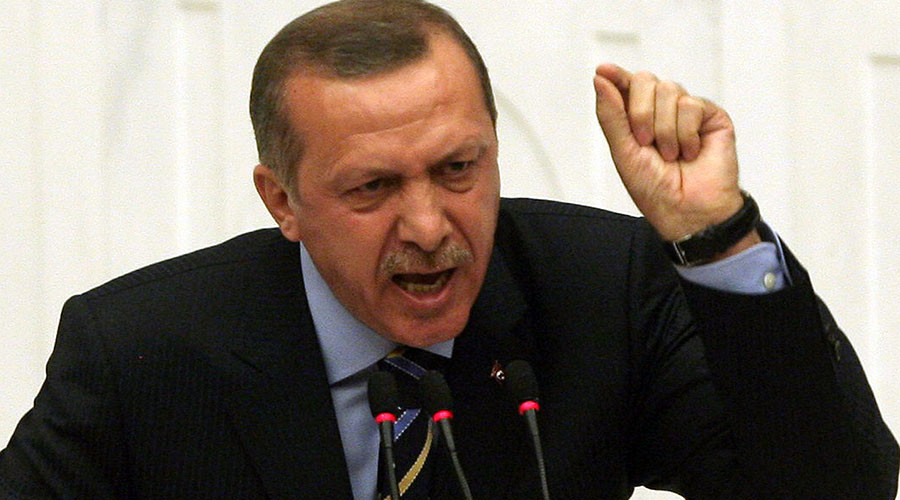 The Turkish president dictator has accused the EU of launching an anti-Islam "crusade" over a ruling that allows companies to ban staff from wearing headscarves. He added that the Netherlands has lost Turkey's friendship amid a deepening crisis in ties.
.
Addressing a rally in the northwestern Turkish province of Sakarya on Thursday, President Recep Tayyip Erdogan expressed his discontent with a Tuesday ruling by the European Court of Justice, which states that Islamic headscarves can be banned by employers as part of a general policy barring all religious and political symbols. Continued below the fold….
"Rutte same as Wilders"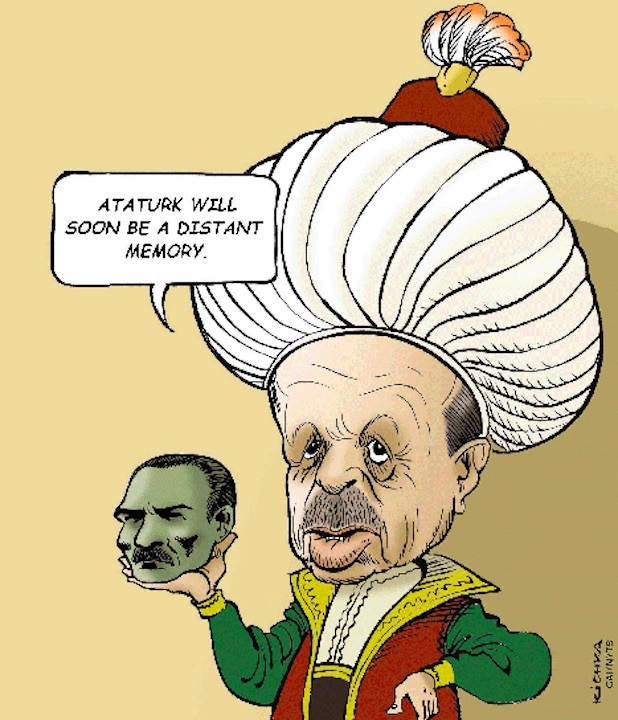 Erdogan accused the EU's top court of starting a "crusade" against Islam after a ruling that allows European companies to ban employees from wearing religious or political symbols including the Islamic headscarf.
The European Union's court, The European Court of Justice, my esteemed brothers, have started a crusade struggle against the (Muslim) crescent," Recep Tayyip Erdogan said in a televised speech…..
Blackmail, extortion, threats, thuggery…….what other religions behave like this?  Make no mistake, this barbarous cult has plans to control the planet one way or the other.
.
Please support Q Society in the battle to stop the Islamisation of Australia.
Blackmail from a country that is no friend or ally of the U.S., Europe or the West in general. This amounts to an ultimatum: let in huge numbers of "refugees" who will enable jihad attacks and foster the Islamization of Europe, or allow Turks visa-free travel, which would enable jihad attacks and foster the Islamization of Europe. Erdogan's agenda should be clear to everyone who is not an EU functionary.
Context: Only Muslims are 'human', only Muslims matter, any resistance to hijabbery and Islamisation is a 'violation of human rights', know your place, infidel!
.
Turkish Justice Minister says ruling allowing employers to ban wearing of religious symbols 'apocalypse of justice'
.
 Bekir Bozdag has called a European Union court's ruling allowing employers to prevent workers from wearing religious symbols, including headscarves worn by certain Muslim women, a violation of human rights.
.
"Forcing people to choose between religious beliefs and their jobs doesn't comply with either human rights or EU values nor with law and justice," Bozdag tweeted Wednesday. ("Law & Justice" for Mohammedans means sharia.)
"Banning the headscarf as a 'workplace rule' is an indisputable violation of human rights, freedom of thought and faith as well as the right to work."
Erdogan's comments follow a similar statement by Turkish Foreign Minister Mevlut Cavusoglu, who warned on Thursday that "wars of religion" will soon begin in Europe. 
Erdogan went on to slam the prime minister of the Netherlands, Mark Rutte, saying he had lost Ankara's friendship after Dutch authorities banned ministers from speaking at a rally in Rotterdam and dispersed hundreds of protesters outside the Turkish consulate.
The Turkish president has been extremely vocal in his distaste for the Netherlands ever since, accusing the country of acting like "Nazi remnants," state terrorism, and having a "rotten" character.
Ankara has also imposed diplomatic sanctions on the Netherlands, suspending high-level talks and barring the Dutch ambassador from returning to Turkey.
For his part, Rutte previously stated that he would try to "de-escalate" the row, but noted that it "takes two to tango."
In other news:
Udder chaos: Turkey deports Dutch cows in strange show of solidarity with Erdogan