Vitrioli and her sidekick on "our" ABC love it. The stupid hits the proverbial. Are you in the queue already?
In a move that will undoubtedly leave terrorists around the globe trembling, hundreds of Britons have reportedly stuck it radical Islam by getting bumblebee tattoos.
Who needs to ask hard questions about Islam & search for actual solutions when we can all just get bee tattoos?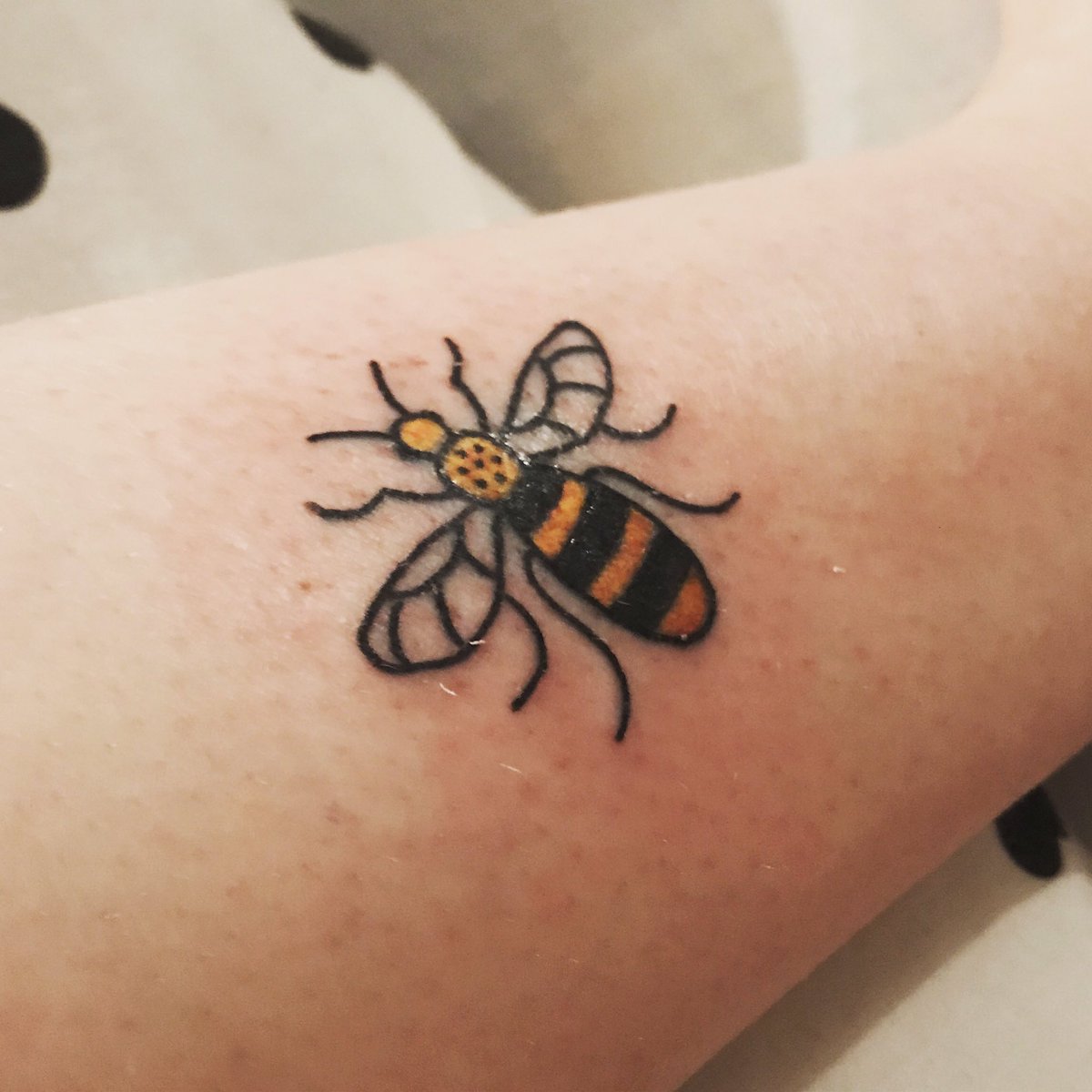 Hundreds of people queued in Manchester to get bee tattoos as part of a fundraising campaign to help those affected by the deadly terror attack in the city.
The bee is a symbol of Manchester's industrial past and people got bee tattoos in the wake of the attack to show their solidarity with the city and the victims
Manchester tattoo artists launched the Manchester tattoo fundraiser, where bee tattoos would be done for £50, with proceeds going to the families of victims of the attack.
The worker bee has been representative of Manchester since the Industrial Revolution, a symbol of the city's hard-working past. Manchester's textile mills were described as "hives of activity" in the 1800s, and the bee analogy stuck.
Staff at Sacred Art – one of the dozens of studios that reportedly volunteered to give out the tattoos for free – said people lined up since 4am to get inked, with lines stretching around the block.
"I think it's a fantastic cause," said 23-year-old Matthew Taylor, one of the people who got inked, according to the outlet. "Obviously the bee represents Manchester and down the line it'll be something I'll be proud to wear."
"We thought it was an amazing thing to do to help contribute to everyone in Manchester," said tattoo artist Dickie Smith according to Manchester Evening News. "It's just a little memento, a constant reminder of what happened and being part of a community. It's a small symbol but everyone can connect to it."

I'm so proud of myself, the pain was definitely worth it


#tattoo #firsttattoo #manchester #manchesterbee #manchestertattooappeal
SBS loves it too:
Hundreds of locals queued at tattoo parlours with lines stretching around city blocks as tattoo artists scrambled to ink as many customers as possible.
Manchester tattoo parlours have been stretched to capacity this weekend as hundreds of locals queue for the same, standard tattoo – a Manchester worker-bee.
Tattoo artists have been offering to ink locals with the same, standard design for £50 ($86).
The money will be donated to those affected by last week's Manchester terror attack which killed 22 people outside a Monday night Ariana Grande concert.
The worker bee, which adorns the town hall and city coat of arms, is a symbol of the industrial city's working-class history.
Hundreds of locals queued at tattoo parlours with lines stretching around city blocks as tattoo artists scrambled to ink as many customers as possible.
"You can have it anywhere (except ribs or face)," one tattoo parlour advised, displaying an image of the standardised tattoo about the size of a 50 cent piece.
"No adjustments will be made (no exceptions). This will only slow down the process and mean less people get tattooed and less money is raised for the victims and families."
The popular show of solidarity even has its own hashtag, with locals sharing images of their red, freshly inked skin on social media with #ManchesterTattooAppeal.
It wasn't the only show of defiance in Manchester this weekend, tens of thousands of runners joined a well-attended 'Great Manchester Run' amid heightened security less than a week after Monday's attack.