Third accuser: Tariq Ramadan gave her Islamic religious advice, then sexually assaulted her
No one should be surprised by this. Tariq Ramadan is extremely clever and sophisticated, and has fooled a great deal of the Western intelligentsia for years, but he is also a pious, believing Muslim. In Islam, it is the woman's responsibility to cover herself and thereby remove the man's temptation. If she fails to do so and he sexually assaults or even rapes her, it's her fault. Moreover, according to Islamic law, a woman's testimony is not admissible in cases of sexual crime, zina, even if she is the victim. Thus Tariq Ramadan always knew that as far as Islam went, he could deny the charges, and that would be that. And if a woman ever threatened to go to the secular courts, there were ways to deal with that as well: "Two years later he called me to a hotel in the suburbs and then threatened me that he had compromising things on me."
"Third woman accuses "Islamist thinker" Tariq Ramadan of sexual harassment," Al Arabiya, October 28, 2017 (thanks to The Religion of Peace):
A third woman has come forward and accused Islamist thinker Tariq Ramadan of allegedly sexually harassing her some years ago.
Why was nothing done then?
"Two years later he called me to a hotel in the suburbs and then threatened me that he had compromising things on me," she added….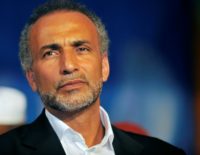 Couple Plotted Terror Attack After Meeting on Muslim Dating Site
Woman Who Fantasised About Killing Katie Hopkins and Celebrating Wedding with Attack Guilty of Terror 
A couple allegedly planned to carry out a terror attack with an improvised explosive device after bonding over their shared Islamic extremism on the Muslim dating website SingleMuslim.com.
The Old Bailey heard Monday that Munir Hassan Mohammed, 36, and Rowaida El-Hassan, 33, had shared videos of Islamic State jihadists beheading prisoners and recruiting children to the terror organisation on WhatsApp as their love blossomed.
Mohammed, an Eritrean national who was seeking asylum in the UK, was arrested in December 2016, along with University College London graduate El-Hassan following separate raids in Derbyshire and London. Both are charged with an offence under section 5 of the Terrorism Act 2006 – preparation of terrorist acts.
It is alleged that the Eritrean had been radicalised after contacting Abubakr Kurdi on Facebook, a suspected Islamic State commander who has celebrated the terrorist attacks in Nice, Normandy, and Orlando and called for lone wolf attacks.