ISIS-loving (Musel-)man suspected in deadly NYC terror attack is 'pretend Muslim,' says pal
The ISIS-inspired New Jersey man accused in the deadly Halloween terror attack was more of a "pretend Muslim," a friend told the FBI.
No. He wasn't a "New Jersey man", he was a Musel-man, a soldier of allah who took his religion seriously. His name, Sayfullo, means 'sword of Islam'.
Update:
 Why did the NY Deputy Police Commissioner say NYC jihad massacre "isn't about Islam"?
Robert Spencer:
In a press conference after Sayfullo Saipov's vehicular jihad massacre in Manhattan, New York Deputy Police Commissioner John Miller said, "This isn't about Islam, this isn't about the mosque he attends." As he retailed this arrant nonsense, New York City Mayor Bill de Blasio stood behind him, nodding gravely.
Yet the repetition of a falsehood doesn't make it any less false. In reality, Saipov had a massive amount of Islamic State material on his phone, and a note in his attack truck that said, "There is no god but Allah, and Muhammad is his prophet." Clearly he thinks his attack was about Islam, even if Miller doesn't.
Yes, fear. Miller is afraid that if he acknowledges the obvious Islamic character of Saipov's attack, he will be accused of "Islamophobia," and his career will be ruined.
And the NYPD suspected Saipov's mosque of terror ties over a decade before his massacre. How, then, can Miller be sure that his mosque had nothing to do with the attack?
He can't, of course. Miller is making his claim that the attack has nothing to do with Islam or Saipov's mosque not on the basis of any evidence, but on the basis of fear.
Five Argentinian friends named among eight killed in New York attack – as it happened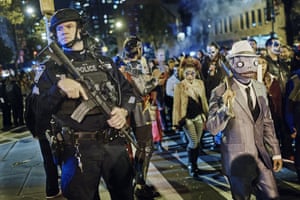 "The police took care of the attack," said Marc Cruz, a 28-year-old in a chicken costume. He said he felt "pretty safe".
Brandon McCall, 29, was wearing a luxuriant feather jacket paired with a handmade chicken mask and bright yellow tights. Asked if he had considered not coming to the parade because of the attack that afternoon he said: "Oh no, not at all!"
"So many people were telling me not to come. I said: 'You have to live your life'," said Alexandra Colon, 37, who came to the parade as Kate Winslet in Titanic, with a cardboard Leonardo DiCaprio hovering over her shoulder.
Sixteen years ago, Colon had watched the World Trade Center fall from her home across the river in Jersey City. She had not even considered skipping this year's Village Halloween parade, which she has been attending since she was 17.
"I'm not going to let terrorists stop my life … they're not going to win," said Alex Tutino, 20, who was wearing a tangle of neon balloons with paper fish taped to them. He was dressed, he said, as "Finding Nemo."