In a a long, lengthy piece blaming Pamela Geller for President Trump's retweets (thankyouverymuch), the Islamic religious police at the Huffington Post are demanding Twitter remove her accounts: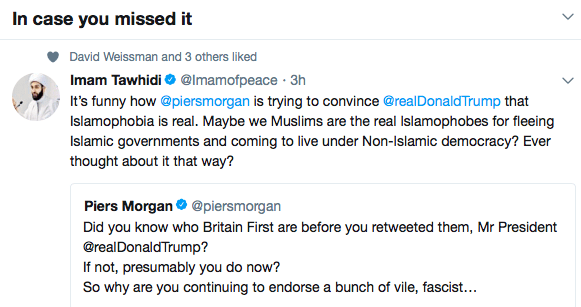 We know who Britain First is: they are patriots.
"Far-right" is the language of the enemy. We must not allow the far left to dictate the terminology. These people are concerned citizens. Patriots. They are not "far right"
PRESIDENT TRUMP caused an international row today by retweeting three tweets by Britain First's deputy leader, Jayda Fransen.–POLITICALITE.COM
.
Jayda Fransen, of south-east London, was the little-known deputy leader of Britain First until inflammatory messages she posted online were picked up by the US President.
.
Paul Joseph Watson (@PrisonPlanet):
White, British teen planned terror attack on Justin Bieber concert for "Allah".
Tell me again about how Islam is a race, idiots.
If you're angrier over a few retweets than 411 injured and dead victims of Islamic terror in the UK this year alone, you need to take a long look in the mirror.
Holla! Its Daisy… again! The tilt of Abdul Rauf, the healer, the slick imam who wanted to build the Ground Zero mosque. Just goes to show that these creatures are deeply embedded in the system, ready to strike whenever there is resistance to the Islamic expansion program.
The leaders of an Islamic women's initiative lambasted President Donald Trump Wednesday for retweeting a video of an Islamic extremist destroying…—DAILYCALLER.COM
In other news:
A local mosque is donating $1 million to the University of Cincinnati to increase understanding of the Islamic religion amid concerns about Islamophobia.
– Geller Report
Right-wing provocateur Milo Yiannopoulos says Muslims should be 'expelled'
Yiannopoulos made the remark to Sydney Muslim businesswoman Emma Eros
He told her anyone who identified as Muslim should go back to the Middle East